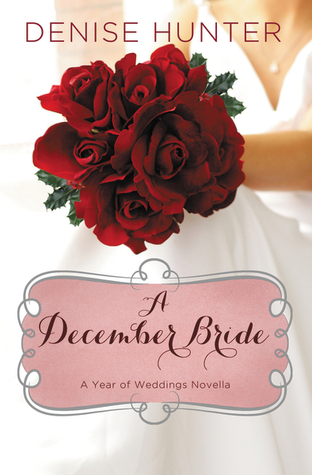 A December Bride by Denise Hunter
Series: A Year of Weddings
Published by Zondervan
Publish Date: November 3, 2013
94 Pages
Find it here: Goodreads / Amazon / B&N


What started as a whim turned into an accidental—and very public—engagement. Can Layla and Seth keep up the facade in Chapel Springs this holiday season—for the sake of her career . . . and his heart?

Under normal circumstances, Seth Murphy—the best friend of Layla O'Reilly's ex-fiance—would be the last person she'd marry. But the news of their upcoming (and phony) nuptials convinces a big client that Layla may be high-society enough to work for his agency—a coup that would put her fledgling home-staging business on the map.

Seth has secretly loved Layla for years, even when she was dating his best friend. Maybe she'll never forgive him for the way he hurt her back then, but he has to try. And Layla is willing to keep up their engagement farce until she's landed her client.

For Layla, it's the chance to save her career. But for Seth, it's his last chance to win her heart. (from Goodreads)



A December Bride by Denise Hunter


My Thoughts: You all know that I'm a sucker for a pretty cover, right? So naturally when I saw that there is to be a series called A Year of Weddings, each romances written by a different author and each featuring covers similar to this one – well, I had to see what this would entail. I'm interested, friends. I'm very interested.


**********************************************************************
A December Bride by Denise Hunter opens as waitress Layla O'Reilly receives a call from her friend, Cooper, letting her know that he will not be able to be her date to this evening's wedding because is awfully sick. Layla is terribly stressed and upset about this because 1) it's only five hours until the start of the wedding which makes it tough to find another date on such short notice and 2) she is really counting on being able to send the message that she's moved on with her life. Cooper reminds Layla that it isn't really necessary that she attend – everyone will understand under the circumstances – but this isn't a thought that Layla will even entertain. She NEEDS to be there. Nothing stings quite like betrayal, after all, and she means to show everyone that she is just fine, thankyouverymuch.
While Layla is pondering her options, WHO SHOULD WALK IN BUT SETH MURPHY! Could it get any worse? Probably not. After all, Seth Murphy is the very reason her ex-boyfriend Jack is marrying her cousin Jessica. He practically pushed them together! UGH. Layla has no choice but to take his food order, but she doesn't have to be very nice about it. Through some very forced and uncomfortable conversation, Layla and Seth find out that they both are without dates to the wedding – with the roads dangerous due to snowy conditions, Seth offers to pick up Layla and take her along with him. Problem solved! Everybody has a date! Layla doesn't have to arrive alone!
Layla isn't exactly thrilled about having to go with Seth, though. While there, Layla isn't exactly super nice to him. Still, Seth loves having her on his arm. He has always had feelings for Layla and regrets not asking her out before Jack did years ago. Despite her cold-as-ice treatment, he notices that she does in fact seem to be completely over Jack and that she doesn't at all seem to be bothered that Jack is marrying her cousin. Seth is even more impressed with Layla.
Layla works as a waitress only part-time. Her dream job – the career she is trying to build – is staging homes for sale. She wants desperately to get 'noticed' by Stanley Malcolm, one of the prominent realtors in the area – he specializes in larger historical homes. She has tried several times to network with him but he never really gives her the time of day.

Earlier in the year, Seth volunteered to participate in the annual tour of homes – the problem with this is that he loathes decorating, he has no skill for it, and he doesn't really have any decorations. He does, however, have a large historic home and WHOA WHOA wouldn't it be just perfect if Layla could work on it for him? Hmm…
During the wedding reception, Jack and Jessica mingle their way to the table where Layla and Seth are seated. Jessica's behavior is so nasty that Seth lets it slip that he and Layla are engaged. WAIT, WHAT!? Yes, he says that the two are engaged, which begins a ton of events that spiral and spiral and spiral…
But hold on a second: LAYLA CAN'T BELIEVE THIS! She's livid! He's the one responsible for so much of the pain she experienced before (but is now over, thankyouverymuch) and now THIS? She wants this fake engagement ended immediately before she experiences any more humiliation!
— Oh but wait just a minute! —
Soon after the "engagement" is announced, Layla FINALLY receives a call from Stanley Malcolm himself requesting a lunch meeting – is he finally taking her seriously? She's beside herself with happiness! This is the opportunity she has been waiting for and she can't wait to show him her portfolio! THE CATCH: Mr. Malcolm wants Layla to bring Seth along.
Another WAIT, WHAT!? moment.
Perhaps the two should wait just a wee little bit before they break off the fake engagement…
**********************************************************************
A December Bride by Denise Hunter is the cutest story, from start to finish. Right away, I loved Layla O'Reilly for her independent streak, her snark, and her determination and that is something that stayed true throughout the story. Layla meant business when she wanted to show her ex-boyfriend, her cousin, and the rest of the community that she was not a wallflower, and I LOVED THAT ABOUT HER.
I also loved Seth Murphy right away. He wanders into the pizzeria to eat before the wedding and it seems that he is a little bit sad – perhaps he thought his best friend (or former best friend?) would have invited him to be a member of the wedding party. Certainly Layla was surprised to see him there, and she made that known – she also poured on the snark and kept it coming. It was no secret right away that she had some sort of feelings for Seth Murphy, and they weren't exactly the pretty kind. Still, Seth took her snark like a man and remained kind to her, taking whatever she dished out to him, even offering to drive her to the wedding to make sure she arrived safely. From there, it became clear that he had ACTUAL feelings for her, and this is when he began to melt my heart. No matter how stubbornly Layla treated him, no matter what she threw at him – he took it with grace and charm and was purely good and kind to her. TALK ABOUT A NICE GUY – this is one of them, ladies and gentlemen.
Layla and Seth take on a project together: staging Seth's home – they put in a ton of hours side-by-side, which allows them ample time to get to know one another again (they used to be friends, you see, before Layla decided she didn't really like Seth anymore) – it is fun and refreshing and lovely to read a slowly-developing relationship that begins from a place of WELL WE USED TO BE FRIENDS to WE DEFINITELY AREN'T FRIENDS ANYMORE to WE CAN BE FRIENDS AGAIN to THANK GOODNESS SHE IS ABLE TO SEE THAT I AM IN LOVE WITH HER. Their relationship growth was like a breath of fresh air to read, and set against a Christmas/holiday/snowy backdrop made it even better, in my opinion.
Aside from the lovely slow romantic build, there is the cheerleading that goes on for Layla as she works to make her career aspirations come true. She is on a deadline and BY GOLLY I just wanted her to achieve her goals. There is a point in the novella in which she and Seth are talking about their pasts – their childhoods – and it is clear that while Seth had more of an ideal situation, Layla did not. This just made me cheer for her even harder.
In the novella, we are introduced to Layla's brother Beckett O'Reilly and his fiance Madison McKinley – in researching a little bit, I found that these two have their own book, Barefoot Summer, which is a part of the Chapel Spring Series. Even though they didn't take up very much facetime on the pages, I did like Beckett – I thought he was a pretty great brother as he provided great advice to his sister and he was always honest with his fiance.
I think A December Bride by Denise Hunter was a great novella – it DID turn out to be a holiday novella by nature of it being a story set in December and around the holidays, and I thought that made it even more fun. Despite the "December" wording in the title and the holiday theme, I would read this book at any time during the year! This is my first story by author Denise Hunter; I liked it enough that I would certainly read more by her. I smiled throughout and ended up happy at the ending. The story was so refreshing and cute and I would recommend it to anyone that enjoys happy romances, holiday stories, and novellas.
**********************************************************************
A December Bride will appeal to fans of:


Adult Contemporary Romance/ChickLit
Holiday Stories
Romance: No Triangle. Slowly Developing.
Novellas/Short Stories
HEA!
A December Bride by Denise Hunter
is currently available for purchase.


**I received a review copy from the publisher via NetGalley in exchange for an honest opinion and review. I received no compensation for my thoughts and they are my own! Thank you Zondervan!