Everyone, meet My Dad. This is the same guy that texts me some variation of goodnight, I love you every. single. night. And to be careful driving when there is bad weather. And not to text and drive. He texts me all of the things that make me chuckle and roll my eyes just a little, but only a little because he loves me and he is so consistent with his love even though I'm an adult.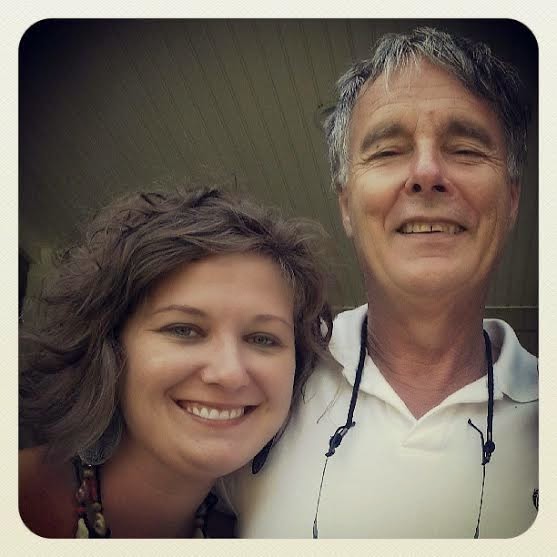 When I moved last summer, one of the things I was most excited about was the chance to live closer to My Dad. Because, see, I could eat with him, visit with him, and hang out with him so much more than ever before. I could watch him play his guitar on stage at church, he loves that. I could listen to him go on rants about the government and his job in law enforcement (he's retired, but he helped out a little here and there). THESE THINGS EXCITED ME, they still excite me.
BUT. Over the past few weeks, I've watched My Dad's health change. I've gone back and forth from concerned to heartbroken, and I've spent as much time crying as not. My sisters and I are on this big, massive mission to help Dad, to figure out what is going on with his brain and his nerves, and help make his life as great as possible. We want to take care of him WELL. We want him to be as happy as he can be. But I have to admit that watching this guy suffer and forget things and fall has broken my heart and my spirit over the past few weeks. I just love him so.
ANYWAY. I'm here on the blog right now because…I just can't figure out how to make myself blog. What on earth am I supposed to say? I've read books and I have thoughts about them all, but my words aren't important. My words aren't important. When I am watching someone suffer, my words don't feel that important. What I am reading feels a little bit less important than spending my time making his life easier, better, fuller.
Does this make any sense at all? Maybe not. Stick with me please, this helps.
I'm still reading BUT I've fallen asleep with my computer in my lap, I've fallen asleep holding my books. I admit that I'm having a harder time than normal finding a book that holds my attention. This is really abnormal for me.
I've done that thing where I'm surrounded by books, books everywhere around me, in my chair or on my bed. I flip through the first few pages, I read the first few paragraphs, nothing grabs me, nothing holds my attention. This is NOT a slight against any book at all, but everything has just taken a backseat to this big important elephant in the room of my life, the one where I'm trying to figure out how to take care of My Dad and so all I'm doing is thinking, thinking, thinking.
I want to read something that is HAPPY. I think I have a case of the sads. It's so hard to watch someone that I love struggle with everything he does. It makes me sad, so sad. So I need to read something happy. But my mind is really cluttered with everything that is going on right now, and I can't even think of a happy thing that I want to read. It's really weird for me and maybe you guys can help? Feel free to recommend away, I'M TAKING HAPPY BOOK RECOMMENDATIONS.
Or maybe when we go through really tough emotional things, we need to read emotional stories because this is when the connection is stronger? I don't know. Does anyone have any thoughts on this? Do I need to read more emotional stories to make me FEEL things instead of a disconnect to everything, instead of just sitting around thinking all the time?
I trust you guys, my reading friends. I'd love to hear your thoughts. I still want to read, it's something that I can always count on to lift my spirits. But I'm just not sure where to go on the shelves. I need direction. And some positive thoughts, prayers, and hugs. You guys are THE BEST for these things. The very best.