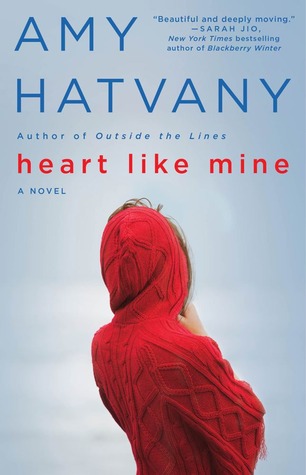 Heart Like Mine by Amy Hatvany
Published by Washington Square Press
Publish Date: March 19, 2013
370 Pages
Source: Publisher via NetGalley


When a young mother dies under mysterious circumstances, those she leaves behind begin looking for answers in the past—and find a long-buried secret they could have never imagined. Thirty-six-year-old Grace McAllister never longed for children. But when she meets Victor Hansen, a handsome, charismatic divorced restaurateur who is father to Max and Ava, Grace decides that, for the right man, she could learn to be an excellent part-time stepmom. After all, the kids live with their mother, Kelli. How hard could it be?

At thirteen, Ava Hansen is mature beyond her years. Since her parents' divorce, she has been the one taking care of her emotionally unstable mother and her little brother—she pays the bills, does the laundry, and never complains because she loves her mama more than anyone. And while her father's new girlfriend is nice enough, Ava still holds out hope that her parents will get back together and that they'll be a family again.

But only days after Victor and Grace get engaged, Kelli dies suddenly under mysterious circumstances—and soon, Grace and Ava discover there was much more to Kelli's life than either ever knew. -(excerpt from Goodreads)



Heart Like Mine by Amy Hatvany


My Thoughts: Man, it's good to get back into putting adult fiction on the blog!


I chose to read this book because I liked the summary and I loved the cover – the red sweater set against that blue-sky background. I was intrigued by the girl wearing the sweater and I wanted to know her story. Simple as that. (I'm thankful that this red sweater is in the story, making the cover cohesive to the plot! Love that!)



The first thing you need to know is this
:
Victor and Grace are have just gotten engaged.
Victor is a handsome, divorced father of two, a successful restaurant owner. Grace is a beautiful woman that is devoted to her job at a nonprofit agency; she doesn't really want children of her own. When Victor and Grace fall in love and consider marriage, the topic of having children comes up – Victor is content to continue raising his adolescent/young teenage-aged children without adding new children to his family and Grace doesn't have the desire to become a mother. The two become engaged and can't wait to share the news with Victor's children, Max and Ava. As they prepare to share this information with the children, they unexpectedly find out that Victor's ex-wife, Kelli, has died.
Victor and Grace decide that perhaps sharing their happy news should be postponed – Ava and Max need time to grieve their mother and it feels a bit like sharing engagement news at a time like this is highly insensitive. Victor brings the children into his home and all of a sudden – BOOM! – Grace has a ready-made, full-time family.
The second thing you need to know is this
:
Ava and Max have a hard time adjusting to life without their mother.
Grace has a hard time adjusting to life being a mother.
Remember when Grace said she didn't really want to have children of her own? Grace goes through this period of time – reflection, inner thoughts, and talking with her friends – when she is trying to determine if she is qualified to be a mother, if she is able to be what the children need, if she really wants this marriage enough to be a mother, etc… Her mind is everywhere and she is suddenly very insecure about her place in Victor's life and in the life of his children. She flip-flops a bit between feeling like she doesn't belong anymore and feeling like HECK YEAH! she can do this.
Grace does her very best – she does her best because she loves Victor and she loves his children. She cuts back her hours at work to prevent disrupting the childrens' routine – she wants Ava and Max to continue with their extracurricular activities as they normally would. She begins trying to incorporate working some from home with making dinner, washing clothes, managing bathrime/bedtime, etc. and this is very new for her. Grace has some bumps along the way, but she does a pretty amazing job in my opinion.
While Grace is struggling with her new role, of course Ava and Max are struggling too. First of all,they've had to move from 'home' into their 'dad's house' PLUS their mother is gone forever. THEIR MOTHER IS GONE. And suddenly, here is Grace stepping into the picture, acting like she can take their mother's place? No thanks, Grace! Ava responds as one might typically expect a 13-year-old teenager to – she throws some major attitude, she skips class a few times, she fights with her brother more than normal, and she manipulates situations so that Victor and Grace are at odds with one another – a lot. Max takes more of a normal younger-child approach – he grieves at times, and at times he seems to go on with life as normal.
Eventually, Ava and Grace find some shaky common ground and begin to build on it. (It is WONDERFUL how this happens.) It's a slow start and a slow, steady road – but once they get going, it made my heart swell.
The third thing you need to know is this:
The situation surrounding Kelli's death just DOESN'T ADD UP.
While she was living, Kelli was very fragile. No one knew this better than daughter Ava. Ava was forced to act more grown-up than any 13-year-old should. When Kelli would sink into some of her episodic behavior, it was Ava that had to step up and
do everything
: pay the bills, call the plumber, fix food, take care of Max, even rub Kelli's back and console her as she cried. And cried. And cried. Ava knew that her mother was sadder than what was considered normal, but she didn't really know what to do about it. And honestly, it wasn't Ava's responsibility.
When Kelli died, mysterious information began to surface as Victor and the family began to sort through her things. Ava began to realize that maybe her mother was keeping some secrets from her, and this crushed her. Perhaps Kelli wasn't a well-liked and popular cheerleader in high school like she had always told Ava…because
if she was,
certainly
her yearbooks would have
at least one
signature in it, right? So why are they blank? And actually, why is there only one yearbook? And why would mama have mail/email from various doctors and private investigators?
Since Ava is the one that pretty much kept her mother together, she feels a sense of betrayal at all of these secrets coming out after her mother's death.
Ava had this strong urge to find out about these secrets, in hopes of finding some closure. Ava does some sleuthing behind her father's back…and Grace begins to also secretly put pieces of the puzzle together. It seems that Kelli was indeed keeping some pretty big secrets. How will Victor and the children react when they find out exactly what happened to Kelli and why she was so secretive?
******************************************************************
Heart Like Mine by Amy Hatvany was one of those stories that felt plucked out of a movie or perhaps a headline. I could see this being a tale of actual, real people and events, and I think this added to my enjoyment of the book.
When the book opens with Victor and Grace head-over-heels in love – completely excited about their engagement – I couldn't help but feel it too. I understood Grace's desires and her reasons behind not wanting children of her own and I felt that in Victor, she had found someone that understood her. Together, they could help Kelli raise the children and still have the type of marriage that they both wanted. However…I knew that Kelli would die unexpectedly based on the book summary. When this happened, I still felt so shocked and sad.
I feel like having Ava and Max move into the home that Victor and Grace share was an extremely realistic depiction. I felt a connection to Ava and all of her emotions even though I did not agree with all of her behaviors. And I felt a connection with Grace in her emotions as well, so much so that I wanted to jump into the book and just help her out a bit. I wanted to sit down at the kitchen table with her and encourage her that she was doing a great job and to keep it up because even though life doesn't turn out the way you want, sometimes life does end up sweet if you can just persevere.
Grace does persevere through the obstacles in this story, though, and she does a wonderful job. I love how she is written. I love her honesty. There are days that she is happy with her progress with Ava and Max, and there are days when she just wants things to go back to the way they used to be because she misses her quiet home and her privacy. She is honest about her feelings about not having Victor to herself anymore, about the loss of privacy and intimacy, about how her life feels like it has been invaded. But then you begin to see a shift in Grace, and she is honest about this new, strange feeling she has in her heart for these children – she knows that she isn't their mother, but she does begin to love them as if she is a parent to them. Grace's transition is so raw and honest and believable.
Ava made me feel so many things. She broke my heart and made me angry. She frustrated me and she made me want to hug her. I loved her when she was vulnerable and I couldn't stand her when she was being unreasonably difficult. She has this period of time when she is honest, too – when she begins to admit that maybe she is a little bit happy that she doesn't have act like her mama's parent anymore, that maybe she is happy that she can just be a kid now. MAN, my heart just loved the brutal honesty of this child that had been in this situation. I loved watching her grow and eventually flourish, without even realizing it, under the care of Grace-the-reluctant-mom.
If you wonder why I haven't mentioned Victor all that much – as a restaurant owner in a struggling economy, he works quite a bit. He is slightly less present in the book; the majority of the story belongs to Grace and Ava. In fact, the story is told in alternating points-of-view between Grace and Ava, with flashbacks from Kelli's life. These flashbacks are inserted to give readers insight into exactly what was going on with Kelli, and they flash back from the time she was in high school and work up to the day she died.
Heart Like Mine is a really wonderful, honest, and realistic contemporary fiction story. It grabbed my attention right away and held it until the end. I loved getting to know these characters before the tragedy happened, and while I hate that they all had to go through those hard times, I loved watching them come out on the other side. I loved the opportunity to see things from Kelli's perspective as well – her flashbacks – because I'm not sure the story would have worked as well if it were told in another way.
I recommend Heart Like Mine to fans of adult contemporary fiction and stories containing a strong sense of family. There is a mystery surrounding Kelli's death, but this book did not have a mystery/thriller feel to it at all.
*********************************************************
Heart Like Mine will appeal to fans of:

Contemporary Adult/Women's Fiction
Romance
Mystery
Family Issues, Death
Heart Like Mine
by Amy Hatvany
is available for purchase March 19, 2013.
**
I received a review copy from the publisher in exchange for an honest opinion and review. I received no compensation for my thoughts. Thank you Washington Square Press and NetGalley!
*********************************************************


Does this sound like an adult fiction title
you would add to your to-read list?


What are some good adult fiction titles
you've read lately?