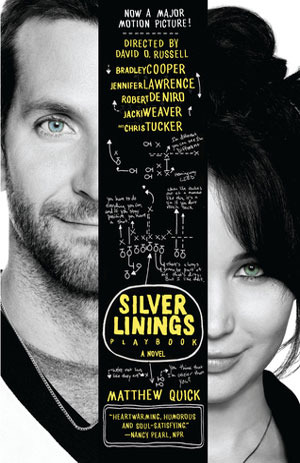 The Silver Linings Playbook
by Matthew Quick
Published by Farrar Straus Giroux
Publish Date: September 2, 2008
289 Pages
Source: Library
Find it on: Goodreads / Amazon / B&N


Meet Pat. Pat has a theory: his life is a movie produced by God. And his God-given mission is to become physically fit and emotionally literate, whereupon God will ensure a happy ending for him — the return of his estranged wife Nikki. (It might not come as a surprise to learn that Pat has spent time in a mental health facility.) The problem is, Pat's now home, and everything feels off. No one will talk to him about Nikki; his beloved Philadelphia Eagles keep losing; he's being pursued by the deeply odd Tiffany; his new therapist seems to recommend adultery as a form of therapy. Plus, he's being hunted by Kenny G! -(summary excerpt from Goodreads)



The Silver Linings Playbook
by Matthew Quick


My Thoughts: Okay so like a ton of you all I had been seeing the previews for this movie (featuring the lovely Jennifer Lawrence aka Katniss-the-awesome and the ever-handsome Bradley Cooper aka everybody's husband) and I thought to myself SELF, THAT LOOKS LIKE A CUTE MOVIE. YOU SHOULD TOTALLY WATCH IT! So I tucked that away into the back of my brain knowing that I don't watch movies as often as the rest of you all and that eventually, I'd get to it. Until I came across a nugget of gold so precious that I just couldn't ignore it:


Apparently the movie was a book first. WAIT, WHAT? And how did I find out this tidbit of glorious information? On one of my absolute favorite features on one of my favorite blogs, The Big Kids Table from Rather Be Reading. Anyway, of all of the awesome "Big Kid" recommendations on that particular post, THIS is the one that I immediately added to my to-read and it is the one that I've completed first.


Anyway, back to the book. It is SO GOOD. I am forever glad that I read it before I watched the movie because I have no idea how moviemakers can make a movie that is this amazing. I'm sure it's close, but just WOW. Disclaimer: my words won't do it justice. Just read it PLEASE.



The first thing you need to know is this
:
Pat Peoples isn't an ordinary guy.
Pat is living in 'apart time' from his wife Nikki until apart time is over and he can be with her again. He knows that he wasn't the best husband before, but he's doing everything he can possibly do to change that: he's exercising like crazy and watching his weight, and he can really tell a difference in his physique. He's being nice to people all the time and he looks for the silver linings in everything.
Pat lives with his parents after leaving the 'bad place' (aka a mental facility). His mother takes great care of him – buys his clothes, counts out and gives him his medications, drives him to all of his appointments – but all of her doing-things-for-him isn't helping him to progress any further into socialization. Pat's father won't speak with him, but Pat doesn't let that bring him down – no way! He just looks forward to the time he can spend every week with his brother and his father obsessively watching the Philadelphia Eagles on TV – his brother even bought him season tickets, which is like a dream come true. Pat's brother bought him an Eagles jersey, which he wears a lot. Like, so much. (You could say there is a slight obsession with the Eagles in this book, but it is very endearing.)
Pat is a little weirded out and affected by Kenny G. And he has way more big and little quirks than I could mention here. Let's just say that Pat is awesome, but in his own unique way.
The second thing you need to know is this
:
Pat believes by doing certain things, he will end the apart time.
(Meaning, he will get Nikki back.)
Remember when I said that Pat exercises like crazy? Well, what I meant is that he exercises for hours every day. He also takes up reading books – classics, actually – because that's what Nikki taught to her students. He got tired of being picked on for not really knowing the stories in the books, so he decided that he would read and learn these stories. He didn't read one or two books, but several of them – and he did not skim them, but he really read them. He wanted to understand what it was about the stories that made Nikki teach them to her students. Pat is so excited for Nikki to learn that he has been reading these books that obviously loves so much – they can discuss them! – and for her to see his newly trim and fit body AND how he is so much nicer now than he used to be. He'll be a better husband for sure.
The problem is that Nikki doesn't seem to be coming back. In fact, Nikki doesn't seem to be in the picture at all. Pat doesn't really understand the situation that is going on with Nikki and no one will talk to him about it.
It bothers him that his mother has taken down all of the pictures of Nikki and that no one speaks about her. People seem angry about her. Why is that? He can't wait for their reunion and he wants his family to be just as happy as he is.
The third thing you need to know is this:
Now, Tiffany is really something else. She's fiesty and opinionated. She's beautiful. And she's been through a rough patch too. In fact, she's still going through it, just like Pat. So it seems like a great thing that they end up at the same dinner table one night. BUT BUT they don't exactly hit it off like most people would expect. Pat thinks she is weird and Tiffany says some very, um, odd things to Pat. Pat doesn't really know how to respond to her, but remember how he's vowed to be kind to everyone now? Well, he's gonna do that. But Tiffany, doggone it, she just keeps up showing up day after day and Pat has no idea why. When he goes for his daily runs – she's right there, running right behind him for miles and miles and miles, not saying anything, just trailing behind him. Then she breaks off and goes home. When they try to talk, she's snarky and almost a little rude. As a guy, I'd be totally frustrated with the lovely Tiffany. (As a reader, I loved her.)
One day, Tiffany presents Pat with a proposition and OH! it sounds like music to Pat's ears. He thinks on it, then takes her up on it with a childlike faith and high expectations, but MAN she is tough on him. Pat tries his hardest because if it works, then things could work out really well for him.
When everything doesn't pan out like it's supposed to, though, what does that mean for Pat? Will he be able to keep up with his goals? And how will Tiffany fit into the picture – all Pat wants is his life back with Nikki… And how does his family fit into all of this?
***************************************************************
OH MY HEART, THIS BOOK, MY HEART!
I am feeling so dramatic right now because of how much I loved this book.
The Silver Linings Playbook by Matthew Quick is painfully good – not in a way that breaks my heart into a thousand pieces or anything, but in a way that I love it so much that I WANT TO KNOW PAT PEOPLES IN REAL LIFE. What a guy! I have never before read a character that was so perfectly quirky and so believably odd, and it worked for him and the story. Pat had such a child-like faith in his love for his wife Nikki that he was bound and determined that nothing, nothing would stand in his way of ending the 'apart time' as soon as he possibly could. His determination to be a better man made me want to be a better person. He saw good in every person, even the people that were not actually all that great but it was because he taught himself to be that way – it was a learned response through an effort to change himself for the better. YOU GUYS!
Pat is such an interesting narrator – a big unreliable, perhaps? But aahhh, so good. He has a heart of gold and is so optimistic, even when terrible things happen to him. He picks himself up, brushes himself off, and keeps on marching toward his goal. He loves his family fiercely, including his wife, and there are glimpses into the heart of Pat that are so heart-warming. But one thing that I really love about Pat is that he has that wonderful vulnerability and naivete that I love so much in characters. He has some odd habits (that really do him no good, but he doesn't realize it) and he's had some major deception thrown at him. The way Pat transforms himself before the book actually begins and throughout the course of the story allows us to see how wonderfully he reacts to the hurt, the pain, the betrayal, and all of the other negative things that he has to deal with. Pat is a remarkable character in this book and I cannot imagine that he could be anything close to this perfect in a movie (although I believe that they can come close).
The other standout character is Tiffany – she is another odd one. Her past is really just as interesting as Pat's, or perhaps even more. While Pat finds himself incredibly annoyed by almost all of her actions every single day, everyone around him seems to really enjoy her. I find this interesting, this contrast. Tiffany is a strong girl and has made some changes too – like Pat, before the story starts and still while it progresses – but for all of her strength and development, she too possesses a bit of vulnerability and a little something else that just makes her stand out to me as really wonderful. She feels so very real and I feel like I could actually know her as a person in my life right now.
Pat and Tiffany together is greater than Pat and Tiffany apart. See, they both are having to deal with big circumstances – big, life-altering, mind-boggling things that would make any of us just cringe at having to go on with life – but they DO go on with life and they are MAKING IT. But when they find each other – even though it is a bumpy path for a while – it is so much better when they choose to just coast along together because they both can at least understand one another while no one else around them can. That's not saying they're great friends or that they start a huge romance or they have these wonderful scenes throughout the book – but there is a quiet and slowly-developing realization that these two need each other and can do so much better if they go through life together.
And then there is some betrayal and deception – and the thing is that it doesn't just come from one place – it comes at Pat from several angles at seemingly the same time. Like I've mentioned/alluded to, it's Pat's growth as a character that allows him to deal with everything and even though I never thought it possible, I loved him even more after all of the screwy mess he went through than before.
You guys, Pat Peoples is amazing. This story is amazing. It was absolutely, without-a-doubt the RIGHT decision (for me) to read this before seeing it as a movie
and since I've read and loved it, I will try to make it a priority to see it soon. I'd love to thank the
Rather Be Reading
gals for bringing it to my attention that this was indeed a book because otherwise I'd have not known about this GEM and never enjoyed the time it took to read it.
I highly, highly recommend The Silver Linings Playbook to readers that enjoy adult contemporary fiction, stories with male POV's, and stories that deal with mental health. I loved the way the author threw in some fun things that are regional to the setting, such a Yuengling Lager and the Eagles among some other things (correct me if I'm wrong on those) and I am amazed at how well this debut novel turned out for this author.
It looks like there is another book in the works for 2014: The Good Luck of Right Now. But dagnabit I can't find out any information about it. I loved this one enough that I am extremely interested in finding out what this next project is about!
*********************************************************
The Silver Linings Playbook will appeal to fans of:

Adult Contemporary Fiction
(but I believe there is crossover appeal!)
EXCELLENT Male Point-of-View
Great Characterization
Fun Setting
Issues: Mental Health
The Silver Linings Playbook
by Matthew Quick
is currently available for purchase.
*********************************************************

Does this sound like an adult fiction title
you would add to your to-read list?
Have you already read it?


OR DID YOU SEE THE MOVIE FIRST?
Come on, tell the truth!! 🙂

I know some of you are planning to just see the movie instead
of reading the book, but I'm telling you – this one is WORTH THE TIME.

WHAT IS THIS?
*Disclosure: I am not affiliated with Amazon nor am I affiliated with B&N.
I just really loved this book.