Best Kind of Broken by Chelsea Fine
Series: Finding Fate #1
Published by Forever
Publish Date: March 4, 2014
Source: Publisher
Find it here: Goodreads / Amazon / B&N


Pixie Marshall wishes every day she could turn back time and fix the past. But she can't. And the damage is done. She's hoping that a summer of free room and board working with her aunt at the Willow Inn will help her forget. Except there's a problem: the resident handyman is none other than Levi Andrews. The handsome quarterback was once her friend-and maybe more–until everything changed in a life-shattering instant. She was hoping to avoid him, possibly forever. Now he's right down the hall and stirring up feelings Pixie thought she'd long buried . . .
Levi can't believe he's living with the one person who holds all his painful memories. More than anything he wants to make things right, but a simple "sorry" won't suffice–not when the tragedy that scarred them was his fault. Levi knows Pixie's better off without him, but every part of him screams to touch her, protect her, wrap her in his arms, and kiss away the pain. Yet even though she's so close, Pixie's heart seems more unreachable than ever. Seeing those stunning green eyes again has made one thing perfectly clear–he can't live without her.
(Goodreads)
Best Kind of Broken by Chelsea Fine
My Thoughts: Best Kind of Broken by Chelsea Fine was such a fun read! I love starting a new series this way.
Months ago, Pixie and Levi were involved in a car accident with Pixie's best friend and Levi's sister, Charity. Sadly, Charity died. After the accident, Levi and Pixie couldn't handle the guilt they both felt so they just walked away from one another despite the injuries and the shared loss and their budding romantic relationship. Now, they can barely look at one another — let alone speak — which is awkward since they're living and working together for the summer thanks to a little bit of meddling and manipulating by Pixie's Aunt Ellen, who owns the Willow Inn.
They're miserable, and it's hilarious.
Levi is Willow Inn's handyman. Ellen gives him room and board in the east wing in exchange for his work. Pixie works in the Inn's kitchen. She had no clue when she took the job, which came with room and board, that Levi was already living and working there. She also had no idea that her Aunt Ellen gave her a room in the east wing very close to Levi so the two would be forced to be around each other again. The east wing is closed to the public, see, meaning that Pixie and Levi are the only ones staying there. Even with the entire hall vacant, the space is just too small for the both of them.
Pixie is so stubborn. And lonely. And heartbroken. She's easily frustrated and angered by Levi; he barely has to do anything at all before she is either fussing at him or retaliating for something. The same with Levi – Pixie barely glances at him, and he gets this strained look on his face and he's stalking off, mad about who-knows-what. The thing about the two of them is that these feelings aren't what they're really feeling. They're both actually angry with themselves over so many unresolved and unspoken things and they don't know how to even begin to fix it, and neither one will be the first to open up and talk to the other one about it. Pixie and Levi have a walking-on-eggshells relationship for a chunk of the story. There is a certain point though — an event in the story — in which those walls start to come down and the two begin to face those hard things that they feel. It's tough for them, but it's lovely to read two people work things out and come out on the upside.
I love how Author Chelsea Fine wrote this romance story. There is grief and heartache, but there is also humor. I laughed while I read the torture that these two inflicted on each one another just because they could. (When he used all of the hot water, she would blow the fuse on the electricity halfway through his shaving, so his beard was only half-done.) It was the only way they knew how to communicate, almost-but-not-quite flirting, and it was kind of cute. But I loved when they finally figured out how to work around that beast of guilt that they both felt too. And I was smiling for them in the end with the HEA. I do love a happy ending.
I also love the secondary characters in this book. Pixie has a great friend that I'm hoping to see in an upcoming book and there are some pretty fun characters that hang around the Willow Inn, including Ellen. I'm excited to see which of these characters will be (hopefully) featured in upcoming books in this series. Speaking of the Willow Inn, I loved it as a setting. I feel like the Inn came alive in my mind. The actual setting is a small town in Arizona called Copper Springs, and I'm excited to read the rest of the series set in this area.
I think one of the things that I appreciate the most about Best Kind of Broken is that even though there are big issues that both love interests have to work through before they can have their happy ending, this book never felt too heavy or serious. The romance is still there and there are still places to smile and laugh. It's in the banter between characters and in some of the silly things they do. I just really enjoyed this story and I'm so excited to have the rest of the series before me. I'd recommend Best Kind of Broken by Chelsea Fine to readers that enjoy contemporary romance with issues, but that also enjoy smiling or laughing a little while they read.
***********************************************************************
Best Kind of Broken will appeal to fans of:
New Adult Contemporary Romance
Romance: No triangle. Second-chance. Slow-burn.
Alternating POV's
Great secondary characters
Best Kind of Broken by Chelsea Fine
is currently available for purchase.
***********************************************************************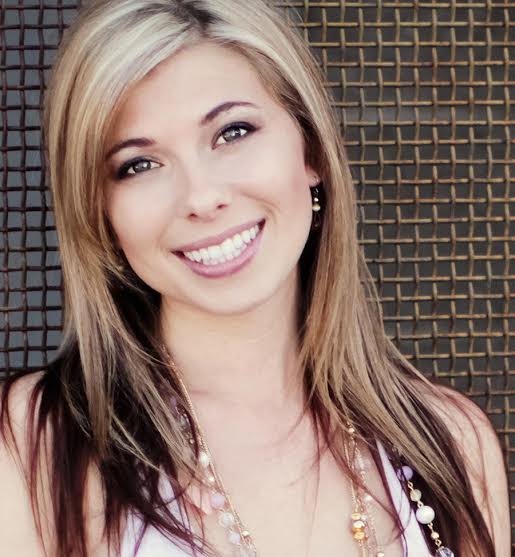 Chelsea lives in Phoenix, Arizona, where she spends most of her time writing stories, painting murals, and avoiding housework at all costs. She's ridiculously bad at doing dishes and claims to be allergic to laundry. Her obsessions include: superheroes, coffee, sleeping-in, and crazy socks. She lives with her husband and two children, who graciously tolerate her inability to resist teenage drama on TV and her complete lack of skill in the kitchen.
***********************************************************************
And now for the Giveaway!
Giveaways!
You can also enter HERE to win
one of 5 Signed Copies of Best Kind of Broken!
Be sure to visit the rafflecopter to enter!