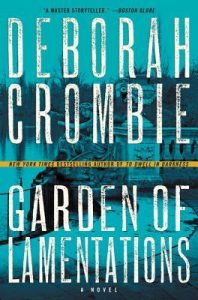 Garden of Lamentations
by
Deborah Crombie
Series:
Duncan Kincaid & Gemma James #17
Published by
William Morrow
on November 14, 2017
Pages:
448
Source:
the publisher
Buy from Amazon
|
Buy from Barnes & Noble
|
Buy from Book Depository
Goodreads
Scotland Yard detectives Duncan Kincaid and Gemma James are drawn into separate investigations that hold disturbing—and deadly—complications for their own lives in this powerful mystery in the bestselling series.

On a beautiful morning in mid-May, the body of a young woman is found in one of Notting Hill's private gardens. To passersby, the pretty girl in the white dress looks as if she's sleeping. But Reagan Keating has been murdered, and the lead detective, DI Kerry Boatman, turns to Gemma James for help. She and Gemma worked together on a previous investigation, and Gemma has a personal connection to the case: Reagan was the nanny of a child who attends the same dance studio as Toby, Gemma and Kincaid's son.

Gemma soon discovers that Reagan's death is the second tragedy in this exclusive London park; a few months before, a young boy died in a tragic accident. But when still another of the garden residents meets a violent end, it becomes clear that there are more sinister forces at play. Boatman and Gemma must stop the killer before another innocent life is taken.

While his wife is consumed with her new case, Kincaid finds himself plagued by disturbing questions about several previous—and seemingly unrelated—cases involving members of the force. If his suspicions are correct and the crimes are linked, are his family and friends in mortal danger as well? Kincaid's hunch turns to certainty when a Metropolitan Police officer close to him is brutally attacked. There's a traitor in the ranks, and now Kincaid wonders if he can trust anyone.

As Gemma begins to see a solution to her case, she realizes she holds a child's fate in her hands. Can she do the right thing? And can Kincaid rely on his friends, both inside and outside the Scotland Yard force, to stand beside him as he faces the deadliest challenge of his career?
I received this book for free from the publisher in exchange for an honest review. This does not affect my opinion of the book or the content of my review.
Review:
I started this series with Garden of Lamentations, which is the 17th installment. I was so nervous to do this, since I usually only start with the first book in the series, but I am really enjoying British mysteries and crime stories these days, so I figured why not? Ultimately I'm glad that I took this leap; I liked this one enough that I want to go back and start from the beginning.
Gemma and Kincaid obviously have an extensive history since this series is named after the both of them: the Duncan Kincaid & Gemma James Series. By this time in the series, the two are married with a young child, Charlotte, that they are parenting after her biological parents were killed, presumably in an earlier installment in this series. In Garden of Lamentations, Gemma is investigating the death of a young girl found in a garden in a Notting Hill neighborhood and Kincaid is investigating corruption in the police division, which leads him down a trail of attacks and past murders.
If I am being honest, I have to admit that I expected these two to cross paths with their work more than they did. I was surprised that their cases were two almost-independent storylines. The story read (to me) like two married people with similar jobs who are both working, but on different cases. Of course, there is nothing wrong with this – it just wasn't what I was expecting. I loved that throughout the story, while there was the police procedure and investigation going on, there was also the relationship between Kincaid and Gemma. Their marriage and personal lives sort of hovered over the story. I personally tend to love the domestic, private side of fictional detectives' lives and how their lives intersect their investigations, so I enjoyed it very much when I got glimpses into the inner workings of their family.
I loved getting to know these characters and their network of friends and coworkers. This book has a remarkably British feel to it, down to the verbage and the setting. I absolutely love that. There is an amazing map in the front of the book that I put to good use. I found the story – especially Gemma's portion of the story – easy to visualize as I followed the clues along with her, tracking down the young girl's killer. I was thrilled that I did not suspect nor figure out the whodunnit in either case – Gemma's nor Kincaid's – which kept me on my toes throughout the entire story and made the reading consistently interesting for me.
Of note: There are tons of references to what I can only assume are things from earlier books – things like earlier investigations, past relationships, friends or coworkers that have died in installments prior to this one, and so forth. While I was able to pick this book up and follow along easily enough, there were plenty of "past things" in the story that I wish I could have known more about. For example, it is mentioned in the story about Charlotte not being the biological child of Gemma and Kincaid and that's okay, but it makes me fidgety about how much I don't know about the backstory. In addition, in the previous book, there was a deadly bombing that some of these characters are still adjusting to emotionally. As a new reader to this series, I didn't know much about this and had to do a little bit of backwards research because it was referenced multiple times. Again, none of these things affected how much I enjoyed Garden of Lamentations, but I am itching to go ahead and start back at the beginning as soon as possible because I feel like there are so many of the pieces of this puzzle missing and it drives me a little crazy.
I'm honestly not sure if this is the end of the series or not, since I'm new to Gemma and Kincaid and their world. I hope not. Now that I'm here and I've looked around a little bit, I want more. It seems that these two detectives have a very loyal fanbase. I think Garden of Lamentations is a solid story with great characters and a fabulous London setting, and I'm so thrilled to have found a new author and series to dive into.
ABOUT DEBORAH CROMBIE
Deborah Crombie is a New York Times bestselling author and a native Texan who has lived in both England and Scotland. She now lives in McKinney, Texas, sharing a house that is more than one hundred years old with her husband, three cats, and two German shepherds.
Connect with her through her website, Facebook, or follow her on Twitter.