Author Julianna Baggott
Friends, I can't tell you how excited I am to have
Author Julianna Baggott
stopping by the blog today to answer a few questions. I've been so fortunate to be able to read her latest novel, Pure, and I absolutely love it.

Pu
re
is the first book of a planned trilogy.
(Read my review of Pure
HERE
.)
Julianna, thank you so much for stopping by today!
1.
For those readers who may be on-the-fence or yet undecided about reading
Pure
, can you describe a little bit about the book? Perhaps explain slightly beyond the synopsis…for example about the Pures and the Wretches?
JB: I'd tell them to listen to you, first and foremost! But let's say this was happening at a cocktail party and you were across the room, talking to someone about something else, and I was left there with a mushroom puff and this question, I'd say, "It's a post-apocalyptic thriller. The wretches who have survived the detonations are scarred, burned, and even fused … In fact, the main character is a 16 year old girl hiding in an ashen cabinet. When the Detonations hit she was a little girl, and her fist was fused to a doll head. There's also a boy who's survived in the Dome, unscathed, like the the other Pures. When he finds out that his martyred mother might be alive, he escapes the Dome to set out to find her and these two lives are set on a collision course." And then I'd pop the mushroom puff in my mouth and, trying not to sound muffled and garbled, I'd wave you over and ask you to talk to this fence-sitter.
me: I think I could sway the fence-sitter!
2. I read on your facebook fan page (here) that you read the early pages of Pure to your daughter. You go on to say, "She told me it was the best thing I'd ever written and that I had to write this novel." Can you describe how that felt to you as an author – to hear that critique from your own daughter?
JB: Well, she's snarky. She doesn't generally love what I write. And so her urging me to write this novel meant a lot to me. The book is dedicated to her. For Phoebe who made a bird of wire.
3. I'm a HUGE fan of the post-apocalyptic and dystopian genres, but I have to admit that I've never read anything quite like this before. How did you envision a world so dark and gripping, where people who were lucky enough to survive were unlucky enough to be fused with plastic, metal, animals, bushes, and anything else they were close to? It's shockingly brilliant.
JB: It's hard to say where it ALL came from, but much of it first came from having children. Infants and little kids are called offspring but there are times when they just don't spring off. They feel fused. I have a short story called "Baby Mouth," and, not giving anything away, this idea recurs in the book, among the Mothers. Actually, I wrote a spree of stories where people, in a contemporary setting, were fused to things. One was a doll-head. That image kept returning even after the story itself didn't work. And Pressia eventually arrived to claim it.
4. Even though I loved this book so much, there were times when Pure was so horrifying that I couldn't help but cringe and so grotesque that I had to turn away. Did you ever have to take a step back from all of the fusion and survival to recharge for a while…or were you so immersed in telling the story that it never really bothered you?
JB: I researched Hiroshima and Nagasaki for this novel. I had to. I couldn't ignore the real effects and the real history of the atomic bombs. As dark as PURE gets, it's nothing compared to the real devastation, loss, horror, and terror of the truth, of history. The novel itself and the research both burrowed into my dream life so I would often fall asleep knowing that I was going somewhere dark and ashen. I was very relieved when that lifted.
me: Wow. I bet you were relieved. That's incredible.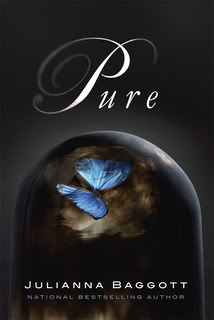 5.
Books written in multiple POV (points-of-view) are some of my favorites…Is it any more difficult to write from two points of view rather than from the perspective of just one
character? Also, what made you choose this particular story structure for
Pure
?
JB: The more points of view the greater the challenge to keep moving forward. You risk telling the same thing from different perspectives, which, actually, is the entire point of some novels, but not PURE. I felt I needed all of the voices to tell the entire story, fully. The narrative makes those demands. Although one perspective would have been easier in many ways, it wouldn't have told much of the story here at all.
NOTE: Pure is written from more than two POV's. This is something I discussed in my review. I used the word two for the sake of the question.
6.
There are a ton of things I love about this book, but I have to admit that my favorite is by far the world-building. What sort of bookish elements do you seek out when you are
reading a good book?
JB: Like you, I want those gifts of imagination, yes. It's why I loved the first Harry Potter. She was building a world and I delighted in those details as much as I did the plot line. Actually, more than the plot. The more I've written — PURE is my 18th book, including two pen names — the more I visualize before I write a scene for the first time. And with book two in the trilogy, FUSE, there will be scenes that I was first drawn to because a visual image appeared in my mind, a landscape — the way filmmakers scout locations, except these were locked in my head.
7.
Describe for us how it felt to learn that film rights for
Pure
were sold to Fox2000 Pictures? (Congratulations, by the way!)
JB: It was a huge relief. There was a lot of action going on, things flying around, and then Fox2000 made their offer and the dust could settle. I'd met the producer years ago and thought very highly of her so that too was a relief.
8. On the back of the ARC (Advanced Reader Copy) it reads:
"IN 2008: THE HUNGER GAMES… IN 2010: THE PASSAGE…
IN 2012, IT WILL BE: PURE"
How do comparisons like this make you feel…Nervous? Excited?
JB: They don't really have anything to do with me, personally. I mean, it's the publisher's job to place the book in a context. Do I like the company? I sure do. But I want to earn it on the inside. So, that is where my relationship with the reader truly begins. I think readers understand this and hopefully don't hold it against me, if you know what I mean.
me: I think it is well earned on the inside…Pure is solid on its own!
*********************************
Wow, Julianna! Thank you so much for the interview!
I like that your daughter is snarky…
I'm quite fond of snarky people and,
well, let's face it: because of her urging, I got to read Pure.
So she's pretty high on my list of cool people.
Also – I am waiting on the edge of my seat for Fuse (Pure #2)!
I. CANNOT. WAIT.
I've already read this book several times
and I already want to read it again. I can't wait
until my non-blogger friends get to pick up their copies
in the next few days! So much to discuss!
Thank you again for stopping by!
It was a real treat to be able to have this little chat with you…
Please stop back by anytime!