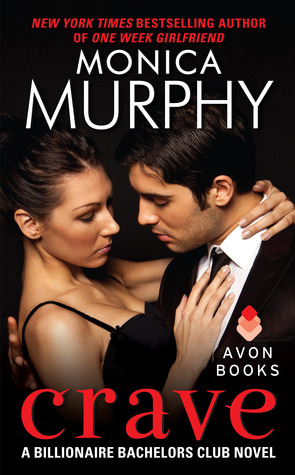 Series: Billionaire Bachelors Club Series #1


Published by Avon Impulse


100 Pages
Publish Date: August 6, 2013
Find It: Goodreads / Amazon / B&N
Billionaire Archer Bancroft always gets what he wants—and he's wanted Ivy Emerson, his best friend's sister, for far too long. Being forbidden and untouchable only makes her more tempting. When a million-dollar bet with his friends throws down a challenge—last bachelor standing takes all—Archer knows he can win. That is, until one enchanted evening with Ivy takes his heart for a ride.
Ivy knows Archer is nothing but bad news: Infuriating, arrogant…and completely intoxicating. But despite her best efforts, she can't seem to keep away. When a stolen kiss leads to a night of heated passion, Ivy realizes she's in trouble and in head over heels.
But in the light of day, everything seems clearer and Archer's not so sure a one-night stand is all he wants. Concocting a plan to keep Ivy by his side, Archer might just be willing to lose this bet…and win the jackpot instead.
-(summary excerpt from Goodreads)
Hosted by the fabulous Inkslinger PR
CRAVE by Monica Murphy releases today!
I pre-ordered this one and am excited to be reading it soon. Like,
super soon
, you guys.
The rest of the series
looks like a lot of fun if you like to read books like this one. PLUS! They're releasing in quick succession which is always awesome – nobody likes the long wait between books!
Thank you, Monica Murphy and Avon Impulse!
You all may recognize Monica Murphy's name from
these recent very popular titles and the upcoming title:
It's exciting that Author Monica Murphy is launching this new series and it sounds super swoony! I love the cover of CRAVE!
I can't wait to read it and see what it's all about!
**************************************************************
New York Times and USA Today bestselling author Monica Murphy is a native Californian who lives in the foothills below Yosemite. A wife and mother of three, she writes New Adult and contemporary romance for Bantam and Avon. She is the author of One Week Girlfriend and Second Chance Boyfriend.
**************************************************************
And now for a Giveaway!
Author Monica Murphy
has generously offered a
SIGNED

copy of

CRAVE

for
TWO WINNERS!
Have you read any books by Ms. Monica Murphy yet?
Will you be adding CRAVE to your to-read list?
I actually own all of these except for the upcoming title!
I need to hurry and read them!