Dear Teen Me includes advice from over 70 YA authors (including Lauren Oliver, Ellen Hopkins, and Nancy Holder, to name a few) to their teenage selves. The letters cover a wide range of topics, including physical abuse, body issues, bullying, friendship, love, and enough insecurities to fill an auditorium. So pick a page, and find out which of your favorite authors had a really bad first kiss? Who found true love at 18? Who wishes he'd had more fun in high school instead of studying so hard? Some authors write diary entries, some write letters, and a few graphic novelists turn their stories into visual art. And whether you hang out with the theater kids, the band geeks, the bad boys, the loners, the class presidents, the delinquents, the jocks, or the nerds, you'll find friends–and a lot of familiar faces–in the course of Dear Teen Me.
–(summary from Goodreads)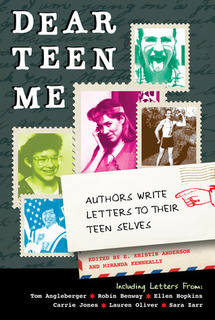 Dear Teen Me : Authors Write Letters To Their Teen Selves
Edited by E. Kristin Anderson and Miranda Kenneally
Published by Zest Books
Publish Date: October 30, 2012
192 Pages
Source: Publisher

Dear Teen Me is such a neat idea for a book: tons of young adults authors write letters to their teen selves. Some of the letters are funny, some are sad, and some are cute. Some are advice for upcoming college years, some are advice for how to handle awkward situations, and some are just to say that different circumstances or events that happened were okay and life really does go on, even if it doesn't feel like it when you're in high school.
Certain letters stand out to me for various reasons. I love the way one female author spoke to her teen self about pretending not to know the answers in math class, or what I call 'dumbing yourself down' (which I think is a huge problem, especially for girls). Another author made me super happy when she spoke on being true to your inner geek. I was surprised and laughed a little when a (male!) author talked about being part of a dance crew and bombing part of a big dance-off when he was a teen. One of my favorite authors reminded herself that everything that sets you apart also makes you unique. Another awesome author is a new hero of mine for ditching her prom to see the last performance of one of the greatest bands of all time and isn't sorry about it at all.
Lots of stops on this tour have done super awesome Dear Teen Me projects for their stops. Not this gal, sorry! BUT you can click HERE to see all of the other stops and their creative videos and posts and enter their giveaways too.
All-in-all, this blog-turned-book project is a great idea and it was a fun, quick read for me. There may be someone out there that really connects with one particular Dear Teen Me letter, or someone may find several things on several pages that resonate with them. I certainly recommend this for younger readers, certainly teens or those who were recently teens, and I think that some of the advice given by these authors holds true to those of us that are not teens anymore.
*************************************************
Thanks to the generosity to Zest Books,
one lucky reader can win a copy of Dear Teen Me!
*ends 11/9* *Open Worldwide*

Good Luck!