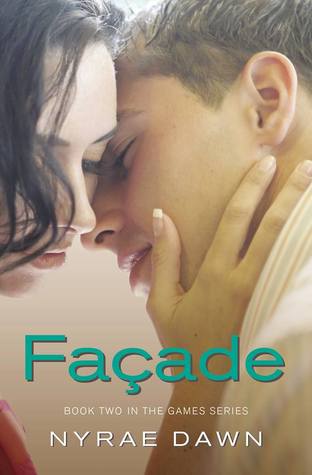 Facade by Nyrae Dawn
Series: Games #2
Publish Date: July 2, 2013
304 Pages
Source: NetGalley
Find It: Goodreads / Amazon / B&N
Can love save them?
After her father commits a crime that shatters her family, eighteen-year-old Delaney Cross is tired of pretending everything is all right. Packing up her car, she sets out to find the people her father hurt. Her search leads her to places she's never been—and into the arms of Adrian Westfall.
To the outside world, Adrian is a sexy, charming ladies' man. But his playboy persona is just an act. Secretly his soul is tortured by a memory too painful to share. Only Delaney seems to see through his façade to the real man underneath. And for the first time in his life, Adrian feels he can begin to open up about his past.
Together, Adrian and Delaney share a passionate love they never expected to find. Yet both still harbor their own secrets. When the dark truth is finally revealed, will it bring them closer together—or tear them apart forever?
-(summary from Goodreads)
Facade by Nyrae Dawn
My Thoughts: Okay, it was only a handful of days ago that I posted my thoughts on Charade by Nyrae Dawn. I listened to that book via audiobook and followed along in print and while I liked the book, I felt it was a little bit predictable and that the characters needed to work on themselves a bit. Still, I recommend it to fans of New Adult Contemporary Romance with Issues without reservation. But, see, then I got to Facade and liked it even better.
This time, I read the book in print. While Charade focused on characters Cheyenne and Cole, Facade focuses primarily on Adrian Westfall – Cole's best friend. There is also the introduction of a new leading female character, Delaney Cross.
***************************************************
You can tell from the book's summary that Delaney's father has committed a crime that has torn her family apart – but what you can't tell is to what degree. Delaney's father is in prison. Her mother is a shell of a person, never having been able to get over the crime her husband committed and the information she found out that surrounded the crime – it was heinous, you guys. So she's been on a downward spiral of drugs and alcohol as well as multiple suicide attempts. Since the crime was committed, Delaney has tried to help her mother, but her mother wanted nothing to do with her because she was the apple of her father's eye and well, now, her father is gone. So Delaney and her mother have not only a strained relationship, but her mother is in and out of hospitals constantly. Then there is Delaney's older brother – Maddox – who is her best friend, the only one she can count on. The problem with him is that he is angry, so angry, at his mother and his father that it pretty much clouds everything he thinks and does. He loves his sister fiercely, but he just can't move on from the tragedy that broke apart his family. Delaney and Maddox are thick as molasses, sticking together through everything, but they're getting to the point now that his protective instincts are starting to crowd Delaney just a little bit and she worries about his constant angst at everything and everyone.
Adrien's family has also had their share of tragedies and heartbreaks – BIG ONES. Adrien used to live with his older sister – she was the only one that believed in him and thought he was worth anything. She encouraged him to continue school and go to college. Then something truly tragic happened and Adrien couldn't ever forgive himself, so he left. He ran from the life he once had and began to party and use drugs and women to cope.
Facade is the story of Laney and Adrian and their OH SO GOOD slow-burn romance.
***************************************************
I have to admit that I loved Facade a lot more than Charade. Adrien is such a tortured soul, a broken boy (I love them), but there are reasons for this and they are so awful. Adrien has been thru hell and back in his young life, and he just can't forgive himself for the things that have happened in his past, things that he feels are his fault. As a result, he doesn't allow himself to feel happiness or anything, actually, because feeling anything is more than he can bear. And it isn't fair to the people that he has hurt in the past. In Charade, Adrien was the fun-loving party-boy, the one that always had women by his side, drinks or drugs in his hands. He was likable, but obviously involved in some unsavory things. As Facade begins, he is the same Adrien, but this soon changes. He meets a girl, and he's intrigued by her. Suddenly he is more interested in this girl than the short-term relief that drugs, drinks, or any other one night stand can provide.
Adrien gets to know Laney when he begins showing up at the all-night diner where she waitresses for rent money. She works the late shift – overnight – and he has trouble sleeping, so he usually goes and sits in the diner while she works. They have some banter to begin with and she turns him down as he tries out his smooth-talking on her, trying to get her to go out with him. Still, he comes in and sits while she works, so intrigued is he by this girl. All night, every night, he reads the same book over and over – The Count of Monte Cristo – and he writes in a notebook.
Laney and Maddox moved to town to make amends to the family that her father hurt years ago. In Laney's heart and mind, this can somehow fix her own family, can heal them. Laney is a fixer, and she just
wants
needs everyone to get along and be better. When Adrien comes into the diner as she's working, she's a little annoyed to begin with, but she begins to watch him too. He curiously reads that same book over and over, and he writes. He always eats the same thing, and he stays all night, leaving when her shift is over. Laney knows the reason she came to town, she is set on meeting her goal, and doesn't want anything to cause her to lose her focus – especially a guy – but she can't help that she may be just as intrigued with this boy as he is with her. She might even be falling for him. It's a bad idea to become attached to Adrien, she knows, because once he finds out about her past – her family's past – he certainly won't want anything to do with her.
The slow-burn romance of Laney and Adrien just about did me in, you guys. It really did. Such a great romance.
***************************************************
This story surprised me so much after reading the first book in this series – I could barely believe it. It was so much better, in my opinion. It wasn't perfect, but MAN it was good.
As far as Laney goes – being a fixer isn't always the best or easiest thing. Laney has this idea that her own life and the life of her whole family will be better if she can just apologize for the actions of her father, which is why they move to this new town – the town where Adrien lives. Now, her brother disagrees with this and is not on board with her feelings. Right away, there is tension between Laney and the only person she really has in her life, which isn't a good thing. Maddox is broody throughout the novel and I feel that this is not only his general angst at the way his family has turned out but his general disagreement with Laney's decisions. With Maddox not really 'there for her' like he always has been, Laney does a ton of thinking – sometimes a good thing, sometimes not a good thing. In this case, I think it kind of messes her up. She locates the family member she is looking for, but thinks her way through making what I consider are some not-great decisions. No spoilers here, but COME ON, LANEY! Still, outside of the situation, I liked her and felt that she was doing the best she could with what lot she had in life. She was a hard worker, she had dreams and aspirations, she wanted love. She just made a few bad decisions.
Adrien. The thing about Adrien is that it's best to let his story unfold as you read because it is a doozy. I think personally, he is the character that is written the best from both of the books in this series (so far) and I couldn't help but get so wrapped up in his story. I felt so emotionally attached to what he was going through, and I think that he does the best he can with his life – he doesn't really know how to be any better than he is because he doesn't really know how to let go of the guilt and constant sorrow he feels, so when this girl comes along and shakes up his world, it gets really strange for him and he sort of flails a bit. He fights back a little bit and then he reaches out to her, and then he pulls back again, and it's just a cycle – until he figures out how to manage his pain and emotions. I love Adrien because even though he appears to be very stereotypical in terms of the New Adult angsty-male, he actually isn't. I love those characters that fool me and end up making me really happy with their growth and change.
As far as the story goes, I just couldn't put it down. It's predictable again a little bit, sure, but I didn't mind. I was invested in Laney and Adrien, in Laney's goals, and in Adrien getting some relief from everything that was weighing him down. Once again, Nyrae Dawn uses flashbacks to give us more perspective on the events that occurred to both Laney and Adrien in their pasts, and I think that this is meant to make us feel more emotionally invested in each character. This worked better for me in this book than it did in the previous book. My only issue with Facade is the secrets that each character kept from one another – both Adrien and Laney kept things from their past from one another, and that is fine, but there is a point when they both needed to go ahead in this case and start the sharing because I think that even I would've started picking up on some of the subtle clues that were written into the story – sorry, no spoilers here, but some little details were pretty obvious and I would think that these characters would start to question one another. Other than that, I loved Facade and this little detail is not a dealbreaker for me as far as liking the book and continuing with the series.
Great characters, great pacing, great slow-burn romance. I would recommend Facade to fans of New Adult Contemporary Romance with Issues in a heartbeat and I'm going to be grabbing Masquerade as soon as I can get it. Trust me on that.
******************************************************************
Facade will appeal to fans of:


New Adult Contemporary Romance
with issues.
Romance: Slowly developing, slow slow-burn. No triangle.
Facade by Nyrae Dawn
is currently available for purchase.
******************************************************************
Have you read Charade or Facade yet?
What did you think of either of these?
Are they on your to-read list?