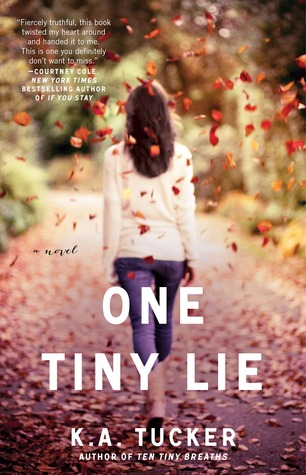 One Tiny Lie by K.A. Tucker
Series: Ten Tiny Breaths #2
Publish Date: June 11, 2013
(Paperback Release: January 14, 2014)
Published by Atria Books
Find It: Goodreads / Amazon / B&N


Livie has always been the stable one of the two Cleary sisters, handling her parents' tragic death and Kacey's self-destructive phase with strength and maturity. But underneath that exterior is a little girl hanging onto the last words her father ever spoke to her. "Make me proud," he had said. She promised she would…and she's done her best over the past seven years with every choice, with every word, with every action.

Livie walks into Princeton with a solid plan, and she's dead set on delivering on it: Rock her classes, set herself up for medical school, and meet a good, respectable guy that she's going to someday marry. What isn't part of her plan are Jell-O shots, a lovable, party animal roommate she can't say 'no' to, and Ashton, the gorgeous captain of the men's rowing team. Definitely him. He's an arrogant ass who makes Livie's usually non-existent temper flare and everything she doesn't want in a guy. Worse, he's best friends and roommates with Connor, who happens to fits Livie's criteria perfectly. So why does she keep thinking about Ashton?

As Livie finds herself facing mediocre grades, career aspirations she no longer thinks she can handle, and feelings for Ashton that she shouldn't have, she's forced to let go of her last promise to her father and, with it, the only identity that she knows. -(from Goodreads)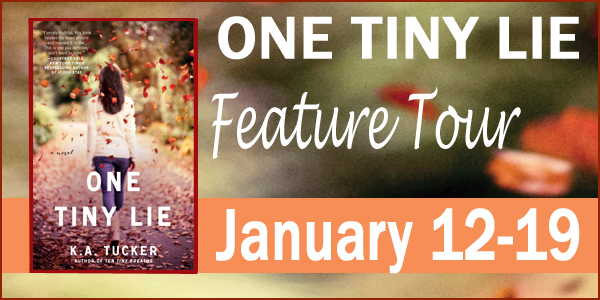 and I'm super excited to be bringing you an excerpt from
One Tiny Lie
,
the second book in the series –
this book releases in paperback format tomorrow!
*********************************************************************
Sometimes in life you make a decision and you find yourself questioning it. A lot. You don't regret it, exactly. You know that you probably made the right choice and that you're probably better off for it. But you do spend a lot of time wondering what the hell you were thinking.
I still wonder why I ever agreed to that one phone call. I wonder it daily. I'm definitely wondering it right now.
"I'm not suggesting you star in a Girls Gone Wild video, Livie." He's already switched to that smooth, authoritative tone that he uses for coercion.
"How would I know? Three months ago, you suggested I have a conversation with an orangutan." True story.
"Has it been three months already? How is old Jimmy doing?"
I bite my tongue and take a deep breath before I say something snippy. "Now's not a good time,
Dr. Stayner." And it's not. Truly. The sun is shining, the air is warm, and I'm carting my pink suitcase and a cactus through a picturesque setting toward my dorm along with a thousand other confused students and flustered parents. It's move-in day and I may still vomit from the bumpy plane ride. One of Dr. Stayner's guerilla-tactic calls is definitely not what I want to be having right now.
"No, Livie. Probably not. Maybe you should have rescheduled your therapy session with me, knowing you'd be on a plane to New Jersey this morning. But you didn't," Dr. Stayner calmly points out.
Looking from left to right to ensure no one overhears this conversation, my shoulders hunch in and my voice drops as I whisper, "There's nothing to reschedule because I'm not in therapy."
Okay. So that's not entirely true.
It hasn't been entirely true since the pleasant June evening when my sister ambushed me with cheesecake. Dr. Stayner phoned me the very next morning. In typical Stayner fashion, his first words to me weren't "hello," or "nice to talk to you again." He simply said, "So I hear you're a ticking time bomb."
The rest of the conversation had gone smoothly. We chatted about my flawless academic career, my lack of love life, my hopes and dreams, my future plans. We spent a bit of time talking about my parents, but he didn't dwell on it.
After I hung up, I remember smiling, sure that he would tell Kacey that I was fine and well adjusted and she could continue her witch hunt for the mentally unstable elsewhere.
When that same Chicago number appeared on my phone the following Saturday morning at ten o'clock sharp, I was more than surprised. But I picked up. And I've been picking up every Saturday at ten a.m. ever since. I've never seen a bill or a patient record or the inside of a psychiatrist's office. Both of us have danced around the word "therapy," but we have never used it before this conversation. Perhaps that's why I refuse to acknowledge Dr. Stayner for what he is.
"Fine, Livie. I'll let you go. We'll resume our chat next Saturday."
I roll my eyes but don't say anything. There's no point. I'd get farther dragging a mule through a hay field.
"Make sure to have a shot of tequila. Break dance. Whatever it is you youngsters do nowadays during frosh week. It'll be good for you."
"You're recommending addiction and life-threatening dance moves for my well-being?" It was pretty obvious from that second phone call that Dr. Stayner had decided to take on the task of "treating" my awkward shyness with a weekly course of absurd, often embarrassing, but ultimately harmless assignments. He's never admitted to what he was doing, never explained himself. He just expects me to comply.
Maybe that's why I should be in therapy.
The surprising thing is that it has worked. Three months of harebrained tasks has actually helped calm my nerves around crowds, free my inner thoughts, and arm me with enough confidence that sweat doesn't instantaneously erupt from my pores when an attractive man walks into the room.
"I suggested tequila, Livie. Not crystal meth . . . And no, I'm not recommending tequila because you are only eighteen and I am a doctor. That would be highly unprofessional. I'm recommending that you go and have fun!"
I heave a resigned sigh but smile as I say, "You know, I was normal. I think that you've turned me into a head case."
My ear gets a blast of laughter. "'Normal' is boring. Tequila, Livie. It makes wallflowers into butterflies. Maybe you'll even meet"—he gasps for dramatic effect—"a boy!"
"I really have to go," I say, feeling my cheeks flush as I climb the concrete steps to my stunning Hogwarts-style residence hall.
"Go! Make memories. This is a happy day for you. A victory." Dr. Stayner's voice loses that playful lilt, suddenly turning gruff. "You should be proud."
I smile into the phone, happy for the moment of seriousness. "I am, Dr. Stayner. But . . . thank you." He doesn't say the words but I hear them. Your father would be proud.
"And remember—" The lilt is back.
I roll my eyes at the phone. "I got it. 'Girls Gone Reasonably Frisky.' I'll do my best." I can hear his chuckling as I press "End" on the call.
*********************************************************************
You guys, I loved One Tiny Lie when I read it (just like I've loved ALL of the books in this series) and I'm thrilled to be featuring an excerpt to help get the word out about the paperback release. The story is really great – I love these characters! – and the cover is beautiful.
*********************************************************************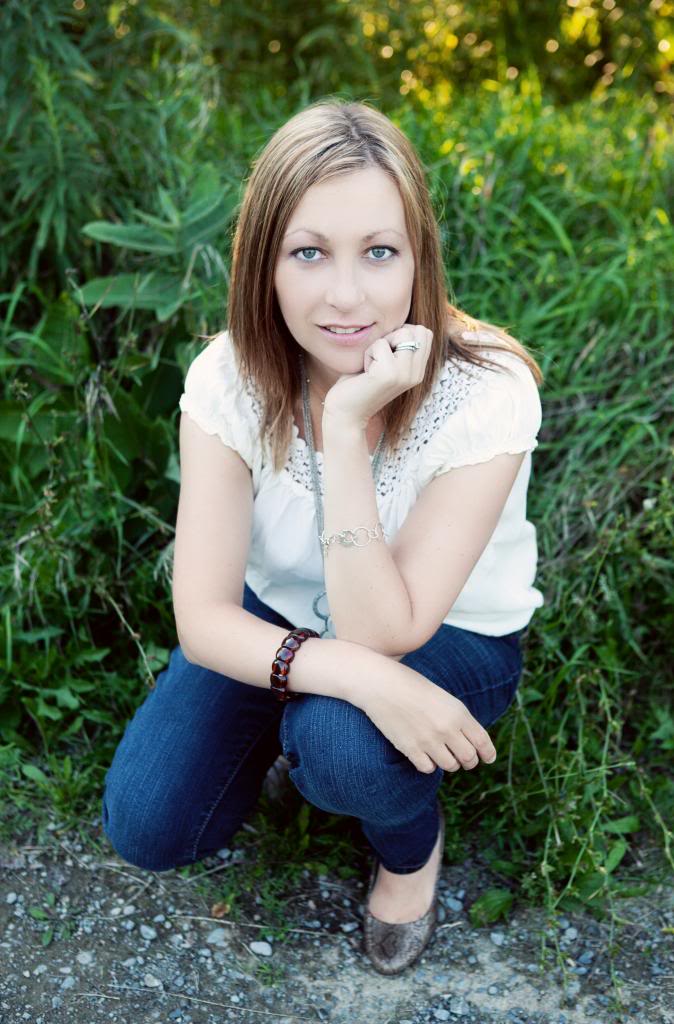 Born in small-town Ontario, Kathleen published her first book at the age of six with the help of her elementary school librarian and a box of crayons. She is a voracious reader and the farthest thing from a genre-snob, loving everything from High Fantasy to Chick Lit. Kathleen currently resides in a quaint small town outside of Toronto with her husband, two beautiful girls, and an exhausting brood of four-legged creatures.
*********************************************************************