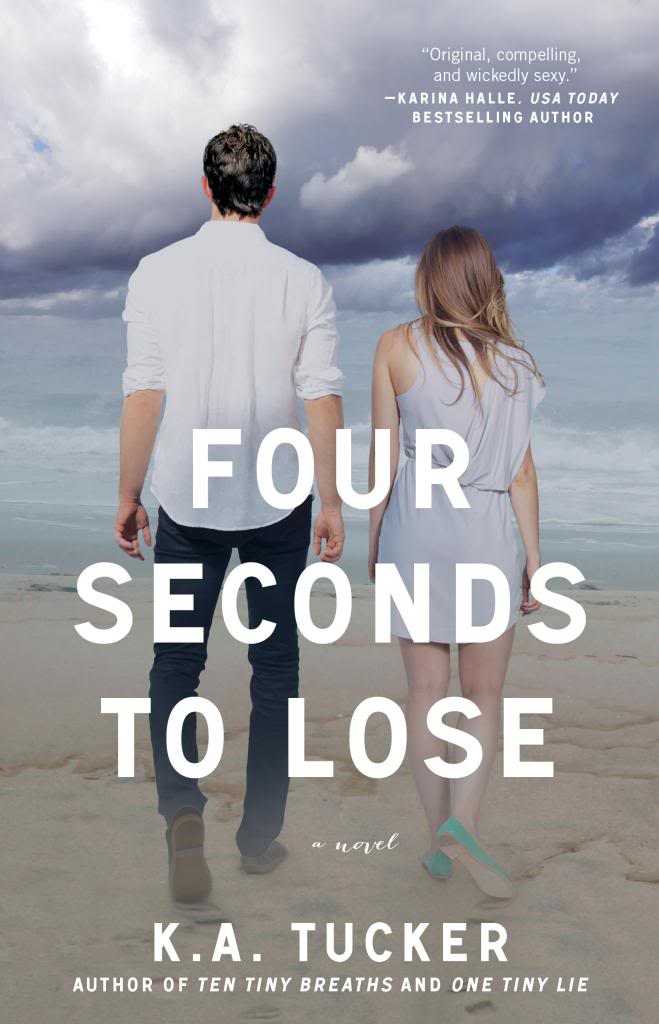 Four Seconds To Lose by K.A. Tucker
Series: Ten Tiny Breaths #3
Publish Date: November 4, 2013
Published by Atria Books
Source: Publisher
Find It: Goodreads / Amazon / B&N /
Simon &Schuster



Owning a strip club isn't the fantasy most guys expect it to be. With long hours, a staff with enough issues to keep a psych ward in business, and the police regularly on his case, twenty-nine year old Cain is starting to second guess his unspoken mission to save the women he employs. And then blond, brown-eyed Charlie Rourke walks through his door, and things get really complicated. Cain abides by a strict "no sleeping with the staff" rule. But being around Charlie challenges Cain's self-control…and it's been a long time since any woman has done that.
Twenty-two-year old Charlie Rourke needs a lot of money, really fast, in order to vanish before it's too late. Taking her clothes off for men makes her stomach curl but Charlie tells herself that at least she's putting her acting and dancing skills to good use. And though her fellow dancers seem eager to nab their sexy, sophisticated, and genuinely caring boss, she's not interested. After all, Charlie Rourke doesn't really exist—and the girl pretending to be her doesn't need to complicate her life with romance.
Unfortunately, Charlie soon discovers that developing feelings for Cain is inevitable, that those feelings may not be unrequited—but losing him when he finds out what she's involved with will be more painful than any other sentence awaiting her. (from Goodreads)


It's Coming!! K.A. Tucker's
FOUR SECONDS TO LOSE
is right around the corner! This contemporary romance novel releases November 4th, and we have a review for you so you can check it out! There's also an International giveaway below for a signed set of
TEN TINY BREATHS
,
ONE TINY LIE
and a galley of
FOUR SECONDS TO LOSE
. You aren't going to want to miss getting your hands on this new novel from K.A. Tucker. See below for my review and all of the information on
FOUR SECONDS TO LOSE
and K.A. Tucker, as well as where to find her. Then make sure to enter the awesome giveaway. You can follow along with the Tour and read all of the reviews being posted below!


Four Seconds to Lose
by K.A. Tucker
My Thoughts
: This is one series that I have loved like crazy since I first started reading it and that love just continues to grow with each installment Author K.A. Tucker puts out there for us.
(You can read my thoughts on
Ten Tiny Breaths
HERE
.)
(You can read my thoughts on
One Tiny Lie
HERE
.)
As the book begins – 10 years ago – we meet Cain as he is in an underground fighting match. Just nineteen years old, he doesn't seem like he is headed in the "rightest" of directions, but his inner thoughts while he is fighting prove that his heart is in the right place. During this fight, he receives word that there is trouble at his parents house and his immediate, immediate thought is of his younger sister Lizzy and her safety. See, his parents have some chosen some unsavory businesses to run out of their home and if there is trouble there – well, it would be all too easy for sweet Lizzy to get caught up in something dangerous. Cain hurries the fight and races off toward his parents' home…only to arrive too late. He sees three body bags being carried out and receives condolences from the officers and medical team working the scene. He was too late to save Lizzy. He was too late to save his sweet little sister.
Fast forward to present day: Cain Ford is the owner of Penny's Palace, which is an upscale Club for Gentlemen. Yes, there is dancing. Yes, there is stripping. And yes, there are private rooms. Of course, there is a bar. BUT! Let's not judge Cain just yet…Cain has made it his goal in life – his mission, basically – to bring girls in and help them, get them on track in life and out of the sex trade. He is not sleazy. He does not become involved with his staff like so many of those types of club owners do. And he does not tolerate any drugs, pimping/prostitution, or things like that. Cain cares deeply for the ladies that work at his establishment and lately it has taken a toll on him, taking such good care of them and caring so much. Only recently, Cherry has been calling out "sick" again – last time she called out sick repeatedly, it was because her boyfriend was beating her. Also recently, one dancer had to go to counseling for cutting and still another was taken to the hospital for a botched back-alley medical procedure. It is these types of women that Cain tries to help find a better life, particularly when they have children involved.
Cain's establishment is well-staffed with a low-turnover – most end up on-the-up with healthy life plans after spending some time at Penny's Palace. Cain is working in his office – stressed – when one of his favorite bartenders, Ginger, knocks on the door to remind him that one of her friends, Charlie, is coming by to talk to him about a job. She's give Charlie the once-over: no track marks, no evidence of prostitution, and no drugs – so it appears that she meets Cain's criteria. Plus! She has experience working in Las Vegas! Charlie comes to the door and suddenly it looks as if Cain has seen a ghost. There's something about this girl…
Charlie Rourke has only known Ginger for about three weeks but the two seem to get along really well – they met at pole-dancing classes. They've formed a bit of a friendship and met up a few times to hang out, but of course everything Charlie has told Ginger has been a lie. Charlie's entire life in Miami is a lie, including her name. She doesn't have any dancing or stripping experience in Las Vegas and she's sure that Cain will do a background check and find no Charlie Rourke anywhere, and she won't get the job – and oh how he needs this job so desperately. Still, the interview went well – Cain didn't make her do anything awful like give him a lap dance or worse. Cain tells her to come back to work tomorrow and if the people like her, she can have the job. Charlie is elated – this may finally be her chance to make the money she needs to get away from him, to disappear.
A few years ago, Charlie's mom died and left her alone with her stepdad. At the time, Charlie didn't realize the kind of man he was, the kind of job he had. He gives her pretty much anything that she wants and needs, but she is required to run jobs for him, jobs of the illegal variety. Lately, these jobs have been becoming bigger and more scary, more and more dangerous. Charlie's dad recently moved her down to Miami to expand his business – this has given her the opportunity to gather herself, make some quick money, and get away from this life that she doesn't want to live. This is why the job at Penny's Palace is so important to her – quick money, if she can make herself actually do it. Charlie has never danced in front of men before, and definitely not without any clothes on. She can do this, she thinks. It's for a good purpose.
To Cain, there's just something about this girl that gets under his skin. He can't shake her. He can't stop thinking about her, can't get her face out of his head. He never, ever gets involved with his staff – but this girl is doing a number on him and he needs to figure out why. He also thinks she has some secrets, but he can't put his finger on exactly what yet, but HE WILL find out. He has connections.
*********************************************************************
Man, I love this story. Four Seconds To Lose by K.A. Tucker absolutely didn't disappoint me at all. Cain is this tough guy – very complex – that doesn't let people in very easily. He's a little bit hardened because of his past but I love that he helps all of these women clean themselves up and find a better way in life. It absolutely takes a toll on him but I don't think he would have it any other way. To Cain, it's one way that he can make himself feel the slightest bit less guilty for Lizzy's death so many years ago because he believes that she may have been headed down the same path as some of the girls he works with. Also, despite the things that he has done in his past – some of them are things he is not proud of – he is a great guy with a great heart. He may give off a first impression of the bad guy, but he most certainly is not.
And Charlie – wow, I really liked her too. What a strong girl! She grew up in the middle of something pretty awful and didn't even realize it – once she did, she wanted out but was so embedded into the lifestyle it was basically impossible. Charlie had enough wits about her to use what was at her disposal – a new location provided by none other than her boss/stepfather – to work toward getting her life together, and under a veil of secrecy. Charlie initially comes across as kind of unexpressive or maybe hard, it takes her a little while to realize that the people she is working with and coming in contact with actually care about her, and that is something that is new and fresh for her. She has to learn to let her walls down because for her entire life, having walls up has literally kept her safe.
Cain and Charlie together – hello, slow-burn! Hello, swoon! Hello pitter-patter of my heart! Author K.A. Tucker has NEVER failed to do this to me, and I love the way she wrote these two. In a way, Cain and Charlie were kind of perfect for one another because they both have such different and unusual and tough backgrounds – it's like they automatically are predisposed to understand one another. Of course, Four Seconds To Lose is much more fun to read as far as the romance goes when you know that Cain's rule is to never get involved with his staff and when you know that Charlie doesn't want to become too attached to life in Miami because she wants to get out of there as soon as she is able. Sometimes love and attraction changes our plans, guys, and it is glorious when it is in a fantastic book with a fantastic story that you can swoon the heck over. LOVED IT.
OF COURSE I loved the heck out of this book – I love this series as a whole. Interestingly, in my opinion, this one is more like a standalone story than the other two. The previous characters do appear, but they spend less time in this one than they did together in the first two. I say that to say that readers that pick this one up probably would have no trouble starting with Four Seconds To Lose, although if some of you readers are anything like me, you have to read books in order. I do think that you would be fine to read this one first and then go back and read Ten Tiny Breaths and then One Tiny Lie, though, which should be read in order.
I recommend
Four Seconds To Lose
to readers that enjoy New Adult Contemporary Romance (although, you know what: I'm gonna recommend this one to Adult readers as well because of Cain, his job, his age, etc). I also recommend it to readers that enjoy slow-burn romances, characters that find redemption and growth and development, and stories involving the (ssshhh) mafia/crime.
I am all over this series like white on rice. I'm in it to win it. I'm not sure how far K.A. Tucker is going to carry it, but I promise you that if she writes twenty books in this series, I'll read them all and if they keep getting better and better like they're doing, it'll just keep MAKING MY DAY.
ALSO: Once again, THAT COVER. This author's design team gets all of the awards. Seriously.
*********************************************************************
Four Seconds To Lose will appeal to fans of:

New Adult Contemporary Romance
with Issues
Romance: Slow-burn. No triangle.
Four Seconds To Lose
by K.A. Tucker
will be available for purchase on November 4, 2013.
*I received a copy of this book from the publisher via NetGalley in exchange for my honest thoughts and opinions. I received no compensation for my review. Thank you Atria!
*********************************************************************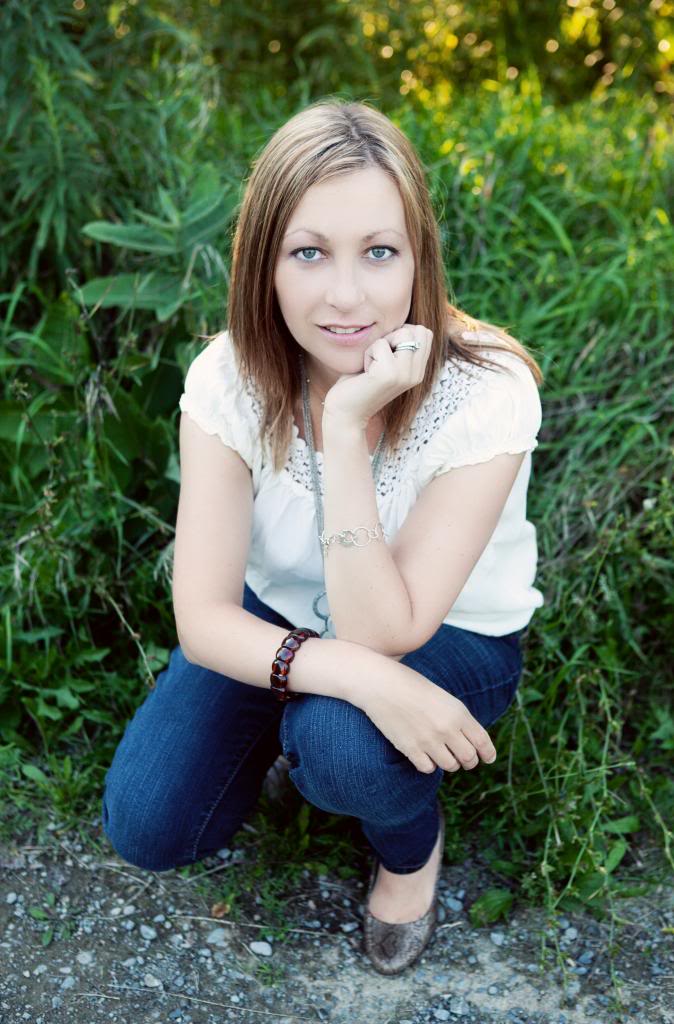 Born in small-town Ontario, Kathleen published her first book at the age of six with the help of her elementary school librarian and a box of crayons. She is a voracious reader and the farthest thing from a genre-snob, loving everything from High Fantasy to Chick Lit. Kathleen currently resides in a quaint small town outside of Toronto with her husband, two beautiful girls, and an exhausting brood of four-legged creatures.
*********************************************************************
And now for two HUGE Giveaways!


**Both are Open Worldwide, guys!**