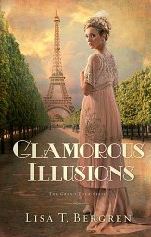 Glamorous Illusions by Lisa T. Bergren
Series: Grand Tour Series #1
Published by David C. Cook
Publish Date: January 1, 2012
418 Pages
Source: Book – Publisher, then Bought, Audiobook – Bought
Find it here: Goodreads / Amazon / B&N


It's the summer of 1913 and Cora Kensington's life on the family farm has taken a dark turn. Not only are the crops failing, but someone dear to Cora is failing as well.

In one fateful afternoon, a stranger comes to call, and Cora discovers a terrible secret about her past…a secret that will radically change her future.

Cora is invited to take the "Grand Tour" of Europe, a journey intended to finish a person's education, to solidify an understanding of ancient culture and contemporary refinement. As she travels from England to France, with kin she's never known, Cora encounters the blessings of a family name, as well as the curses. But when an unbidden love begins to form, she realizes the journey is only beginning…. (from Goodreads)



Glamorous Illusions by Lisa T. Bergren


My Thoughts: Well, I've read this book twice now, by both print and audiobook each time. I liked it the first time I read it. I liked it even more the second time. Honestly, it's driving me crazy that I haven't already continued with the series. So I need to put some hustle into my step and do just that.



**************************************************************
Glamorous Illusions is my first book by this author! Unlike many others, I have not read her very popular River of Time Series yet. I found this book to be fun and light and easy to read, and I think that might be what makes it so endearing to me. Cora Diehl Kensington has an innocence about her that is nice and refreshing – the product of the Montana farm-raising, I presume? – but it also makes her a bit naive about the world around her, and that is a large part of this story. Another chunk of this story, I think, is Cora's struggle to come to terms with the new large change in her life: how it comes to her even though she had no control over it, and also how it affects her in so many different ways. She is a woman of great faith, and this huge life change tests her faith almost constantly.
Cora suffers from a broken heart when she finds out about her father's ill health condition, and it is compounded when she finds out that her parents have been keeping a pretty large secret from her for her entire life. Despite being hearbroken, we see her as headstrong at times, and also a little bit immature here and there. I think that given the situation she is placed in, this is understandable. Cora finds herself frustrated often and hurt more than once, and she has to remind herself of her faith when she feels these struggles. I think I've read a few times where readers find this behavior by Cora redundant, but to be fair and honest, that is how life is. I have to do the same thing in my own faith, so I won't fault Cora at all for doing this! She is only doing what she should, and it works. She is able to remain composed and poised through her most trying times (at least most of the time). For all of her lack of knowledge in how to deal with the upper-society that she is thrust into, Cora tends to come out ahead in most circumstances and this made me smile for her as I read.
Cora is a lovely woman, and certainly she would catch the eye of interested gentlemen. My favorite male character in the book, Will, is one of the guides on the Tour…which means that technically he should keep his eyes and mind and heart off of the ladies of the trip, including Cora. But the heart cannot help what it feels, and I loved reading Will's growing interest in Cora and how his heart began to fall for her slowly and fully. He took on the role of protector very early and I think that he also felt a bit of a kindred spirit in Cora because he knew her story – he knew that she felt ill-placed among the others on the
trip, as did he at times. The two shared a budding friendship that sprouted from this common ground, and this made Will's heart soar. But as Cora began to show interest in a handsome and wealthy European man, Pierre, my own heart broke a little bit because I could feel Will's feelings. AND I was so invested in him as a character. AND I just want Cora to fall in love with Will. I WANT IT TO BE THE WAY I WANT! Go away, Pierre!
(You don't really care about Pierre, do you Cora? DO YOU?)
I would be silly not to mention that I loved the small portion of the story that included the Montana countryside, because I loved it. I loved the European part as well. The characters were varied and colorful, which I love in a book, and this has much, much, much to do with their interaction and feelings toward Cora. Certainly my favorites are Cora and Will, and I even love Cora's attendant on the Tour. Her siblings are always up to crazy things and getting into trouble, and this made for a few chuckles and smiles along the way. They are also quite mean to her on more than a few occasions – despite this, I enjoyed their interaction with Cora because it showed her own character development and coming-of-age. The end of the story was quite suspenseful as it led up to the set-up for the next book, which I thankfully have on-hand, ready to begin.
I'm ready to read more interaction between Cora and Will, and I want to experience more of Europe.
Audiobook Notes:
The audiobook format of Glamorous Illusions by Lisa T. Bergren
is published by Oasis Audio
and is 11 hours, 30 minutes, Unabridged. It is narrated by Jaimee Draper who, I think, is the perfect person to voice Cora! She does a great job with the other two points-of-view in the book as well, but I could not have imagined a more perfect Cora. In fact, I was just looking yesterday at Audible and saw that Jaimee Draper was reading two different books that I am interested in and added them to my wish list so I can listen to them because I enjoyed her reading. I am happy that she continues to read the rest of this series because I have already purchased it and will enjoy listening to her carry it to completion. I recommend this audiobook for first-reads or re-reads.
The first time I read Glamorous Illusions, I chose it because I thought the cover was really lovely and it sounded interesting. I could not have expected to enjoy it as much as I did. I picked it up and read it the second time because I was looking for something fun and light, and it was exactly what I wanted. I recommend Glamorous Illusions for readers that enjoy historical fiction/inspirational fiction, books with sibling relationships, coming-of-age stories, and books that include travel.
**I feel like this short book trailer is a really good indicator of what the book is about! Check it out.
**************************************************************
Glamorous Illusions will appeal to fans of:
Christian/Inspirational Fiction
Romance: Slowly developing. No triangle.
Setting: Montana, England/France – 1913
Alternating POV
Glamorous Illusions by Lisa T. Bergren
is currently available for purchase.
**************************************************************
Have you read GLAMOROUS ILLUSIONS?
Or other books by this author?

Can you give me some other
historical fiction recommendations?