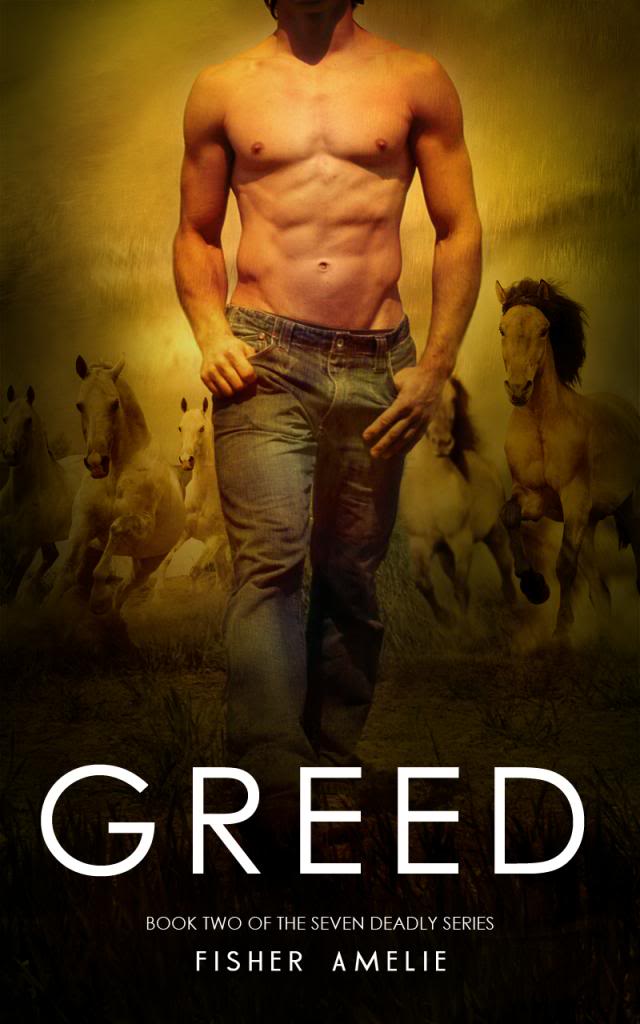 GREED by Fisher Amelie
Series: Seven Deadly #2
Publish Date: October 29, 2013
253 Pages
Source: Author for Review – Thank you!
Find It: Goodreads / Amazon / B&N


Gather 'round, love, because I want you. I want what you have, I want what you don't have, I want more of what I already have. I want. But if you so much as ask for something in return, go ahead and walk away. Know if you want to play in my world, it's every man for themselves and the weak become mine. Leeches will be obliterated because I make it my job to destroy them. I protect what's mine and I take what's yours…because that's what I do. I want.

My story will not endear me to you and, frankly, I could care less if it does because I'm in this for the money and nothing else. There's nothing redeeming about me. I'm a corrupt, money hungry, immoral asshole from Los Angeles. I'm every man's worst nightmare and every girl's fantasy.

I'm Spencer Blackwell…And this is the story about how I went from the world's most coveted guy to the guy no one wanted around and why I wouldn't trade it for anything in the world. (from Goodreads)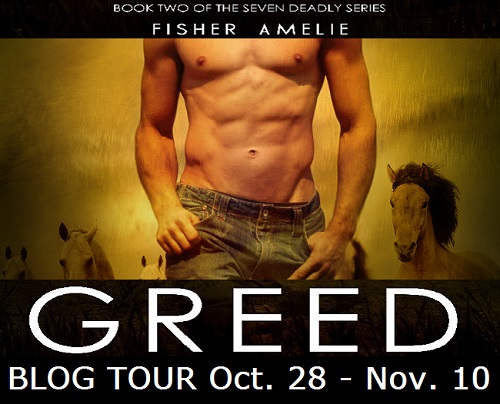 Today, I am thrilled and privileged and honored to have the fabulous Fisher Amelie on the blog to share her playlist for her newest book, GREED! Normally when I do blog tours like this one, I also attach my review so you can read my thoughts on the book BUT!…I just couldn't in this case and this didn't surprise me in the slightest.
If you read my blog with regularity, you know that I can be quite long-winded with my reviews and I'm totally okay with this. With GREED, there was NO WAY that I was able to squish or smoosh or cut down my thoughts on this book AT ALL so this blog post wouldn't be three miles long. I loved it that much. So while I normally put everything in one post for you guys, where Fisher Amelie's Seven Deadly Series is concerned, it looks like it may be a two-post kind of deal. You can rest assured with 100% certainty that:
When I recommend books to people, I always throw in a Fisher Amelie book. THIS is New Adult at its finest, in my opinion.

I loved Spencer Blackwell (see cover above!) in the first book and I love him even more in this book.

Fisher Amelie has WOW'd me yet again and I am not shocked by this. I am a solid fan.

Hello, that cover! (I just wanted to throw that in there.) I am still baffled by how beautiful these new covers are and I can't wait to read each of the titles in the series as they are released.
**************************************************
Without delay, I present to you the fabulous Fisher Amelie:
Thank you so much for having me!!
When you read the book, you'll understand. This is the song that introduces what little Spencer gets to learn when he first meets Cricket Hunt. She's quirky and funny just like the song and it's when he discovers that she's more than just a body. She's interesting, with personality, and just a little bit too sexy for her own good. Just like the song.
"No matter what we breed, we still are made of greed."
Ugh. I believe that says it all. This is all Spencer, this song. It is so encompassing of him, you have no idea. When you read the novel, you learn just how relevant the word 'demons' is in the book which makes this
song all the more prevalent to the story.
More than anything this song is about the melody. Oh my God, that melody. It is so haunting. It embodies everything in Spencer and Cricket. All the suffering, all the love. The way the lyrics mention memorizing the lines of its subject's body. This is so Spencer. His is a torturous existence but, oh, does he end up in ecstasy.
I dreamt that I was swimming
Directionless and drifting
Were the sirens and the thunder
The drifters who'd gone under
It's only a change of time
Battered hulls and broken hardships
And though it was salt water
There was something about the way
The black clouds I'm hanging
The sails of memory rip open in silence
We cut through the lowlands
All hands through the saltlands
And when I opened my eyes
Your shoulder blade, your spine
Were shorelines in the moonlight
I could make it if I tried
I closed my eyes I kept on swimming
Thank you so much for allowing me here today! I hope you enjoy the book!
**************************************************
IS SO INCREDIBLE. (There are Avett Brothers tunes AND My Morning Jacket tunes – those guys named my blog! Really, every song is incredible. And I love the whole thing. It's called Hope Is Hopeless and you should give it a listen like a thousand times.
Once again, HERE is the playlist. Take a listen. It's EXACTLY this book.
**************************************************
Fisher Amelie is the author of The Leaving Series, Callum & Harper and Thomas & January. She began her writing career as a copywriter for an internet marketing company wherein one of their client's said, 'Hey! You're funny. You should write books'. Which in turn she said, 'Hey, get out of here! This is the lady's restroom.' While washing her hands and the embarrassment from her face, she thought they may have had a valid point. So, she took the thousands of hours of writing stories growing up, tucked them into her pocket and began writing and writing and writing.
**************************************************
And now for the Giveaway!
This is truly one of my favorite series and I am so excited about the release of each of these titles. The first two are absolutely amazing and relevant and just really wonderful stories.