I have something very exciting for us today everyone!
Genevieve Graham is right here, on the blog,
with a guest post and a special treat!
Author Genevieve Graham
Genevieve! Thank you SO MUCH for stopping by today!


**********************************************************
Thanks for inviting me to be here today, Asheley!
My debut novel, "Under the Same Sky", came out in January, and since then I've been asked a lot of questions. The first is usually "What inspired you to write?" and the second is "How long have you been writing?"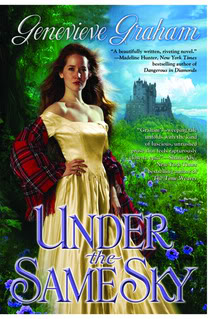 The answer to the first is true love. I fell completely in love with historical adventure stories. I was—and still am—obsessed with Diana Gabaldon's epic "Outlander" series, and when I'd read that four times (and listened to the unabridged audio books another three times), I got lost in the beautiful work of Sara Donati, Penelope Williamson, Jennifer Roberson, and others. The authors swept me up and carried me away, and I had a really hard time setting my feet on plain old solid ground after those experiences.


So I decided not to. I decided it was time to create my own adventures. And that is where the answer to the second question comes in. I had no idea what I was doing or where to start, but I plonked myself in front of our computer and stared at it for a while, just waiting. I'd read of authors creating stories that way, so I figured it was as good a place to start as any. I let myself go in to a kind of trance, I guess, and after a while, I felt a sense of urging, an energy pressing me on. I really did. I started to type, describing what I saw and felt, then realized after the first few words that I had little or nothing to do with writing. I was the medium. The "speaker" in my head was Maggie, and she had a lot to tell. The next day when I sat back down, I was thrown into a brutal battle on Culloden Moor, standing witness as the gorgeously rugged Highlander, Andrew MacDonnell, fought for his life.


It is an intensely cool thing, writing. It takes some discipline, because I often feel the impulse to write something one way but I choose to try a different way. Inevitably, the path to which I am led by my invisible guide is a better choice than the one I try to create myself.


A lot of writers say they "always knew" they wanted to be an author. I didn't. I didn't write a thing until after I'd turned forty-two. I never felt the need, the craving to set words to paper, to express myself through stories. That's kind of a double edged sword in a way. On the bright and shiny side, I love that I'm starting a whole new life when I figured I was just about done with learning new things. But on the rougher edge, I'm aware that there are lifelong writers out there, grinding their teeth, furious that I jumped the queue. Sorry, folks. But I'm not leaving!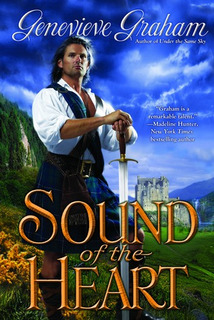 "Under the Same Sky" was the start of it all. "Sound of the Heart", which comes out May 1, was a complete surprise. When Penguin offered me a contract, it was on the basis that I write two books. Well, okay, says I. Fortunately, Dougal was just as forthcoming with his story as Maggie and Andrew were, and his adventures are really exciting. Since then I've written the third in the series and am working on the fourth. I've written a couple more historical fictions (one based here in Nova Scotia), a chicklit, and I occasionally attempt YA and Middle Grade just to stir my brain up a bit, but historical fiction is my true love. I'll write just about anything if the story pops into my head. I guess I'm making up for lost time nowadays!


I've always loved reading. Now I love to write as well. And I have no plans to stop anytime soon!


Thank you so much for your thoughts, Genevieve!
You're welcome here ANYTIME! Please stop by again…
**********************************************************
And now for the Giveaway!
Genevieve Graham
have generously provided
~
ONE SIGNED COPY of UNDER THE SAME SKY
~
Giveaway Information:
You must be at least 13 years old to enter.

Deadline for entry is midnight

Tuesday, March 27, 2012

.

This contest is open to US/Canada residents only.

Following this blog is not required, but appreciated!

Winners will be emailed and have 48 hours afterward to respond.

Good Luck!