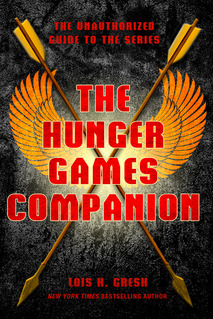 The Hunger Games Companion
by Lois H. Gresh
Published by St. Martin's Press
Publish Date: November 8, 2011
256 Pages
Source: St. Martin's Press
For all those who adore Katniss and Peeta, and can't get enough, this companion guide to the wildly popular Hunger Games series is a must-read and a terrific gift.
Go deeper into the post-apocalyptic world created by Suzanne Collins than you ever thought possible—an alternative future where boys and girls are chosen from twelve districts to compete in "The Hunger Games," a televised fight-to-the-death. When sixteen-year-old Katniss learns that her little sister has been chosen, Kat steps up to fight in her place—and the games begin. This unauthorized guide takes the reader behind the stage.
The Hunger Games Companion includes fascinating background facts about the action in all three books, a revealing biography of the author, and amazing insights into the series' main themes and features–from the nature of evil, to weaponry and rebellions, to surviving the end of the world. It's everything fans have been hungering for since the very first book!
This book is not authorized by Suzanne Collins, Scholastic Press or anyone involved in the Hunger Games movie.
-(summary excerpt from Goodreads.com)
The Hunger Games Companion
by Lois H. Gresh
I've noticed lately that
there are more than a couple books, guides, companions devoted to The Hunger Games trilogy out now, particularly since the movie has been released. They're all a little bit different, but I have one in particular that I want to share with you today.
Lois Gresh has written her own book, The Hunger Games Companion. I haven't read any of the others currently out on the market, so I have no basis for comparison. There are things that I really like about it and there are things that didn't necessarily appeal to me in terms of my interests.
The first thing I noticed when I opened this book is that this isn't the first companion-type book Ms. Gresh has written. She's also written books in this style for Twilight, the His Dark Materials trilogy, and Eragon, among others. The second thing I noticed when I flipped through this book is that this author not only talked about The Hunger Games in this companion, but she has added researched information.
Each chapter tackles a different subject and – like me – you might find that you are more interested in some chapters than others.
For example, I found the chapter detailing weapons
sort of interesting because the author talked about the particular weapons that were available to the tributes during the Games and what skills they needed to learn in order to use each of these weapons. She also talks to the readers about how to use some of these these weapons in what I would consider pretty in-depth detail (at least, I've never read anything that teaches me to make a flaming arrowhead before…). On the other hand, I found the chapter that compared President Snow to psychopaths a bit less interesting, so I found myself skimming over parts of it.
I think this companion would be most interesting to older YA and adult readers, simply because of the detail inside. There's in-depth research, as I mentioned above, and there are citations. (I remember being younger and hating reading anything that included citations, but I realize not every young person is that way.) There is a chapter or two that I think may be more suited for older YA readers in terms of content. For example, one of the chapters deals with the ways that the Capitol exerted power over the citizens of Panem by use of torture and execution, with examples both from the books and from real-life/history.
A couple of my favorite chapters:
Chapter Eight:

Killer Kids: How Responsible Are They? – This chapter talked a bit about Katniss as she made the shift from a hunter to a killer. She began by hunting small animals for her family to eat and gradually made a shift to hunting and killing other young people to stay alive while in the Games. Those that have read the entire trilogy can realize Katniss' full shift from hunter to killer as they think back on Catching Fire and Mockingjay, and the events and reasons in those books that may have caused Katniss to kill.
Chapter Nine: Hype Over Substance: A Mirror Of Modern Times – This chapter deals with the r

eality TV portion of the Games and the associated hype in the Capitol and within parts of Panem. The author speaks on the 'image' that was given to Peeta and Katniss for the televised portion of the Games celebration and its contrast to the the carnage and savage hunting inside the actual Games. She then compared the 'real vs fake' to several television shows that are popular in today's culture.
Ultimately, this is an interesting book if you are a fan of The Hunger Games trilogy, and I am amazed at the amount of time that this author must have spent on it. I think it would appeal to older YA and adult audiences, and I think it would be great for discussion or as a guide for someone who is leading a reading group or teaching these books in a class.
Now I'd like to share this book with one of you! Fill out the Rafflecopter form to win a copy of The Hunger Games Companion. See my Contest Policy here. Good Luck!

a Rafflecopter giveaway



**I received a review copy from the publisher in exchange for an honest opinion and review. I received no compensation for my thoughts. Thank you St. Martin's Press!