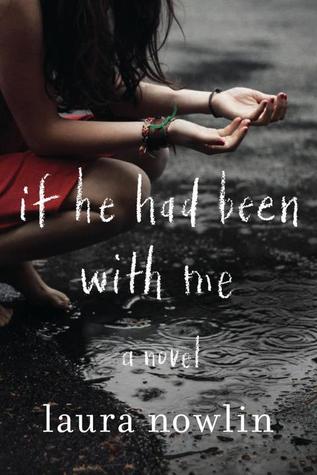 If He Had Been With Me by Laura Nowlin
Publisher: Sourcebooks Fire
Publish Date: April 1, 2013
330 Pages
Source: Publisher
Find it on: Goodreads / Amazon / B&N


If he had been with me, he wouldn't have died.

Throughout their whole childhood, Finn and Autumn were inseparable—they finished each other's sentences, they knew just what to say when the other person was hurting. But one incident in middle school puts them in separate social worlds come high school, and Autumn has been happily dating James for the last 2 years. But she's always wondered what if…

The night she's about to get the answer is also one of terrible tragedy. -(from Goodreads)


If He Had Been With Me by Laura Nowlin


My Thoughts: THIS THIS THIS is the exact type of contemporary story that I love. If He Had Been With Me by Laura Nowlin is filled with so many of the things that make my heart both swell and choke at the same time and GOSH that is just the best feeling when I'm reading a contemporary story – all of the emotion behind those words. This story just dismantled me and left me sitting there helpless, and I absolutely loved it.


I knew from the summary that there would be some terrible, tragic event and probably some guilt involved. I knew that Finn and Autumn would grow up together and be best friends and that there would maybe be a love story tying them together. Oh man, I couldn't wait to get started on this story.


***********************************************


Finn and Autumn did, in fact, grow up next door to one another. They were together almost 24/7 from a very young age, even spending the night with one another until it became inappropriate to do so. After that, they were together until their mothers told them it was time to go to sleep – except at bedtime, they'd hang out of their bedroom windows (which faced each other) and talk until the wee hours of the morning. Their friendship was so incredible to witness and read and imagine in my head, even when it was realized through flashbacks. Sadly, Finn and Autumn grew apart at a certain point in their lives. At school, they ran with different crowds – opposing social groups at school, which became uncomfortable at times (to them and to me), but everyone managed. Once home, though, in the safety of their homes and yards, there were still the comfortable stolen glances and silences, even though the two had grown apart. See, Finn's mother and Autumn's mother were best friends and the four often ate dinner together, had holidays together, did things together. So these two friends-that-weren't-friends-at-the-moment still spent plenty of time together.


Both had respective other halves – Finn had the beautiful cheerleader Sylvie and Autumn was paired with the emo/rebel-boy Jamie. There is so much time – years – devoted to these other boys and girls, and it was painful for me (me, who loves friendship-relationship-loves) to read the intensity of these relationships. They were intense, but not with an intensity of love – it felt like the intensity came with Autumn and Finn trying so hard to love Jamie and Sylvie. It was like they were trying to convince the world that they really did love these other people. And maybe they did? They probably did. But it was so so so obvious to me, the reader, that these two were meant for one another.


And this is such a tricky thing, isn't it? To have two people, two characters, that are at such a young age be obviously so deeply in love and for it be believable? I always find myself rooting for these young couples even though I know that the odds are stacked so, so against them. Finn and Autumn even have their mothers cheering for their union. In the eyes and hearts of their mothers, it's written in the cards for these two to be together. And for me, that's what I really, genuinely, truly wanted. So every time I turned the page, I hung onto every glance and every word between these two. I clung to every thought that one had about the other. I was willing them together as I was reading, as if they were two people that I could push in the same direction.


There is a point in the book when one of them thinks he/she might be falling for the other one. It's kind of like an A-Ha! moment for him/her. BUT TO ME, I COULD SEE IT ALREADY – PAGES AND PAGES AND CHAPTERS BACK. It was like I was waiting, just waiting for the catch-up. And the other one? The other one appeared to have already arrived at that conclusion. Maybe, anyway? It was sometimes obvious and sometimes hard to tell but MY WORD YOU GUYS reading about it was so delicious and torturous, and I just couldn't get enough. I couldn't.


Then, as the summary suggests, there is a time when these two need to sort out how they're really feeling about one another. I suppose in real life, any friends that are in a position like Finn and Autumn need to come to this place before they can go to the next stage of their lives, before they transition into the next part of what is to come. So I'm reading and I'm gripping the Kindle with a ferocity that I can't even describe because I want so badly for things to end up my way and I've forgotten that the book began the way that it did…and oh oh oh, these next pages and chapters are where my heart just GOES.


ARE THEY MEANT TO BE TOGETHER OR ARE THEY NOT MEANT TO BE TOGETHER?


It's like they've waited their entire lives to get to this point. Their moms have waited their entire lives to get to this point. And here they are. And this is it. And I'm so invested. And my heart is so invested. Which is why this book is so perfect and wonderful and amazing and beautifully written and OH MY GOSH I can't say enough about it. THIS is how life sometimes is and just OH! the beauty and pain of it all.


***********************************************


When the book was over, I felt like I needed someone beside of me so I could just grip a shirt or a wrist and stare or scream or cry or something. But I was by myself so all I could do is just sit quietly and let the tears fall off of my face and just sit in this story for awhile. I just had to sit there and be in the story for a while and do nothing else.


This book. This book is yet another reason that THANK GOD I read contemporary. What a story! What a telling. And what a cover – which on another glance after finishing the book, just pulls at my heart even more.


The "What-If's" in life are so hard. They are so, so hard. I could sit around and say "What If?" all day long and it doesn't do a thing.


That is such a huge concept behind this story.


I recommend If He Had Been With Me for fans of YA Contemporary with Realistic Fiction, readers who love the issues contemporaries, and readers that love great guy-girl friendships in books. This book is absolutely fantastic and I am overjoyed that I got the chance to read it.
*********************************************************
If He Had Been With Me will appeal to fans of:

YA Contemporary/Realistic Fiction
Books with Guy-Girl Friendships.
If He Had Been With Me
by Laura Nowlin
is currently available for purchase.
*********************************************************