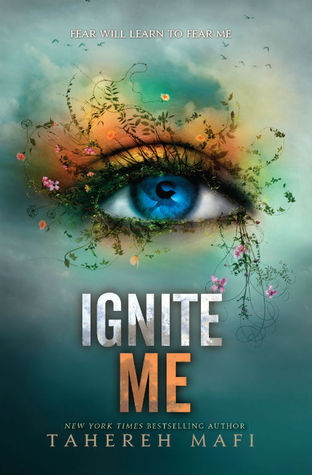 Ignite Me by Tahereh Mafi
Series: Shatter Me #3
Published by HarperCollins
Publish Date: February 4, 2014
416 Pages
Source: Book: Bought, Audiobook: Bought
Find It: Goodreads / Amazon / B&N




Juliette now knows she may be the only one who can stop the Reestablishment. But to take them down, she'll need the help of the one person she never thought she could trust: Warner. And as they work together, Juliette will discover that everything she thought she knew – about Warner, her abilities, and even Adam – was wrong. (from Goodreads)



********************************************************
THERE ARE NO SPOILERS IN THIS BLOG POST.
I do not feel qualified to "review" Ignite Me by Tahereh Mafi nor do I really want to. Lord knows there are enough reviews out there that if you really want to read a review, you can find a bazillion. But I do want to share my thoughts on the book and also the series as a whole BECAUSE I DO HAVE THEM. All of my thoughts are so jumbled up – kind of like Juliette's thoughts in the beginning of the series, actually – that I may have a hard time getting them out. Just bear with me because I'm really, truly, honestly speaking from my heart here.
1. I have spoken more times than I care to admit about my Series Finale Fear. It's a very real thing for me, particularly with series that I love so much, and I've been feeling it for a long time leading up to the release of Ignite Me. HOWEVER, I am very proud to admit that not only did I BUY this book on release day (HOLLA!) but I began reading it on release day (HOLLA TWICE!). You guys, that is unheard of where I am concerned. I usually have to take twenty million deep breaths over the course of several weeks, have quite a few pep talks, and hold many hands to even begin a finale. And yet here I read one at release.
2. I had previously preordered the Ignite Me audiobook so I had both the print copy and the audiobook on Release Day. THEREFORE AS YOU CAN IMAGINE, I read this book via audiobook while following along in my print copy.
3. Immediately after I finished the book, I restarted the book and read it again. IMMEDIATELY. Like, the second I finished it, I restarted it. Twice within a total of three days, this one.
4. Before the release of this book, I went to great lengths to avoid all teasers, pre-released chapters or paragraphs, photos of pages, etc. I did not even read the book's summary/synopsis. I went into the book NOT knowing anything about it. I was very excited to begin the book with a clear head and a clear heart. While reading, I tried to stay away from social media to avoid spoilers but even as I did my best, it was extremely tough to avoid this.
5. I also went into Ignite Me NOT having a "favorite" for Juliette as far as the romance is concerned. While I have been open about my initial choice being Adam, I have also been open about the fact that I have wavered as I went back-and-forth between print and audiobook formatting. Since I was one to go back and forth, I **CHOSE** to go into this finale without having any expectation or wishes for the romantic aspect of this book. I stand by this choice and believe that it ultimately allowed me to enjoy this reading experience a great deal. (That is not an endorsement of either love interest, by the way. It is an endorsement of reading with an open mind.)
********************************************************
The Shatter Me Series by Tahereh Mafi is something that is very hard for me to describe – my feelings about it, I mean. On the one hand, it is a trilogy – a story. Just a story. We can take it or leave it, love it or like it, or not even really like it if we want to. That is our choice. It is the thing that came from the creative process of an author that I find very talented and gifted not only in story-telling, but in writing as an art form. So on the other hand, this series is TO ME an experience, and one that I have not taken lightly.
You guys, I have so many series that I love. I mean, like, LOVE. By this I mean that I own the books in more than one format – print, ebook, audio. But with this series, I own them in each of these formats and can go a step further – Aside from childhood and books during that time period, I have never read/listened to books AS MANY TIMES as I have these. It isn't just each story itself that does it for me. These stories are fun and I love them, but there is more to it than that.
Taherah Mafi has this way of writing that really gets in my head and my heart. It kind of sits and stays a while, like a visitor. I cannot help but think critically, and then think again – while enjoying the story. The entire story arc did this to me over and over and over. It made me question myself on so many occasions. Even before Tahereh Mafi made mention of this in her interview with Jamie at The Perpetual Page-Turner, I found myself feeling awkward and guilty at the way I was judging different characters (more than one, you guys). I LOVED THIS. I loved that this series challenged the way I viewed characters that are not real because Y'ALL I ALREADY TRY NOT TO DO THAT IN REAL LIFE – why not be the same with characters on a page? By the time I read this interview and Taherah Mafi's statements about this, I had already read Ignite Me for the first time and was well into my second time reading it, and I have to tell you that it made me smile because I felt like:
OH TAHEREH MAFI, YOU DID IT!
YOU WERE SUCCESSFUL RIGHT HERE.
AND I FIGURED IT OUT ALL ON MY OWN.
THANK YOU THANK YOU THANK YOU!
(Since completing Ignite Me and reading Tahereh Mafi's thoughts on judging characters, it has already changed the way that I read books. I love that so, so much and am so thankful for that challenge.)
********************************************************
I loved this series. I loved Ignite Me. There were a few times during the book when I found myself with a smile or maybe a wrinkled nose or a WHAT?! – but overall I think the book and the series is a winner. I have loved every second of this journey with each of these characters and this author. I'm so astounded that these characters – flat on a page yet robust and three-dimensional in their qualities – have taught me so much. I've enjoyed the interaction that Tahereh Mafi has had online with her fans and her audience – she really knows how to engage and have fun and really hang out with all of us, and that is truly something special. It is a small part of what will keep me reading her books – instant-read/instant-buy, no synopsis needed. It is a small part of what will keep these books on my re-read/re-listen shelves. I feel completely bear-hugged by this series.
And the writing? Good gracious, you guys. This is literally the most photographed series I own. I have taken so many pictures of pages and gorgeous phrases and texted them to my IRL friends that are also fans so we can squeak and squeal over scenes together. We have discussed these books over dinner and during movies that we should have been watching. I have opened my books to random pages to adore the beauty in phrases. I have so many sentences and phrases memorized. I have read and re-read and then re-read sentences and paragraphs out loud to see what such beauty feels like rolling off of my tongue. I am SO EXCITED to see what is up for us next from Tahereh Mafi. I was already eagerly awaiting the next thing the second I finished
Ignite Me
. I selfishly hope she does not keep us waiting very long.
I understand that there have been mixed reactions to this final book and you know what? OKAY. I understand and encourage honest reactions, even when they are as mixed as these have been. I DO NOT encourage mean-spirited reactions and spreading negativity AT ALL. And yet I see it, still. I would like to urge people to read it for themselves, though, instead of deciding to read/not to read based on the words of another person. The thoughts I have posted here are my own and are based on my own experience with this series. Yours will be entirely different – but I would love for you to give yourself the opportunity to experience it and complete the series – or begin it. I do recommend going into the final book – IF YOU CAN – with no expectations at all and just letting the book take you where it will. In that, you guys, I found that I was truly able to experience the story fully and I enjoyed the heck out of it – TWICE.
I can't seem to articulate all of my thoughts as well as
these from Hannah from So Obsessed With
, but just know that I agree with her and love what she has to say about the world, the plot, the writing, and the emotions – about Juliette as a narrator and her feelings toward the love interests, and about the overall feelings of the reading population toward the book in general. This is a very thought-out, well-articulated blog post about this series that is also objective, and I appreciate that. If you have not seen it, please check it out.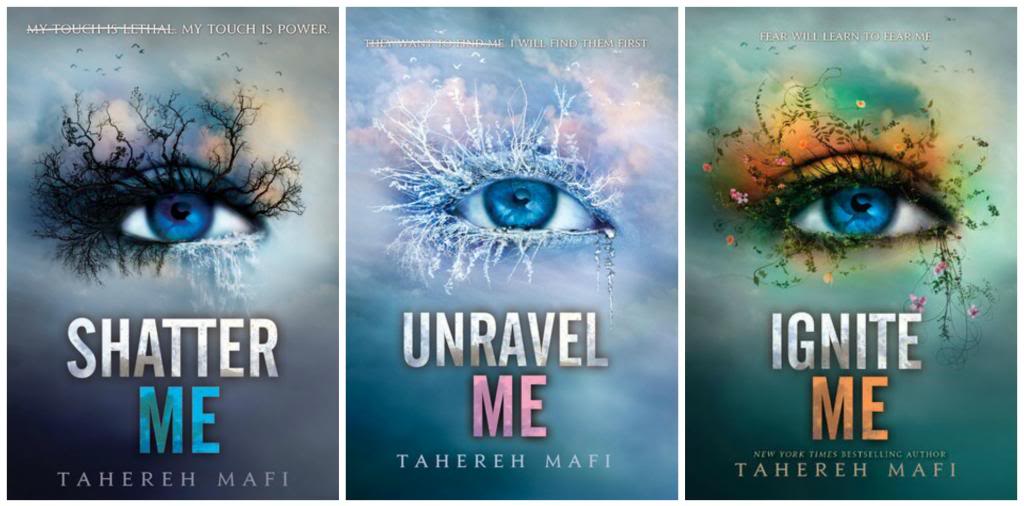 Audiobook Notes:
The audiobook format of
Ignite Me
by Tahereh Mafi is published by Harper Audio and is 9 hours and 50 minutes, Unabridged. I am thrilled to announce that
Kate Simses
is back again to complete this trilogy as the narrator. She has been THE perfect person to voice Juliette and the rest of the characters – I cannot imagine anyone else more perfect for this series. I highly recommend this audiobook to fans of listening as I can attest to the extra punch of emotion it gives to Tahereh Mafi's story overall. Bravo.
********************************************************
Ignite Me will appeal to fans of:


YA Sci-Fi/Dystopian
Tahereh Mafi/Shatter Me Series
Romance: Love triangle. Swoony, uh-huh.
Fantastic secondary characterization

Ignite Me by Tahereh Mafi
is currently available for purchase.
************************************************
Have you read IGNITE ME yet?

Please remember **NO SPOILERS**
in the comments, please! Thanks.