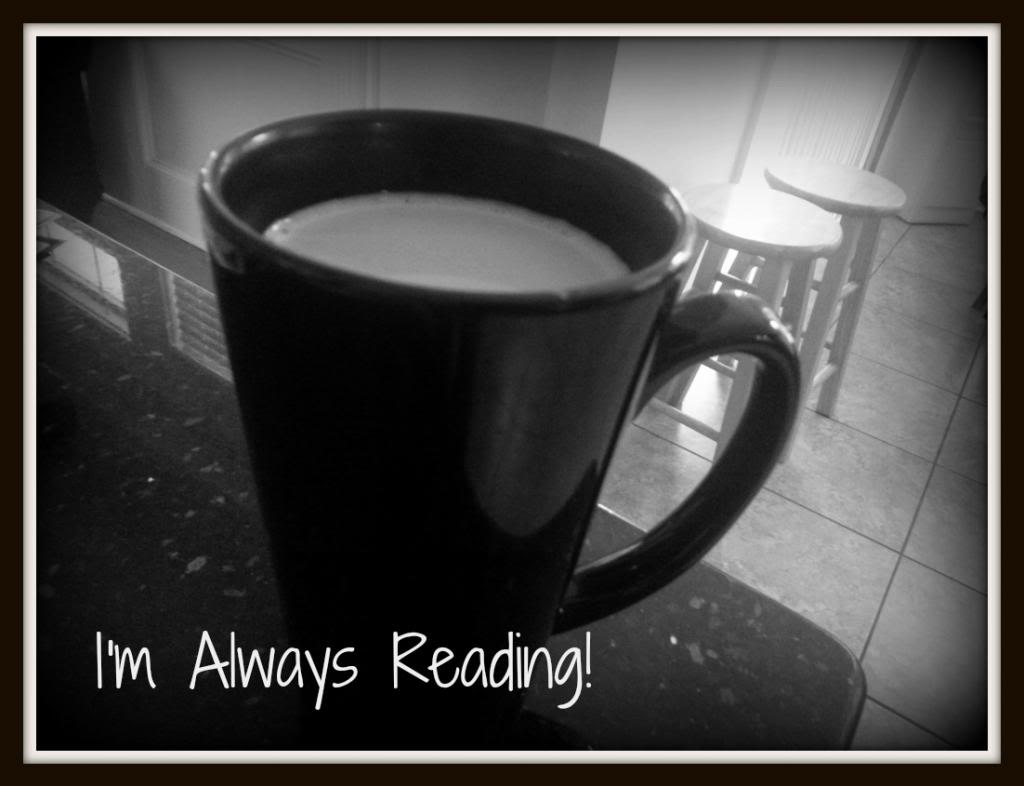 This picture is mine, as is the coffee inside of it.
(By the time this post goes live, this coffee will be gone!)
Last time I did one of these I'm Always Reading! posts, I talked about my Bookish Stress and how it affects me so much. Like, SO MUCH. Here's a little of what I had to say about my bookish stresses:
When I feel
Bookish Stress
, I get the feeling that I'm having a fluttery heart….
I pace the floor while I read. I make lots of faces, and I'm sure they're hilarious….
I YELL AT THE CHARACTERS! I YELL, y'all….
You guys, I FEEL the books I read, down to the core of my very being.
It's the very best kind of stress to have, you see.
I absolutely love it.
********************************************************************
It isn't an accident that in the very same bookish stress post that I mention above, I mention Lauren DeStefano's Chemical Garden Trilogy. If you want to talk about something to really get me going, mention the final book in a series that I love and then suggest that I read it. Deep down I WILL WANT TO, I really will. But I will be scared to. WHY IS THAT?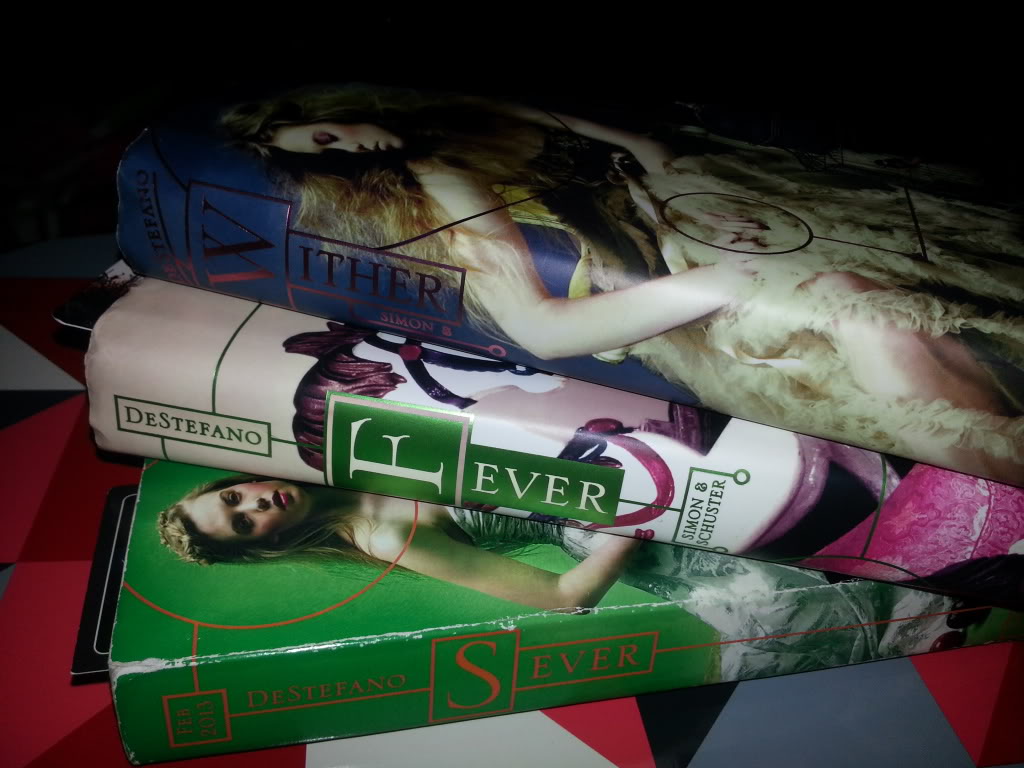 I loved Wither so much. The story is so dark and gritty and yet at the same time, Lauren DeStefano was able to write such a bleak, sad, and horrific world with a language and prose so stunning that I could barely handle its beauty. I was captivated by all of her words. And then when I picked up Fever, I nearly ATE that book with the fervor that I felt while reading it: I can remember at one point, I was pacing my floors, holding the book in my left hand and gesturing wildly with my right hand. I was YELLING at a certain character because of a certain thing that he/she was doing! And the thing is, that isn't the only time that happened during that book! Wither and Fever made me FEEL things, and I love them so much for it. I read these first two books with such a broad range of emotions – ALL OF THE EMOTIONS – and at the end of Fever, I knew I was doomed. DOOMED!
(Hang on, I need to take a second to catch my breath. I'm not even kidding.)
My beauties:
Wither and Fever by Lauren DeStefano
I love them so much.
Friends, the moment of truth is here. It is NOW. Sever is out. Release day has come and gone, and Sever is out in the wild! That is so exciting, right? Oh, absolutely! And the book is beautiful. BEAUTIFUL.
But I have left it sitting by my bedside for days. DAYS! What!? Asheley, what are you talking about?? Oh, I think you all know. YOU KNOW. It's the final book in the series, see – the end of the trilogy. So that means I have not been able to read it. I haven't even been able to PICK IT UP. The closest I've been to reading it is to glance over a few times and see it there, sitting patiently in the stack. Admission:
I have SERIES FINALE FEAR.
It is an ugly monster. And it is very real.
I'm taming this beast, because it has gotten ridiculous.
AND there are so many great series ending this year.
And even more to come next year.
2013 is my year! Cross your fingers for me!
*****************************************************************
Let's Back Up.
All of that being said, I did in fact crack open Lauren DeStefano's beautiful book Sever. And because I am such a melodramatic series finale oddball, the very act of opening the book was like a ceremony and I had to take a picture of the title page and just look at it for awhile. (I do this for all of the books, particularly the finales – when I read them, which isn't often.)
And then I turned to the Acknowledgements…
Do any of you ever actually read the Acknowledgements section of the books? I do. Everyone should, because they are a real treat. I love to see who the authors thank and for what. And some of the authors' acknowledgements (cough*Tahereh Mafi*cough) are like absolute poetry, they're so beautifully written. But anyway, I read the Acknowledgements of Sever…aaaand here come the tears. WHY WHY WHY? Probably because I'm already a little emotional and nervous to be starting the book? Probably because Lauren DeStefano decided to thank her family first instead of at the end, like I often see? I DON'T KNOW. I don't know! But the tears began with the ACKNOWLEDGMENTS, you guys.
I made my title page picture into
an Instagram. OF COURSE.
So then I start the book. And I read for a while. I'm loving it! Questions that I've had for the entire series are being answered! I'm totally hating on the evil villain! The story is perfect so far! BUT…..then I have to put the book down to do some real-life things and I HAVE THIS HUGE LIFE-ALTERING THOUGHT. An AHA moment, if you will.
(Okay, that may be a little dramatic, but just go with it.)
I remember a long time ago when I watched the movie Postman with Kevin Costner. I loved that movie so much. So very, very much. When the movie was over, for a fleeting second I was all YES! THAT MOVIE WAS AWESOME! and then I was really sad for a while. Why? Because I realized that I could never again experience it for the first time.
We all, as readers, have those moments when we read books and LOVE THEM SO HARD and we want to dance and flail and shout from the rooftops and HUG THE BOOK and everything, and then for a minute we wish we hadn't read it yet so we can read it all over again for the first time. I know I'm not the only one. I know it!
So when I sat down this series finale to do the real-life things that I had to do, I felt all of the weight of reading it for the first time and KNOWING that it will be the only time that I will read it for the first time. This is part of my series finale fear! Add to that the fact that I have no idea what is going to happen with this story. And then add to that the even bigger fact that this is the end of the road for these characters that I've grown SO ATTACHED TO – All of these things just make it so hard for me to pick up final books in a series.
It isn't just The Chemical Garden Trilogy, oh no! This series just happens to be the series that that I happened to be reading when I chose to write this post. There will be lots of these series this year because I'm planning to beat this ugly beast (bites nails) this year. I have all of you guys to help me with that. In fact, I just recently read Boundless by Cynthia Hand, which was the final book in her Unearthly series! GO ME!
But…
The comment made to me when I got up to do the real-life things went something like this: ARE YOU REALLY CRYING OVER A BOOK?
My response went something like this: YES. YES, I AM. I JUST GET REALLY ATTACHED.
Fact: I had just finished Chapter Three. (of Thirty-One. Long road ahead, no?)
*****************************************************************
Are you curious about my thoughts on:
*********************************************************************
her big fears! I love these posts. You should check them out!
When someone reads a book she loves/recommends: HERE.
Moving to the next book in a series: HERE.
Favorite authors releasing new books: HERE.
*********************************************************************
Am I the only one out there with SERIES FINALE FEAR?

Honestly, how ridiculous is it?
You're not gonna hurt my feelings!