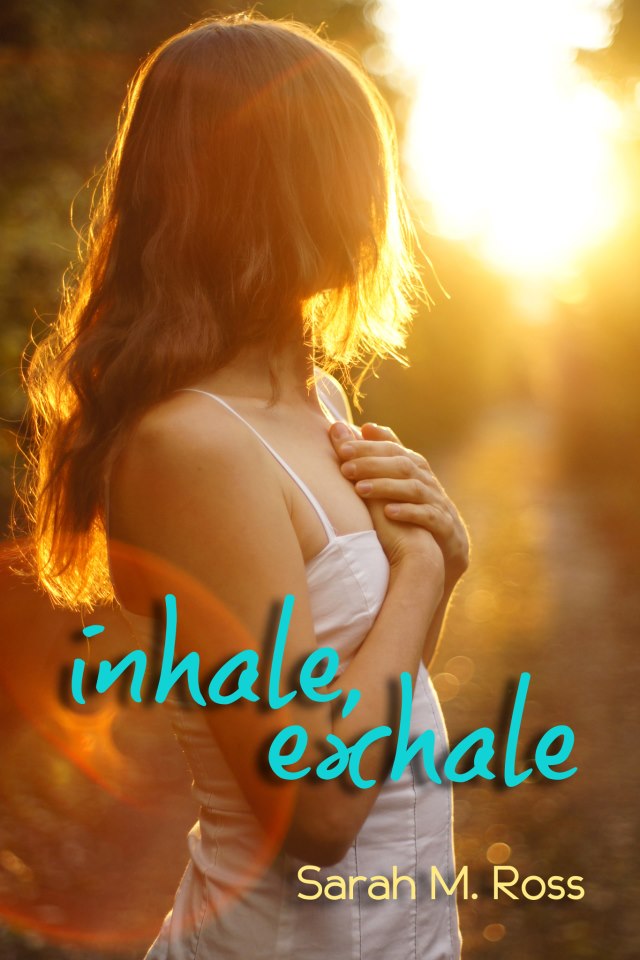 Inhale Exhale by Sarah M. Ross
Publish Date: May 4, 2013
Source: Author for Review – Thank you!
Find It: Goodreads / Amazon / B&N


Jillian had a plan: celebrate the end of her first year of college with an amazing summer full of beaches, barbeques, and bonfires. When her mom insists she needs a summer job, and her boyfriend spends more time with his band than with her, Jillian's plans go down the drain.

Grant had a plan: finish his Masters, get a great job at Google, and get the hell out of Georgia. He might be giving up some of the fun of his youth, but he knows his all work and no play method would be worth it when his dreams came true.

But things never go according to plan.

When temptation brings them together and tragedy tears them apart, Jillian and Grant will be forced to choose: fight for their dreams, or fight for each other. -(from Goodreads)


Inhale Exhale by Sarah M. Ross


My Thoughts: Inhale Exhale is one of those stories that I began thinking that I was reading another romance story but by the time the story ended, I realized there was more substance and drama in there than I initially thought – I've read several of those stories lately and always end up being completely taken by surprised when the events turn.



The first thing you need to know is this
:
Jillian and Christian have been dating for about 4 years.
She's sure they'll end up married.
Christian doesn't work or go to school, but he does play in a band. He's been spending a ton of time away from Jillian lately because of his commitments to the band. She misses him and wants to spend time with him, but understands that for his band to be successful, he needs to put as much time into it as he can and this requires time away. Jillian is super understanding where Christian is concerned.
The second thing you need to know is this
:
Jillian's parents make her get a job for the summer.
It's there that she meets Grant.
Hello, insta-attraction! Grant is HOT. He's good-looking and toned (he is an athlete) and he is very, very nice. He works in the IT department – Jillian keeps needing his assistance when her computer locks up. This is how they meet.
Grant is captivated by Jillian's looks from the second he sees her. He has a plan to finish school, get his Masters, get a great job, all of that – and nowhere in that plan does dating fit – so he tries to squash his attraction to her, tries to tell himself that she isn't all she seems. Honestly, though, the more time Grant spends around Jillian, the more obviously genuine she is, the sweeter she is, the more he just wants to be with her.
Jillian recognizes the mutual attraction for what it is and mentions over and over that she has a boyfriend. She feels so guilty for being so attracted to Grant – BUT Christian is never home, he's always off in another town playing another gig…and Grant is always so present and good and understanding.
Before long, it is pretty hard to deny the attraction that they feel for one another is a little more than just attraction. There's just the little problem of the boyfriend that they both try to tiptoe around.
The third thing you need to know is this:
Christian finally is able to spend some time at home.
He carves some time out for Jillian.
But some crazy stuff happens. CRAZY.
Grant had warned Jillian that Christian was into some unsavory stuff but Jillian didn't believe him. She thought he was jealous and actually acted quite rude and ugly to him. When Jillian finds herself in a pretty dangerous spot (thanks to Christian) not once, but twice – things with Christian heat up, and I don't mean in a swoony or steamy way. Jillian distances herself from him in hopes of distancing herself from his bad behavior, but his bad habits and lifestyle catch up to her and she ends up the victim of a violent act.
It's at this point that Jillian has some choices to make regarding these two guys. And Grant has to decide if he wants to proceed with the plans for his future, or does he want to fight for a relationship with Jillian…
*********************************************************
Inhale Exhale by Sarah M. Ross was a mixture of sweet romance and a little bit of drama, but it somehow worked to make an interesting story that I don't want to put down.
Even though her friends and family don't really like Christian all that much, Jillian fully expects to marry him one day. It is clear that he doesn't have much drive in the way of plans for his future. I think Jillian felt too comfortable in her well-worn relationship and was okay to settle for what she had rather than seek out what she deserved. Meeting Grant shook up Jillian's world quite a bit and opened her eyes, and eventually she was able to see what her friends and her family (and all of us readers) can already see.
Christian is basically a loser. I kind of feel bad for saying that because he doesn't really get that much page-time in the story, but he really is a loser. I got a worthless vibe from him from the very beginning and never liked him at all, so I was bothered that Jillian was developing a relationship with Grant (bad me!?). What is interesting is that Jillian still was so protective of Christian and was so blinded to his flaws even though they were practically neon signs to me. The fact that Jillian allowed herself to fall for another guy while she was still in a relationship – cheating – is so interesting in this story, because it completely goes against the rest of Jillian's character. She even is at war with herself over and over in her words and her thoughts because she just knows that she shouldn't be feeling what she is and it is wrong, but she really cannot help it.
Grant is great – he's a driven college student with a great work ethic, a plan for the future, and a great respect for women. He is an athlete and has a healthy lifestyle. He is basically the opposite of Christian. It appeared to be an obvious no-brainer which one of these guys she should be in a relationship with, but for some reason it took a long time and a couple of acts of violence to convince Jillian that her choice in men was suspect at best.
Speaking of the violence – it is there, but it is on the milder side compared to other books that I have read. I don't really feel like I need to "issue any trigger warnings" or anything like that, but there is an event that happens at about three-fourths of the way into the book that made me go WHAT?! Of course, the awesome Grant is there to see Jillian through everything, proving that he is the knight-in-shining-armor that is obvious to everyone else from the very beginning. I wasn't expecting this turn of events, but it made the story interesting. Also, it seems like it should be obvious that this story has a love triangle in it, but for some reason it just doesn't feel like a love triangle to me.
Inhale Exhale is a New Adult Contemporary Romance that is an easy, quick read and appears to be a standalone. I recommend this book for fans of the NA contemporary romances, HEAs, and stories with a little bit of steam in there but not too, too much.
*********************************************************
Inhale Exhale will appeal to fans of:

New Adult Contemporary Romance
Romance: Instant Attraction
.
Inhale Exhale
by Sarah M. Ross
is currently available for purchase.
*********************************************************