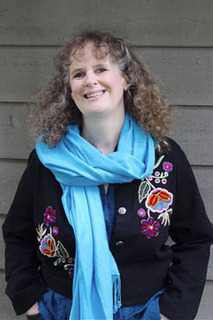 Author Katherine Grace Bond
is on the blog today
to answer a few questions for us!
Hi Katherine! Thanks so much for stopping by today!
*******************************************
1. Thank you so much for stopping by the blog today! Can you tell us a little bit about The Summer of No Regrets?
I wanted to write a book about a girl looking for meaning, and I figured the best way to do what would be to have her ask the profound and soul-searching question: Is the boy next door a movie star in hiding?
Well, okay, not exactly; it was more the other way around. But I want you to think I'm very deep and spiritual. I wouldn't want anyone to know that I find the idea of a movie star in hiding pretty intriguing.
2. How were the personalities and characteristics of Brigitta and Luke born?
It's hard to pinpoint exactly. They both just started talking to me once I had the basic story laid out. I suppose there's a lot of me in each of them. I really was embarrassed when I bought a National Enquirer at the grocery store; I made sure the clerk knew it was for research. (Right.)
3. The characters in this book range from very normal teenagers to very eccentric and "out-there" adults…which of these characters is your favorite and why?
They are all my favorites in their own ways. I love the questions Brigitta asks, and the way she won't accept pat answers. I love that she challenges Luke instead of just going all gooey every time she sees him. And I do love Luke. He's both strong and vulnerable. In fact, when I wanted to figure out where he was going when he kept disappearing, I asked him to write me a journal. It was cool! It developed its own storyline, completely apart from the book, but I also got his perspective on why he cares about Brigitta. I started it as an exercise for me, but it turned into kind of a mini-book. It will be published as a free e-book later this month, so keep checking my website—or you can follow me on Twitter @KatherineGBond and I'll definitely link to it.
I also love Brigitta's sister, Mallory. She's pretty annoying, but she really does care. (She's kind of "me on steroids.") In a sort of twisted way, I love Webster, Mallory's 40-year-old college professor boyfriend. I love him because I can't stand him. I never found a single redeeming quality in Webster, which is supposed to be a no-no for an author, but he's just so arrogant and creepy and odious and he was REALLY fun to write.
4. Brigitta enjoys playing instruments. Nonni enjoyed sewing. Trent enjoys acting. How much of yourself and/or your family did you put into these characters?
I, too, play the violin, though not as well as Brigitta. I've played since I was seven, though, so it's a natural part of me. My Nana (who is not exactly Nonni, but has some of her qualities) loved to sew and made a lot of my clothes when I was a child. And my whole family loves acting. My husband and I both studied theatre in college and our family has done community theatre together, as well as a program called TEENWrite, in which teens come as characters they create and do outdoor live-action role playing, and then write the resulting stories. (www.teenwrite.com) If I hadn't had such a strong desire to be an author, perhaps I would have pursued acting more seriously, so I suppose I do daydream about that a little.
5. What does a typical writing day look like for Katherine Grace Bond?
No day is really typical, because my work-week is varied: some days I'm home, some days I have writing group, some days I teach and some days I'm running errands. If I'm really on track with my writing, I'll get up very early and have some journaling/prayer time, and then hit the computer about 6:30 and write for two or three hours (more if I can manage it. A good writing day is five hours—then I can get more deeply into the story.) After that I like to get up and move—taking a walk with a friend is always good. I have to spend a lot of time online, between email and Facebook and Twitter. Some of it is necessary to stay in touch with readers, and I love that. But I can also get hooked and spend way too many hours at it, if I'm not careful. On teaching days, I head over to school and work on school stuff all day. I try to do projects in "chunks" where I can spend a lot of time on one thing, instead of a little time on a whole bunch of things, but that doesn't always work out. In the evenings I hang out with my family. We watch movies together or, more often than not, go off and do our individual projects. I really want to pop out from behind the computer and be a mom and a wife, so we do have dinner together and talk. Sometimes we go out to dinner. Everyone in my family writes, so sometimes we are sharing our stories or ideas with each other.
6. When you decided to become an author, what made you choose to write young adult novels?
I think I just never grew up! The first stories I published were in middle-grade magazines, so they were for younger kids, and I did that for several years. But I always had a YA novel cooking on a back-burner. I love teenagers. I've been working with them as a teacher, youth leader or mentor since I was one myself (In high school I led a junior high youth group—a little like Mallory's Treehouse Club, I suppose. I did it for my little brother, so that he could have a youth group.) When I graduated college, I was a high school French teacher and when I (briefly) stopped working with teens, I became lonely for them and would strike up conversations with teens in airports. (Yeah, okay. That's a little creepy.) I love the honesty of teens, and the hopefulness about the future. Often, too, I find a lot of woundedness, and I relate to that because I was a wounded teen once. I want them to know it's going to be okay. I want to encourage them the way some key adults encouraged me as a teenager.
7. What would you say to readers to encourage them to read more YA contemporary books?
Actually, I'd encourage teens to read contemporary, historical, fantasy, sci-fi, steampunk, dystopian, whatever they can get their hands on that they enjoy. It doesn't have to be YA, either. Some teens love to read books with older characters in them. And some love to reread their childhood favorites, or find new things to read to younger siblings, "babysit-ees," or themselves. What is great about YA, is that there is so much excellent writing out there. I think some of the best writing being done right now is in YA. And reading lets you breathe. It takes you out of the stresses of life in a way that nothing else can—not even TV or movies (and I love those!) So read, read, read. And you may just find out you are a writer, too!
*************************************
Thank you for doing this interview
on such short notice!
And now for the Giveaway!
*************************************
Sourcebooks Fire has generously offered
one copy of
THE SUMMER OF NO REGRETS
to one lucky winner!
(US/Canada Only please!)