Melissa C. Walker
is on the blog today
to answer a few questions for us!
Hi Melissa! It's so nice to meet you! I recently read
Small Town Sinners
and
Unbreak My Heart
and loved them both! Thank you for talking to me a little bit about
Unbreak My Heart
!


1. I recently read Small Town Sinners and Unbreak My Heart back-to-back. Such different books, and both were great. With these two very different books coming out back-to-back, can you talk just a little bit about the switch in gears it took from writing about faith and sin to writing about heartbreak, healing, and love?
Honestly, as long as I can hear the characters in my head, I can tell their stories–no matter what the themes are. If I can hear them talking, they feel real to me and hopefully to readers too. I will say that it was nice to lighten up with UNBREAK MY HEART after SMALL TOWN SINNERS, but there were dark parts of UNBREAK MY HEART too… still, the sunny scenes were refreshing!
2. Unbreak My Heart is a book that will be, I think, deeply relatable to a ton of us. Where did you come up with the idea or inspiration for Clementine's story?
I suffered a friend breakup and it was crazily painful. I knew I'd write about it one day, somehow. Clem's story was my way to do that.
3. Clementine made a mistake and has lost her best friend, the boy she really likes, and all of her friends. As the story starts, she is broken-hearted. How has your real-life experience as a magazine writer for young people helped you to relate to the kinds of experiences Clementine faced prior to boarding the boat…AND the kinds she faced while she was on board?
I think what helps me relate most is that I've been through being 16, 17, 18… I remember very clearly what that time was like and how I felt about things. Maybe writing for teenagers keeps me in touch with that, or maybe I'll just always be that age in my head. In any case, the whole made-a-mistake thing is universal–we've all had friendship dramas where we've felt at fault. And ideally, we have people who love us around to help us get through that and be okay on the other side.
4. While reading, it was easy for me to decide that James was my favorite character, followed by Clem's sister Olive. Who is your favorite character and why?
I love Olive. Every time I wrote a scene with her she was so crystal clear in my head. I could hear her quirks and her energy.
5. Music plays a huge role in Unbreak My Heart as Clem is quite fond of making playlists. Did you listen to music while writing the book? If you did, what is on your current writing playlist?
I did! I even made a mini-soundtrack, so here's the current playlist: http://iheartdaily.com/novel-playlist-unbreak-my-heart/
6. There is some buzz about the interesting setting you used in this book – a small sailboat. How did you come up with that idea? If you were going to be stuck on a sailboat all summer long, where would you want to sail?
I spent a lot of time with my parents on a small sailboat, so I'm familiar with the highs and lows of that set-up. If I were sailing all summer long, I think I'd like to be off the coast of a very cool beach town, maybe off of the Outer Banks in my native NC, so I could escape my fellow boat-mates now and then.
7. Can you tell us anything about what you have planned next?
I have a letter in the DEAR TEEN ME anthology coming from Zest Books in October, and I'm working on a new book that I'm keeping mum about for now–but I'll have info to share soon!
8. What would you say to readers to encourage them to pick up more YA Contemporary titles?
I love big, fantastical stories a lot, but the truth is, the small moments in books–the ones where you see yourself, and your family, and how you're living–are the most exciting to me. So that's what I love about Contemporary stuff. I can find truths about myself there.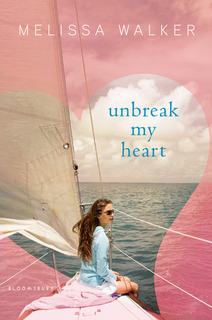 *************************************
Thank you for stopping by Melissa!
I love that you give a nod to the Outer Banks and NC
because I'm in the far Eastern NC myself!
You're welcome on the blog anytime!

*************************************


GIVEAWAY!
Bloomsbury USA has generously offered
one ARC of UNBREAK MY HEART
to one lucky winner!
(US Only please!)