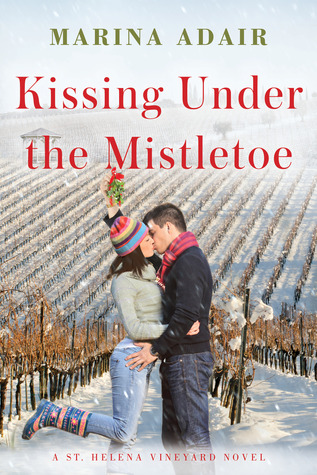 Series: St. Helena Vineyard #1
Publish Date: October 16, 2012
310 Pages
Source: Kindle loan via Amazon Prime
Regan Martin stopped believing in Christmas miracles six years ago when she lost everything—her house, her job, and her impeccable reputation in the wine industry—after she fell in love with a man she had no idea was married. Then Regan gets a chance for a fresh start in the Napa Valley. With her dream job, dream home, and her daughter enrolled in a wonderful new school, she starts wondering if holiday wishes really do come true.
But she soon tumbles back down to earth when she learns that her new boss is none other than Gabe DeLuca, the scorned wife's brother. Gabe wants nothing more than home-wrecking Regan Martin out of his life, his sister's world, and his family's business. Mostly, he wants the lush beauty out of his head. Yet his attempts to run her out of town have him thinking twice, especially when he sees that Regan may hold the key to tracking down his sister's stolen start-up capital. Even worse for Gabe, Regan might just be his Christmas wish and hold the key to his heart.
(from Goodreads)
Kissing Under the Mistletoe by Marina Adair
My Thoughts: When the holiday season was creeping closer a while back and I was browsing for a fun holiday read, Kissing Under the Mistletoe by Marina Adair caught my eye. It ended up being one of my first and favorite seasonal books this year. I'm so glad I impulsively made the decision to read this one because it set a great tone for me in terms of having fun with these fun, snowy, holiday books and it also gave me a new series to read. I was charmed right off the bat.
**********************************************************
The first thing you need to know is this:
Regan Martin fell in love with a man.
That man was married. She had no idea.
Regan didn't find out the man she loved was married until she was halfway through a pregnancy – carrying his child! Mean ole' Richard vanished, leaving behind both pregnant Regan AND his wife Abby (scumbag!).
Richard's wife Abby was broken-hearted – as was Regan – and her brothers wanted to kick Richard's butt in a big way. But Richard completely vanished, so they did the next best thing: they spent years and years making 'his mistress' pay for what 'she did' – breaking up Abby's marriage. FORGET THE FACT that Regan didn't know he was married. FORGET THE FACT that Regan was now a single mother and it's been several years. They did everything in their power to make sure her reputation was ruined and that she suffered. And man, they really made her miserable – or at least they tried, giving no thought to what it would do to Regan or to her child.
But Regan was resilient. She had a sweet little girl to raise. She couldn't let thing after thing after event get her down. When job opportunities kept falling through in her chosen field (the wine industry, also Richard's field, also Abby's field), she just stood back up, shook it off, and kept going. Eventually, she thought, something would work out.
The second thing you need to know is this
:
FINALLY! Regan has been offered a job
and it is looking like a DREAM for her!
First of all, it's the Christmas season and great things are supposed to happen at Christmas, right?
Second of all, this new job is in a new town which offers a chance to start completely over – a fresh start – perfect! When Regan visits the town, it looks so wonderful – just like the perfect place to raise her daughter Holly. There are decorations everywhere and it has that perfect small-town feel to it. She just knows right from the beginning that she wants to settle down there. Regan hopes beyond hope that this job will work out for her.
What Regan doesn't realize is that this new job comes with a new boss – one of the DeLuca Brothers. What does this mean? Well, the DeLuca Brothers are Abby's brothers, the very men that have been making her life a living hell for the past few years.
Just when she thought she had finally, finally, finally moved beyond that – just when she thought she had found a breakthrough – just when she thought she had gotten around her reputation – here it is, ready to slap her in the face again. At Christmastime. In this new, perfect town. Where she has been staying just long enough for her daughter to make a couple of new friends and fall in love with the place, thinking this is their new home.
Regan hates the thought of moving her daughter away from here. She is determined that if she possibly can, she'll make it work. For Holly.
The third thing you need to know is this:
I love it when an author takes a character and makes me HATE
him/her, and then makes me FALL HARD for that same character –
all in the space of one book.
Gabe DeLuca, Regan's new boss, is the brother that seems to have spearheaded all of the tricks and maneuvers that have cost Regan so much over the past few years. To say that I despised him from the beginning is quite an understatement. A chance meeting puts Regan and Gabe together outside of a grocery store at the beginning of the story and I was so angry at how cocky and just awful he was to her. Despite his sexiness and the tension between the two every time they were on a page together, it took me a little while not to smirk at him and want to slap him…just a little bit.
By the end of the book, however, I wanted to reach through the pages and HUG HIM. And I love that. I won't lie, you guys. It took me a while to get to that point, but MAN OH MAN I loved the ride.
**********************************************************
Kissing Under the Mistletoe by Marina Adair is a wonderful, wonderful, wonderful romance story for several different reasons and I'm SO GLAD that I stumbled upon it while I was browsing Amazon one night looking for something to read. First of all, it begins the St. Helena Vineyard Series, which I love, because I didn't have to skip any books to read it (I hate skipping books!). I simply started at the beginning and my next read will be the second book – WIN! Also, instead of being just romance, romance, romance – you guys, there is quite a bit of fun and humor infused into this story and I thought that was really great. Another thing that I really loved about this one is that there are so many different types of relationships in this book and they all demonstrate love – there are sibling relationships, parent-child relationships, friendship relationships, and of course the romance that is the slow burn made of all things wonderful.
Regan Martin is a fantastic female lead – she is fiesty and independent, two things that I love about a leading lady. When life knocks her down, she gets right back up and takes it like a woman. She protects her daughter with a ferocity that I respect and love and know well. She is driven to succeed in her career field even though there is a huge powerhouse of a company that is trying to keep her down – I love that she takes a deep breath and gets back out there, determined that eventually there will be someone, somewhere that will hire her. For all of her strength, though, she has some pretty big vulnerabilities – she's only human, after all. She is a single mother that was ALSO wronged by the same man that wronged Abby, yet she has no one fighting for her. She has an entire family and town believing that she knew that that no-good-for-nothing man was married when she was in love with him, carrying his child, believing they would be together forever – because of the stubborn DeLuca Brothers. Nobody really knows nor understands nor cares the pain that she went through when Richard left her, the pain that she goes through when she sees his features in her child's face, and the pain that she endures when her daughter asks about her father. Like other single mothers, Regan is also doing everything alone – in her case, acting as both parents – so she is often tired and has to wear her strong-mom face and always appear happy, and like nothing is wrong, even when things are crashing down around her.
So, yeah, in my book, Regan Martin is fierce. I love her so much. Particularly since she is able to maintain a sense of humor about everything, through everything.
Gabe DeLuca – he is something entirely different. I have already admitted that I didn't like him initially, and I feel pretty sure that was purposefully done on the part of the author. Gabe is wealthy, along with his brothers, and he is handsome. He is obnoxious and arrogant. He is confident and wears this well. Still, he is known and well-liked around the town, and basically when he request something, IT HAPPENS. While I clearly didn't like him from the beginning, it was pretty obvious that I was the only one because the town certainly loved him. For all of his 'good' qualities, he seemed to have an equal number of things he needed to work on – and I loved watching him develop as a character throughout this story. I don't want to spoil anything like why or how this happened, but it was lovely to watch the heart of this man melt – for more than one reason – and it is part of what made this book so great to me.
Backing up: When the DeLuca Brothers realize WHO exactly they have coming to work for them, it's no-brainer that they'll make her leave or make her miserable until she does…HOWEVER there is a very interesting kink in their plans. A twist, of sorts. AND I LOVED IT. It's here that Regan's strength and determination shine through. It's here that we really get to know her daughter, who is absolutely precious. It's here that we get to know some of the quirky and colorful townspeople. And it's here that we get to watch Gabe soften his heart a little bit because, well,

he has to

. But eventually, he wants to.
And then soon, there is a swoony-swoony something there between Gabe and Regan and sweet little Holly. OH IT IS SO GOOD.
Kissing Under the Mistletoe warmed my heart and made me happy, and I will likely be reading it again as a holiday read. I will definitely be continuing with the series. It appears, at a glance, that these books are set up like many companion series, with each book featuring a sibling – I love series like this and I love sibling relationships, so I'm interested in seeing what this family has to offer. And so far, the books all seem to feature a season or a holiday, which is really fun as well for those that enjoy seasonal reads. I personally will probably just pick them up at random now that I have met the initial characters.
I recommend Kissing Under the Mistletoe by Marina Adair to fans of
Adult Contemporary Romance, fans of holiday/seasonal romances with some lighthearted humor inside, books with strong relationships, and fans of swoons, steams, and slow-burn relationships.
**********************************************************
Kissing Under The Mistletoe will appeal to fans of:
Adult Contemporary Romance/ChickLit
Romance: No Triangle. Slowly Developing.
Swoony, Steamy, Slow Burn.
Great Relationships.
Great Small-Town Setting.
Humor
Kissing Under The Mistletoe by Marina Adair
is currently available for purchase.
**********************************************************
Have you read this book?


It was such a pleasant surprise for me
and I'm excited to continue with series!
I loved it.