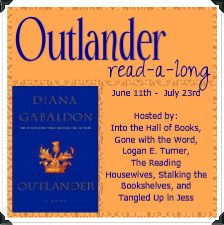 Welcome to Week Three
of the Outlander Read-Along everybody! Jess from Tangled Up in Blue has written some excellent questions!
These come from Chapters 15-21.
Asheley from Into the Hall of Books has written up the questions for Week Four.
WEEK THREE: HERE WE GO!
1.
We FINALLY get to the scene we've all been waiting for. You know what I'm talking about — yay sexytimes! What were your impressions? Was it what you were expecting? Or did you want more
?
I was really impressed with how the scene was handled. Although it has happened all throughout history (and even still today), I cannot imagine marrying someone that I barely know! I was glad that the awkwardness between Jamie and Claire was acknowledged, and I really liked the way that they slowly opened up to each other throughout the evening. From just touching hands and beyond…
I also loved LOVED Jamie in the entire scene. The way he took charge and coaxed Claire to open up by holding hands and talking. The way he spoke about desiring honesty between them. The way that he was eager and sweet and wanted to please Claire. I just loved that despite the fact that she was the experienced one, he really led her in many ways. Even by letting her decide how far they would go that evening. In a culture where women have little rights this is significant. It was perfectly within Jamie's right as a husband to demand whatever he wanted, and things could have been a lot worse for Claire (though obviously if that had happened, this would be a very different kind of story).
2. I know that some readers have been bothered thus far by the fact of Claire being married to Frank but still being involved with Jamie, despite the different time periods. Does their time as newlyweds change anyone's opinion of that? If not, now what are you thinking of the situation?
Okay this is tricky for me. It still does bother me that Claire is married to Frank. I don't care for love triangles (or polygamy). But thankfully, this is fiction about time travel, which enabled me to suspend my belief a fair amount, and go with the story. Plus Frank is in a completely different time period so it's not hard to ignore him. I'm also pretty susceptible to what the author wants the reader to believe, and it's clear that we are meant to fall in love with Jamie along with Claire – and that is certainly happening to me. We spent a few early chapters with Frank, and though he seemed to care about Claire, he was always a bit distant and lost in his scholarly world. Then we meet Jamie, get to know him, see him and Claire form a friendship, and watch how he pays attention and cares for her. Although they are from two different time periods, it was clear to me early on that Jamie and Claire are a much better match for each other.




There is a volatility to Claire and Jamie's relationship that is born partly from Claire's being from a much more modern and progressive culture – in terms of women's roles. But it's also innate in their personalities and how they relate to each other, and I can see how it is leading to stronger passion and depth of feeling between them. Though I will admit that I didn't get enough of Frank to really judge who he is, I didn't see this within his relationship with Claire.
3. What did you think about the "waterhorse" that Claire saw? Why do you think Peter was so spooked? And what do you think this means for Claire?
I'm not really sure what to think about this scene. While I was reading it, I just assumed that Claire saw the Loch Ness Monster. Honestly, I started to worry that this book was turning into fantasy. Besides the time travel, until this point the story has been pretty rooted in historical fact.




But this question and the fact that the encounter takes up an entire chapter clearly indicate that it means something. I guess it could be symbolism for Claire being "taken" by a figurative waterhorse from one time period to another. And perhaps Peter was picking up something about Claire being different.
4. If you were Claire and you were knowingly in the vicinity of the stones, would you have done the same thing she did?
Although I wanted to strangle Claire when she decided to ignore Jamie and try to find the stones, in my rational mind I got why she did it. And if I was stuck in a different time period, I'd probably try to do anything that I could to get out of there and back to my life.




Actually, I think that Claire answered this pretty well in a later chapter when she says, "This time was in many ways still unreal to me; something from a play or a fancy-dress pageant." If I was her, I could imagine pinching myself and thinking – is this a dream? Is this place real? That helps to explain the idiotic way that she went about trying to get to the stones. Walking several miles over treacherous ground? Her plan was doomed before she started.




And of course the romantic in me wants her to pick Jamie and stay in 18th century Scotland. Stay with Jamie, Claire!!!
5.
What do you think about Captain Randall? How do you think the family resemblance between him and Frank affects Claire and particularly her relationship with Jamie?
I don't like Captain Randall all. Obviously this is not a surprise to anyone. I foresee much more trouble from him to come. His type of villainy is quite scary, because you never know what he's going to do (except that it's not going to be good!).




Captain Randall is a tricky character also because he is a visible reminder to Claire that she is still married to Frank. She sees him and can't help but remember that her husband is his far future ancestor. However, it's also confusing to watch a man who looks like your husband act in such a despicable manner. And seeing a bad version of Frank makes Jamie come across as even better of a choice.
**************************************************
Here's the remainder of the schedule:
Questions for chapters 22-28 answered & questions announced for chapters 29-35 on Logan E. Turner

July 16th
Questions for chapters 29-35 answered & questions announced for chapters 36-41 on The Reading Housewives

July 23rd
Questions for chapters 36-41 answered on Gone with the Words.