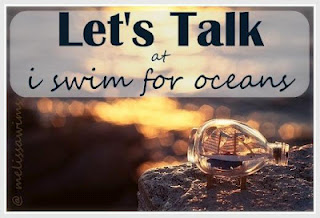 Click here to see Let's Talk!
I'm so excited that Melissa at i swim for oceans likes discussion posts because sometimes I get chatty and have things to say. What's up, Melissa?? Let's Talk.
This week's question:
What are your top three favorite book series and why?
Oh good grief! Only three?

If you know anything about me at all, you know that Julie Kagawa is on my instant-read list. Meaning: if she writes it, I will read it, period. That is because of this series. I fell so hard for the world she created, the Nevernever, and the characters she put there. I have to admit that I'm a little nervous about the upcoming spinoff series, but I am die-hard fangirl #1 about the original Iron Fey series.
Prince Ash forever, you guys.
Since I read this series the first time, I knew – I knew – that I would love it forever. I have never before read a series that gripped my heart so tightly and refused to let go throughout every single scene. Every word is placed perfectly and every scene has a purpose. This story is so brilliantly executed and the characters are so three-dimensional, so incredibly developed, that you think of them as if they are real people. In fact, you can't tell exactly what your feelings are for the villain,
even when you know might be unredeemable.

Patrick Ness is the king of manipulating emotions, but he does it in the most perfect of ways with this series. Although I can't quite put my finger on it to tell you exactly how, I was a different person after I read these books. I cannot wait to re-read them, and then re-read them again.
I'm not sure this series requires any explanation. The worlds that Philip Pullman created in this series are beyond anything my imagination could ever dream. With perfect examples of alternate universes and parallel worlds, I can get lost in these books quicker than any other books I know. I adore these characters, I adore the lands, I adore the story, and I don't really know what else to say about these books. They fascinate me, they captivate me,
and they are the very reason that I love to read.

Also: I want a friend like Iorek Byrnison the bear.
********************************************************************

I know we're only supposed to give three favorite series (which is hard enough) but I can't stand to finish this blog post without giving a shout-out to the Iron Druid Chronicles by Kevin Hearne. Why? Because I've only read the first book, Hounded, so far. BUT…I loved it enough that I'm pretty certain it will be on my most-loved-series list pretty soon. This is possibly the best Urban Fantasy series I've read – and certainly the most fun. I don't really think it fair to give it a Top 3 spot based on just the first book, but you guys can certainly be on the lookout for this one in my highlights as I read further into these books. The first one was ridiculously enjoyable and I recommend it to EVERYONE.
************************************************
What about you guys?
What are your favorite series?