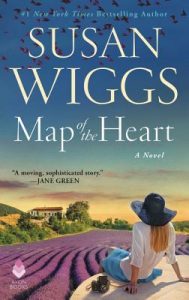 Map of the Heart
by
Susan Wiggs
Published by
Avon
on April 24, 2018
Pages:
432
Source:
the publisher
Buy from Amazon
|
Buy from Barnes & Noble
|
Buy from Book Depository
Goodreads
Widowed by an unspeakable tragedy, accomplished photographer Camille Palmer has made her peace with the past and is content with the quiet safety of life with her teenage daughter, Julie, in a sleepy coastal town. Then the arrival of a mysterious package breaks open the door to her family's secret past. In uncovering a hidden history, Camille has no idea that she's about to embark on an adventure that will shake her complacency and utterly transform her.

Camille, Julie, and Camille's father, Henry, return to the French town of Henry's youth, sparking unexpected memories for him—recollections that will lead them back to the dark days of the Second World War. And it is in the stunning Provençal countryside that they will uncover their family's surprising history.

While Provence offers answers about the past, it also holds the key to Camille's future. Along the way, she meets an American historian who stirs a passion deep within her—a feeling that she thought she'd never experience again.

Brilliantly written and infused with Susan Wiggs's trademark style, this hugely popular author has created her biggest, most powerful story yet in MAP OF THE HEART—an instant New York Times bestseller on the hardcover list. MAP OF THE HEART beautiful and heartfelt novel that celebrates the bonds of family and pays homage to the sacrifices of the past.
I received this book for free from the publisher in exchange for an honest review. This does not affect my opinion of the book or the content of my review.
Review:
Map of the Heart by Susan Wiggs is a standalone story with dual timelines, set in present day with flashbacks to WWII-era France. This is the story of a woman that is afraid to loosen up and live because she is crippled by fear and past hurts. It's also a story of family.
Camille lives as a helicopter parent, doing her best to keep her daughter Julie safe, but mostly stifling Julie's adventurous spirit (and her own). After the tragic death of Camille's husband about five years ago, Camille is terrified of risk, afraid she will lose someone that she loves in another accident. When Camille's father Henry decides that he wants to visit his homeland of France and that he wants Camille and Julie to accompany him, she initially refuses. Eventually she relents, and the trio have the summer of a lifetime.
Map of the Heart actually has several intertwining story lines involving Camille, her daughter Julie, Camille's father Henry, and Finn – a college professor that works along with Camille's family to find missing pieces of their family history by looking at historical photographs. Camille meets Finn innocently enough, but their story become entangled not only because of business, but because the two fall for one another while working hard to determine Henry's family's backstory.
I was so excited to start this one because I enjoy Susan Wiggs' stories so much. When I started reading Map of the Heart, I felt like there were a ton of characters and I wondered if I would be able to keep them separate and follow the multiple little story lines. After just a few chapters, I fell into the story and found that as I neared the end, I couldn't put the book down. The more the stories and histories of these characters connect, the better it becomes.
I particularly love Julie's part in the story. At the beginning of the book, she is struggling with school and most of her peers are making her life miserable. Add to that the overprotective nature of Camille, and Julie just isn't happy. I really felt for this young girl with all of the pressure she was under, but I was thrilled to see that she began to grow and change once she went to France for the summer. After the summer and the change of scenery, Julie is a much happier and healthier person. I adored her throughout the entire story, so seeing her do so well by the end of the book made me very happy.
I also love the theme of family that resonates so strongly throughout this story. I feel like Ms. Wiggs loves to write about family as much as she loves to write about love, because I tend to feel like her books (the ones that I've read, at least) feature relationships and family as much or more than romance. Camille's story with her father and daughter is the one that I felt was the major story here, and the development of her relationship with Finn seemed to take a little bit of a backseat to that. Their relationship certainly had page time, but they only grew to be a couple while working on Camille's family project.
The way things worked out in the end was wonderful. When I finished the book, I was really touched by how everything came together and how everyone fared.
The more books that I read by Ms. Wiggs, the more I want to spend time with her catalog. I'm currently working my way through the Lakeshore Chronicles series and absolutely loving it, and her next book Between You and Me is one of my most anticipated upcoming releases.