Everything is in ruins.

A devastating plague has decimated the population. And those who are left live in fear of catching it as the city crumbles to pieces around them.

So what does Araby Worth have to live for?

Nights in the Debauchery Club, beautiful dresses, glittery make-up . . . and tantalizing ways to forget it all.

But in the depths of the club—in the depths of her own despair—Araby will find more than oblivion. She will find Will, the terribly handsome proprietor of the club. And Elliott, the wickedly smart aristocrat. Neither boy is what he seems. Both have secrets. Everyone does.
And Araby may find something not just to live for, but to fight for—no matter what it costs her.
-(summary from Goodreads.com)
YOU GUYS!
I loved Bethany Griffin's Masque of the Red Death. I was fortunate enough to read it earlier this year and devoured it. It was an awesome mash-up of steampunk, apocalyptic/ dystopian, and romance. It was creepy and dark and thrilling and had a place called the Debauchery Club that was one of my favorite settings in a book in a long time. In fact, this entire book had some of the best settings I've read in a while. The world-building was insanely good and it was just entirely well-crafted.
I'm a sucker for something excellent, and it's all right here. As I said in my review: "
Contagions, steampunk, mean villains, debauchery
…it just had plenty of things that make me want to read more. " I'm so excited for for the release of Masque of the Red Death today and I'm already impatient to read the next part of the story!
(You can read my review HERE.)
THE SWAG!
To celebrate the release of her book, Bethany Griffin was kind enough to send me some swag to send to YOU! I have one bracelet and two bookmarks to share with two of you guys.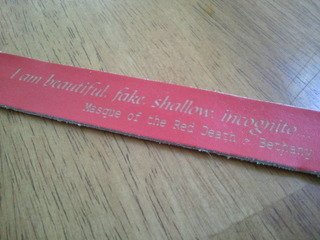 The bracelet says:
"I am beautiful, fake, shallow, incognito…"
Masque of the Red Death ~ Bethany Griffin
Giveaway Details:
One person will receive the bracelet and a bookmark.

One person will receive a bookmark.
Giveaway Information:
You must be at least 13 years old to enter.

Deadline for entry is

Monday April 30, 2012

.

This contest is open to Everyone.
Following this blog is not required, but appreciated!
For a chance to grab this swag, fill out this form:
Form removed at the conclusion of the contest!
Winners have been notified!