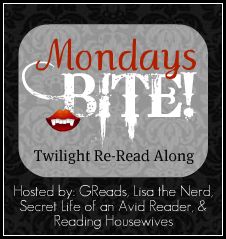 Oh my gracious, y'all! How much fun is this?
It's a Twilight re-read hosted by some fabulous book bloggers:
Like a lot of Twilight fans, I have wanted to re-read the series but do not really have the time with all of the other books on my incredibly long TBR list. And my TBR list grows every day! These great gals and fellow bloggers came up with a perfect solution: a group re-read! Now everyone can read it together, in small bits, and can do fun discussions and questions and stuff. Brilliant!!!
According to GReads: "The read along will officially kick off on June 27th & continue through August 1st. The read along will be broken down to 5 chapters per week. Each Monday we will propose questions to be answered for those particular chapters being read that week. Then the following Monday, the answers will be posted on the coordinating blog along with new questions for the next chapters. We encourage those who are participating to post your discussion answers on your own blogs that week as well! A link-up will be provided each week so that everyone can participate & view others responses."
Sounds like a plan, ladies. And fun as well. The first stop in this read along will be at GReads on June 27th, and will consist of Chapters 1-5. I can't wait to get re-acquainted with Bella and Edward! (Because he sparkles.)
(Just in case somebody out there doesn't know, Twilight is an amazing book by Stephanie Meyer.
It's the first book in the Twilight Series. And it's delicious.)