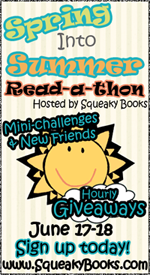 This is my first ReadAThon, you guys! I'm all excited and a little bit nervous because I'm doing this while my three kiddos are with me, and kids make everything take longer. Still, I'm hoping to make good progress.
What I'm Currently Reading: I have a ton of books here to choose from, but I'm starting by finishing The Iron King by Julie Kagawa. I had only read a portion of the first chapter, so I'm just starting it over.
My Goal for Pages Read: As many as I can! I have the kids with me today, all three of them, and there will be some places I have to go here and there throughout the day…but it is better to participate as much as I can rather than not at all!
I'm a few minutes late, but it's time too get started!