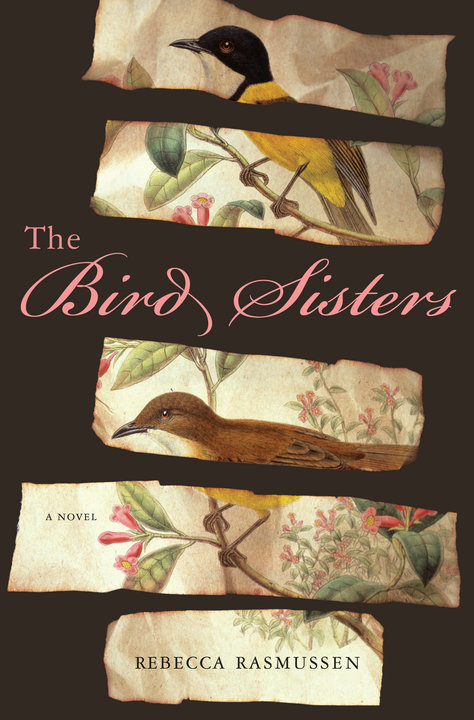 The Bird Sisters by Rebecca Rasmussen

Published by Crown Publishing
Publish Date: April 12, 2011
304 Pages
Source:
Library
When a bird flies into a window in Spring Green, Wisconsin, sisters Milly and Twiss get a visit. Twiss listens to the birds' heartbeats, assessing what she can fix and what she can't, while Milly listens to the heartaches of the people who've brought them. These spinster sisters have spent their lives nursing people and birds back to health.
But back in the summer of 1947, Milly and Twiss knew nothing about trying to mend what had been accidentally broken. Milly was known as a great beauty with emerald eyes and Twiss was a brazen wild child who never wore a dress or did what she was told. That was the summer their golf pro father got into an accident that cost him both his swing and his charm, and their mother, the daughter of a wealthy jeweler, finally admitted their hardscrabble lives wouldn't change. It was the summer their priest, Father Rice, announced that God didn't exist and ran off to Mexico, and a boy named Asa finally caught Milly's eye. And, most unforgettably, it was the summer their cousin Bett came down from a town called Deadwater and changed the course of their lives forever. -(excerpt from Goodreads summary)

The Bird Sisters by Rebecca Rasmussen
My Thoughts: I chose to read Rebecca Rasmussen's The Bird Sisters after seeing it appear on one of Jamie's Top Ten Tuesday posts. It was already on my TBR but seeing a trusted blogger read and love something has this way of skyrocketing things higher on my list. Does that happen to you guys?
The Bird Sisters opens on Milly and Twiss late in life, living alone but together. Immediately I wondered how they ended up living in that situation, and within the first few pages, I was very emotionally attached to the older Milly and Twiss. Through alternating chapters of flashbacks into the summer of 1947, we learn – slowly, very slowly – what happened that caused the sisters to end up this way – no husbands, no children. And you guys, the journey to finding out the story was absolute JOY and PAIN, but it was beautiful.
Let me share some thoughts:
1. The Characters. This book was stuffed with incredible characters. I fell hard for every single one of them, even the greatly flawed ones. Each one was like a person that I could have known in my real life, which made them so much more lovable to me. I could list them all and how great they are, but for the sake of space, I'll just highlight:
Milly. The sweet and beautiful older sister. A dreamer. Always baking cookies and making lemonade for Asa, whom she loves fiercely with a real and innocent love that you just want to last. Milly's dream is to have a family – a husband and children. Oh, how she would love to end up with Asa!
Twiss. The wild, carefree, and tomboyish younger sister. Secretly, a people-pleaser, although she wouldn't admit it. Twiss also likes to fix things, even broken relationships. Twiss is very complex because she appears rough around the edges – and she is – but she has a very old soul, even at a young age, and people don't give her enough credit for the depth of her emotions. I think Twiss is one of those that takes a while to determine if you really like her or not, but when you finally decide, you adore her.
Bett. The visiting cousin from Deadwater. While everyone is initially excited, eventually Bett begins to stir up trouble…for everyone. Always seems sick, always dramatic, always seeming to embarrass Milly and Twiss. Bett seems to be in desperate need for attention and eventually, she finds it. First by becoming the favored of the girls' mother, which is so hurtful to them, but boy-oh-boy Bett doesn't stop there…
Every single person in the secondary cast is bright and witty, quirky and fun. They all have SO MUCH to add to the story. It would be an injustice to highlight them all, so I just leave you with my impression that this entire cast of characters is top-notch and superb. Very, very well done.
2. The Setting. Spring Green, Wisconsin. The time setting alternates between the present and the summer of 1947. The Bird Sisters takes place over one summer of the lives of Milly and Twiss. Most of the story is told in the setting of 1947 as it is being reminisced by the each of the sisters in turn.
I loved this setting. The author did a wonderful job of keeping this part of the country and the time period authentic, as best as I can tell, and I could easily visualize this story as if it were a movie being played out in my imagination.
3. The Structure. Alternating points-of-view (POV) as well as alternating time settings (the present & the summer of 1947). I never mind alternating POV; in fact I love it. In this instance, I did find it a little bit confusing a couple of times when I couldn't remember which sister was doing the narrating. However, this was quickly resolved each time within just a few chapters and never took away from my feelings for the story at all. The switch back and forth between the settings in time was seamless and the transition was easy for me as a reader.
Very early, we learn that the girls' mother and father are very unhappily married. Maisie gave up her inheritance to marry Joe…for love. Joe was really only interested in a lifestyle that he could never attain. Neither could connect and so they drifted apart. Maisie was really the first in the book to give up her girlish dreams, and what she earned for this choice was Joe…a man who ended up moving out to the barn and mourning a life he couldn't have. Maisie and Joe had a hard time financially, and Maisie wouldn't accept help in the form of food or clothing, which in turn shaped things at the house as well. Joe spent a large portion of what little money they did have golfing or drinking. Eventually, Joe does some unthinkable things that not only destroy the thread of marriage that he had left, but it destroyed the hope that his children had in him. The story of the relationship between Maisie and Joe left me heartbroken, not only because it was sad, but because it affected so many people and their lives after. Had it not been so easy for Maisie to give up on her dreams and not fight for them, perhaps it wouldn't have been so easy for both Milly and Twiss to do the same…
As a young girl, Twiss wanted to be a golfer and travel the world. Milly wanted to have a family – a nice husband and some kids, for which she had already envisioned names. These sisters had girlish dreams like most young girls do. But that summer, things changed. And Bett had much to do with that.
This family spent the entire book living in complete chaos and disaccord with one another, but through it all – despite the fact that Milly and Twiss were almost complete opposites – they had a love for one another that transcended this chaos and disunity. So, when bad things happened and choices had to be made – choices that would change all of their lives forever – it was no surprise that both girls gave up their dreams to stick together, support each other, and take care of one another for the rest of their lives. Through everything, the good and the bad and the lonely, they had each other.
An interesting sidenote: even though the book starts at the end of the lives of Milly and Twiss, and we know the outcome of SOME decision that has been made years earlier…while I was reading, I still found myself cheerleading for these girls and hoping that things wouldn't end up the way I already knew they did. I was so immersed in this book that I still felt hope in the writing of Rebecca Rasmussen despite already knowing the ending. THAT is talent, my friends.
The Bird Sisters is a story about life, the choices we make, and the consequences of these choices. Even though there are parts that made me laugh, it is not a happy story. There are scenes of betrayal and loss, there are sacrifices made, there is bitter disappointment, and there is gut-wrenching heartbreak. But it is still a book that needs to be read because it is so very beautiful.
The Bird Sisters will appeal to fans of:
Alternating point-of-view
Character-driven plot
Very strong, well-developed characters
Books with strong familial ties
Standalone/Non-series books
Books that are heavy on Setting: Spring Green, Wisconsin in 1947
Beautiful language – almost like a lyrical prose
The Bird Sisters by Rebecca Rasmussen is currently available for purchase
.