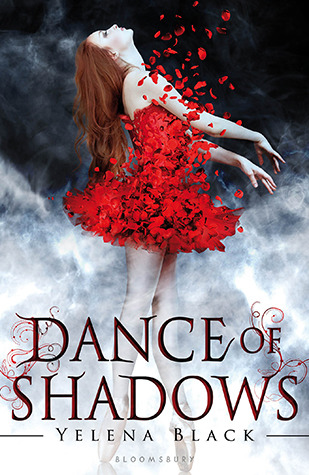 Dance of Shadows by Yelena Black
Series: Dance of Shadows #1
Published by Bloomsbury USA Children's
Publish Date: February 12, 2013
447 Pages
Source: Publisher via NetGalley


Dancing with someone is an act of trust. Elegant and intimate; you're close enough to kiss, close enough to feel your partner's heartbeat. But for Vanessa, dance is deadly – and she must be very careful who she trusts . . .

Vanessa Adler attends an elite ballet school – the same one her older sister, Margaret, attended before she disappeared. Vanessa feels she can never live up to her sister's shining reputation. But Vanessa, with her glorious red hair and fair skin, has a kind of power when she dances – she loses herself in the music, breathes different air, and the world around her turns to flames . . .

Soon she attracts the attention of three men: gorgeous Zep, mysterious Justin, and the great, enigmatic choreographer Josef Zhalkovsky. When Josef asks Vanessa to dance the lead in the Firebird, she has little idea of the danger that lies ahead – and the burning forces about to be unleashed . . . -(from Goodreads)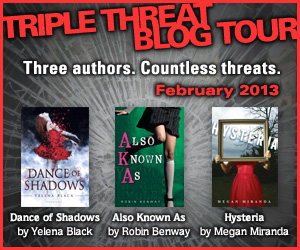 Dance of Shadows by Yelena Black


My Thoughts: From the moment the Dance of Shadows cover was revealed, I knew I wanted to read this book. I knew it. And I'm thrilled to say that from the second I started it, I was hooked. This book is dark and enchanting and mysterious, and I really enjoyed it.



The first thing you need to know is this
:
Vanessa has been accepted to the New York Ballet Academy.
New York Ballet Academy is one of the best in the world. At NYBA, Vanessa will be studying along with the best and brightest upcoming dancers in the world, and she should be excited about this honor – but she isn't. Vanessa does not eat, breath, sleep, and dream dance like all of the other students there. She isn't that passionate about the sport. It isn't her dream. Vanessa has different reasons for attending then everyone else: she is going to the school because her sister once attended. Unfortunately, her sister Margaret disappeared a few years earlier.
Margaret was an amazing dancer and was cast as the lead role in the school's production of The Firebird. One day, Margaret just disappeared. When she disappeared, Vanessa's mother sunk into a deep, deep depression and the only thing – the only thing – that brought her out of it was when Vanessa put on ballet shoes and began to dance. So…Vanessa danced and danced and danced, and she was great at it. So great, in fact, she landed a position at the same school her sister attended. While her parents are apprehensive (and understandably so) about her going to NYBA, Vanessa feels like it might be a chance to learn more about her sister's disappearance.
Everyone has their own ideas about what happened to Margaret, but Vanessa believes she's still out there and she hopes to find her.
Vanessa settles in okay – she is reluctant to share information about Margaret at first, but it is obvious that she sees Margaret in everything she does. She searches for her sister everywhere, she seeks out clues, she wants to know what happened. The mystery of Margaret's disappearance – the the disappearance of other dancers – is dark and mysterious and actually made this book quite delicious. I loved it.
The second thing you need to know is this
:
In addition to the mystery of Margaret's disappearance,
there is a bit of a romance.
There are two guys in the book that have eyes for Vanessa – there is one that she is initially interested in and one that she initially hates. The one that she is interested in – well, there are dates and there is dancing and there are some cliche conversations, things like that. The romance is okay. I like it enough.
The other guy is really interesting, though. He tries to help Vanessa by giving her information about her sister because he was at the school at the same time Margaret was there. His methods of delivering this information about Margaret are – odd. He is almost mean about it. He seems to make fun of Vanessa about Margaret, or he seems to make fun of Margaret for the troubles she was having when she was a student. So Vanessa doesn't really like him although she is a little bit intrigued by him because he has information that she wants/needs. — Truthfully, I could never tell what this guy's intentions were. He was a total wild card and I LOVED IT. I honestly did. I hated him then I liked him, over and over. The other guy may have been swoonier but this one made things interesting!
I love stories with triangles in them, you guys. But in this case, I just couldn't figure out where this triangle was headed – who Vanessa would end up with – and I think FOR ME, that made the romance aspect of Dance of Shadows better (because it was a bit predictable and cliche). I liked both guys but for very different reasons. One guy was both cheesy and sexy. His one-liners made me chuckle but he was dapper and ultra-cool, and his physical description just fit the role almost too perfectly. Of course, Vanessa would be attracted to him. But this other guy, the "wild card' – his character kind of makes me smile because he kind of came out of nowhere and I never knew what he was up to, what his intentions were.
*Also, I purposefully didn't mention the names of the guys so that you guys, my reading friends, can decide for yourselves how you feel about this romance. I'm v
ery interested in the thoughts of anyone else who has read this book.
I realize that I am pretty much in the minority in how I feel about romances with love triangles in them.
(I don't like the way the book summary makes it look like there are three love interests. There aren't.)
The third thing you need to know is this:
This book gets the awards for THE DANCING.
Dance of Shadows is a book about dance. So YAY for having dancing in it! And ohhh the dancing is amazing – to me, it's by far the best thing about the book. It's dark, it's alluring, it's creepy, and it's very visual. It completely reminded me of the movie The Black Swan even though this book is not at all the same as that movie. There is a creepy, sinister tone about the ballet itself contained on these pages, and I found that incredibly fascinating.
I loved the scenes where the dancers were tying up their shoes or twirling or doing any their movements – they were fluid and graceful at times, but sometimes they would misstep and there would be consequences for their mistakes. The dancing itself was all-encompassing to these dancers – it was filled with shadows and voices and fiery flames and ashes, and the way it was written on the pages was awesome.
I found the dancing to be the most romantic part of the book. By far.
********************************************************************
Dance of Shadows by Yelena Black is great and fun book about character Vanessa Adler's experiences at the New York Ballet Academy and some crazy stuff that went down while she was there. I've been seeing some varied reviews of this one, and honestly I just don't understand the reasoning for some of them.
Yelena Black pays great attention to detail in terms of the dance aspect of the story, which is what I was looking for to begin with…I loved the talk of black, pink, and nude-colored nylons, the ribbons on the toe-slippers, the waxed floors, and the ballet positions practiced by the barre. What is interesting about this story is how it veers from "dance" or "ballet" books that I have read in the past – this book has a definite paranormal/magical aspect to it where other books that I have read have stuck to things like the intense diet regimen, the intense workout regimen, etc. of the dancers. These things are okay and have their place in dancing books, but I absolutely love the magical places Yelena Black explored in terms of this story. It is indeed magical and original and it kind of blew my mind a little bit, which is what I love and respect about the art of dance anyway. This story took something that I already feel is magical and actually made it more magical.
The dancing itself centers around a ballet called The Firebird – this year the students will attempt to perform this production again. This is not the first time this school has tried this production, but in times past, it hasn't worked out very well. Interestingly enough, the choreographer, Josef, has a personal interest in this dance but the leading ladies always seem to disappear and the dance never quite seems to make it to production. When Vanessa is cast (as a freshman, which is unheard of!) in the leading role, heads turn, attitudes flare, and things happen. Things go crazy, and it gets interesting. Also interesting is the fact that she is cast opposite one of the love interests, which is a bit cliche but of course makes for lovely dancing scenes and a good story.
I've already mentioned that the romance is a love triangle, but it is a love triangle that kept me on my toes. I felt like it served a purpose in the story. And I'm thinking that there will be more to this romance in the following book. I'm seeing a lot – a lot – of hating on this romance in the reviews, and I'm just not getting it. Vanessa was torn between the two guys, as was I, because they were mysterious – but not mysterious as in the broody-type of character. I felt like Vanessa was trying to discern the motivations of both guys, and this made them both a mystery to her and ultimately affected the outcome of the triangle.
And Vanessa herself – in the beginning of the story she seemed like she was not quite as sure of herself as she was by the end of the book, which indicates some growth of character. There would have to be in this crazy situation.) I liked Vanessa as a person, but I loved Vanessa when she was dancing. I loved her movements and her fiery red hair, how she became one with the dance.
Ultimately, this book is a pretty good start to this series. I enjoy the dancing aspect and the magic of this story, so I'm invested enough to stick around for more, particularly since this book had such a deliciously sinister and dark tone. It pulled me into the story from the beginning. I recommend Dance of Shadows to fans of paranormal romance and stories about dance/ballet. People who enjoy darker-toned stories might enjoy this one as well. I liked it and I think that it has one of the more beautiful covers I've seen in a long time.
*********************************************************
Dance of Shadows will appeal to fans of:

YA Paranormal Romance/Mystery with Magic
Romance: Love Triangle
Great Setting: Dance School in New York City
Dance of Shadows
by Yelena Black
is currently available for purchase.
**
I received a review copy from the publisher in exchange for an honest opinion and review. I received no compensation for my thoughts. Thank you Bloomsbury USA Childens and NetGalley!
*********************************************************
Have you read DANCE OF SHADOWS?
Is it on your to-read list?
How much do you love that cover?