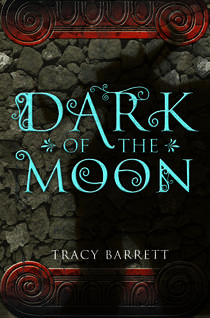 Dark of the Moon by Tracy Barrett
Published by Harcourt Children's Books
Publish Date: September 19, 2011
320 Pages
My Source: Borrowed
Dark of the Moon by Tracy Barrett
Ariadne is destined to become a goddess of the moon. She leads a lonely life, filled with hours of rigorous training by stern priestesses. Her former friends no longer dare to look at her, much less speak to her. All that she has left are her mother and her beloved, misshapen brother Asterion, who must be held captive below the palace for his own safety.
So when a ship arrives one spring day, bearing a tribute of slaves from Athens, Ariadne sneaks out to meet it. These newcomers don't know the ways of Krete; perhaps they won't be afraid of a girl who will someday be a powerful goddess. And indeed she meets Theseus, the son of the king of Athens. Ariadne finds herself drawn to the newcomer, and soon they form a friendship—one that could perhaps become something more.
Yet Theseus is doomed to die as an offering to the Minotaur, that monster beneath the palace—unless he can kill the beast first. And that "monster" is Ariadne's brother . . . -(summary from Goodreads.com)
My Thoughts: One of the trends in YA literature that I really have begun to warm up to is the trend of fairy-tale or classic story retellings in which an older, more mature story becomes young and fresh again. I find that this always makes for great discussion among friends and readers. When I happened upon this Greek myth retelling, I jumped on it right away because I am a huge fan of mythology in pretty much any form. And I'm a sucker for a pretty cover (and I'm loving the cover of this book!).
Classic mythology taught us that the minotaur was to be feared. He was a half-man/half-bull who lived in the labyrinth and ate Athenian children/tributes that were unlucky enough to be gifted from the King of Athens to the King of Krete…until Theseus the Athenian came to town. Theseus was supposed to be sacrified to the minotaur but instead he teamed up with the beautiful Ariadne and used a string (aka Ariadne's thread) to mark his path through the labyrinth, kill the beast, and find his way back out. (This is an EXTREMELY abbreviated version of the myth. If I tried to tell you the actual myth, the path of this blogpost would go off in the wrong direction, as I am a huge mythology NUT. So let's just leave it at this, shall we?)
I love what the author has done in her retelling. The minotaur is Asterion, Ariadne's brother, who is feared and lives in a basement labyrinth underneath the palace. Although he has the mind of a child, he is still feared by the citizens of Krete because he tends to become (violently) heavy-handed when playing with other children. As a result of the fear, no one wants their children to play with him and he is lonely and isolated.
Ariadne is a priestess, in training to become the future leader of the island. She lives in the palace, sheltered and lonely. She has her mother and brother–and she loves them–but she really longs for a different life. When Theseus comes to the island along with the other Athenian tributes (to be offered as sacrificial playmates to Asterion), she is intrigued by him and spends time getting to know him. Thesus, on the other hand, comes to the island with one goal–to kill Asterion. The more he learns about Asterion, however–and the more he gets to know him–he realizes that Asterion is not a vicious monster and does not deserve to die.
There are further differences in the classic myth and this new one: the gods/goddesses of Athens and Krete are much different, so when Theseus comes to Krete, he is completely thrown off by their customs and traditions. I enjoyed the author elaborating on these differences. In addition, Ms. Barrett spends much of the story on Ariadne's priestess-hood and impending ascension into future goddess-hood as well as the preparation necessary for these roles. This does not exist in the classic myth and while this could potentially be very boring, it is important to the story to set up exactly how disenchanted Ariadne is with her current life on Krete and exactly how much she is longing for something different–and eventually how far she is willing to go to change the predestined course for her life.
The thing I love most about this retelling is that the author chose to make Asterion, Ariadne, and Theseus young. In the classic myth, they were adults (or at least that is how I remember them). Actually, I think it almost makes the story of the minotaur seem a little more 'realistic.' She also chose to make the relationship between Ariadne and Theseus not as much a romantic relationship (as in the classic myth) as a friendly one, and the ending of the story is a little different than the classic myth. (Not sad!)
The author takes great liberties with this well-known story, and I think it is really awesome. The pacing is great and the story is interesting. It is told in alternating points-of-view, which I personally enjoy because I love to see two different characters' vantage points of the same events. (I am aware that not everyone enjoys this structuring, which is why I am mentioning it here.)
If you are a fan of Greek mythology, or of mythology in general, I think you should give this retelling a try and see if you like it. If you are a fan of fairy-tale retellings, give this a try and see how you feel about myth retellings. I think this is something fresh and new (at least to me) and I know that I will seek out more books like this starting…now.
*I borrowed this book as part of Around The World Book Tours in exchange for my honest thoughts and opinions. I received no compensation for my review.