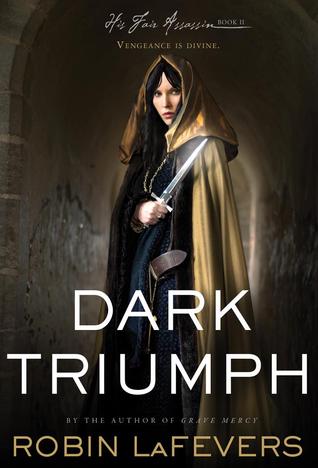 Dark Triumph by Robin LaFevers
Series: His Fair Assassin #2
Published by Houghton Mifflin Books for Children
Publish Date: April 2, 2013
400 Pages
Source: ARC Tour


Sybella arrives at the convent's doorstep half mad with grief and despair. Those that serve Death are only too happy to offer her refuge—but at a price. Naturally skilled in both the arts of death and seduction, the convent views Sybella as one of their most dangerous weapons.

But those assassin's skills are little comfort when the convent returns her to a life that nearly drove her mad. Her father's rage and brutality are terrifying, and her brother's love is equally monstrous. And while Sybella is a weapon of justice wrought by the god of Death himself, He must give her a reason to live. When she discovers an unexpected ally imprisoned in the dungeons, will a daughter of Death find something other than vengeance to live for? -(excerpt from Goodreads)



Dark Triumph by Robin LaFevers


My Thoughts: Okay so when I read Grave Mercy last year, I fell HEAD OVER HEELS in love with the series. We all did, right? But it was my first brush with historical fiction and I have to tell you all that it set the bar high. The main character was incredible, the love interest was fantastic, and there were swoons and fights everywhere. It was so much fun. But as time for Dark Triumph neared, I began to get a little bit nervous.



The first thing you need to know is this
:
Companion books make me nervous.
In this case, I fell SO HARD for Ismae and Duval in Grave Mercy. I think that my deep, deep love for these characters and this story comes from the fact that they are so great and the story is so good coupled with the fact that it was my first historical fiction. I was so attached to Ismae and Duval that I almost rejected the fact that the next book would be about anyone other than the two of them.
I was almost keeping myself detached from it, certain that it couldn't possibly be as good as the first book, certain that I couldn't love a set of characters as much as the two of them. You guys, I am SO HAPPY when a companion book proves me wrong. I'm not trying to say that Dark Triumph is better than Grave Mercy, because I don't really think it is better – but it is absolutely just as fantastic.
The second thing you need to know is this
:
After I got over being nervous about Dark Triumph,
I realized that it COULD NOT BE A BETTER COMPANION.
The things that I loved from Grave Mercy are ALL PRESENT in Dark Triumph. The author gave us another kick-butt leading lady with a swoonworthy slow-burn romance. There is a wonderfully dark and somewhat mysterious world with plenty of intrigue and court politics. The secondary cast is awesome. The weapons and fighting are exciting. It's just all there.
What is even better is that I never felt like Sybella's story was trying to overrun or plow past or overshadow Ismae's story or Ismae herself: Ismae is present in this book and she plays an important role. She isn't the main character, but she is respected and the respect for her character leaps off of the pages.
The third thing you need to know is this:
AAAHHH the book is over, but I want more!
This is a bit selfish, actually. I remember reading Grave Mercy – I closed the book and had this feeling of just having finished something amazing and then at the same time, I knew that whatever I picked up next had some mighty big shoes to fill. The same feeling happened again this time and I loved it. Both books had great plots and ended well, but I wasn't satisfied when the reading was over. It was like having the perfect dessert, but the portion was a little too small – I just wanted one more bite.
This is not really a bad thing. It just means that I didn't want to give up my time with the characters.
*************************************************************
Dark Triumph by Robin LaFevers – I mean, good gracious! What on earth do you say when you finally get to read a highly-anticipated book that surpasses your expectations? This is one of those cases when I wish that I could talk to each of you in person about this book so you can see my face, see my grand hand gestures, and hear how excited my voice is. I devoured this book.
I love it when I'm a little bit reluctant to love a main character and then I end up falling for him/her anyway – that's what happened here. My reluctance was only because I'm so attached to Ismae, but I really shouldn't have felt reluctant to love Sybella. She completely stands on her own in this story, and she is fierce and butt-kicking just like Ismae. In fact, one of the things that Beast eventually loves about her is her ferocity, her ability to hold her own and be a strong woman. There are several times in the story that Sybella's strength and independence is written into the plot. There is so much to her character, from her horrid past to her complicated present, she is written fully and completely.
I was just as nervous about Beast as I was about Sybella – but I ended up loving him a ton. I don't think that he can take Duval's place in my heart and mind (and neither can Sybella take Ismae's place), but this guy is something special. He's well-known throughout the land for his less-than-pleasant looks, his size, and his skills as a fighter. He's quiet, though, and that is what I liked about him the most. Beast is not as loud as his name suggests, and he falls in love with Sybella in a quiet and respectful way. He respects her as a woman, a person, a fighter and he is also able to look beyond her reputation (which is not too great) and see her as a person of worth. Their relationship is one that is built slowly as both of them have pains from their past and present to overcome. Their romance is just as lovely as the overall story is awesome.
Dark Triumph
has a particularly nasty villain and a really excellent secondary cast. Overall, the characterization in this book stands out to me. While there are some characters that overlap this book and the previous book, many of the characters are new (and awesome). In particular, there is a certain prison guard that
I just loved
.
Interestingly, there is another character – one of Sybella's brothers, Julian – that really stuck with me. His part of the story is one that kind of nagged at me a bit while I was reading. What I mean is that he was present as a character, but I felt like I was sort of swatting him away like a fly or an annoying pest – he has some behaviors that are…odd. I wrinkled my nose up at him several times. But by the end of the book, it was Julian that had me in tears and his part will be one of the parts of this trilogy that I remember after it is completed.
Dark Triumph is fantastic. Sybella and Beast came pretty close to Ismae and Duval in terms of being butt-kicking and swoonworthy and likable. This story is just as good as Grave Mercy – some will probably say it is better, I think. At the end of this book, I was sad that it was over. To me, that's one of the signs of a great story – one that you miss as soon as you close the last page. I am already anticipating Mortal Heart, which will be Annith's story, scheduled for release around this time next year.
********************************************************
Dark Triumph will appeal to fans of:


YA Historical Fiction & Romance
with Paranormal/Supernatural/Fantasy
Romance: Slow Burn, No Love Triangle
High Court Treason & Politics
Plot Twists, Secrets
Nun Assassins

Dark Triumph by Robin LaFevers
will be available for purchase on April 2, 2013.
********************************************************
Are you excited for DARK TRIUMPH?
Did you love GRAVE MERCY as much as I did?