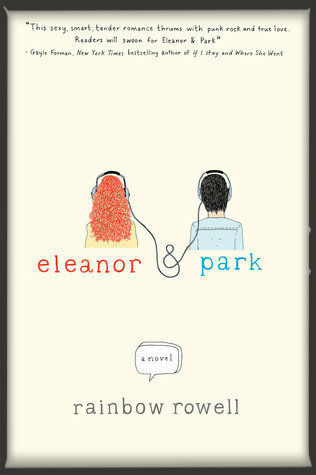 Eleanor & Park by Rainbow Rowell
Published by St. Martin's Press
Publish Date: March 5, 2013
320 pages
Source: ARC Tour
"Bono met his wife in high school," Park says.
"So did Jerry Lee Lewis," Eleanor answers.
"I'm not kidding," he says.
"You should be," she says, "we're sixteen."
"What about Romeo and Juliet?"
"Shallow, confused, then dead."
"I love you," Park says.
"Wherefore art thou," Eleanor answers.
"I'm not kidding," he says.
"You should be."
Set over the course of one school year in 1986, ELEANOR AND PARK is the story of two star-crossed misfits – smart enough to know that first love almost never lasts, but brave and desperate enough to try. When Eleanor meets Park, you'll remember your own first love – and just how hard it pulled you under. -(summary from Goodreads)



Eleanor and Park by Rainbow Rowell


My Thoughts: I loved this brilliant, brilliant book.

The first thing you need to know is this:
Eleanor & Park is the story of first love.
Eleanor and Park are two completely different people that come to know one another in a completely normal-yet-slightly-uncomfortable way: Park begrudgingly shares his seat on the school bus with her. Eleanor is the new kid – there are no words to express how oddly she dresses and her hair is wild, curly, flaming red. She totally stands out and is a target for bullies from her first step into her new life at her new school. Park is intrigued with Eleanor right away, but not enough to strike up conversation. In fact, it is days before they even speak to each other. Theirs is a relationship that begins with a comfortable shared silence. First there are glances over shared comic books, Park making sure to only turn the page after Eleanor is finished reading too. Then the accidental brush of hands becomes not-so-accidental anymore, and the contact lingers for seconds longer than necessary. The words slowly come and before long, Eleanor and Park treasure their time on the bus because it is filled with inside jokes, conversation about comic book heroes, and discussion about music.
It takes a small, simple gesture of kindness by Park to light the fire that starts the crush that turns into love. One kind gesture turns into another, and then another, until Park becomes the kind of guy that looks forward to doing nice things for Eleanor. It is such a sweet and innocent time in their lives. So wonderful to read.
The second thing you need to know is this
:

Eleanor is not like Park.
Eleanor & Park is a story of first love, but there is another story inside those pages and it is the story of Eleanor's home life. Eleanor comes from a horrific, tragic, appalling situation. When we meet her, she has just returned to the care of her mother and stepfather after living in foster care for a long time. She has been reunited with her three or four younger siblings in a run-down home where they lack much of what most of us consider basic necessities. Eleanor does not have a toothbrush. The one bathroom in the house, located off of the kitchen/living area, does not have a door – so Eleanor has to bathe and use the restroom exposed to everyone, including her stepfather (who is an absolute creep). Eleanor's clothes are all given to her and do not fit – many are men's clothes that she tries to arrange so that no one can tell they are torn, missing buttons, or held together with safety pins. Eleanor tries to appear like she doesn't care what anyone thinks but every time she is bullied at school or mistreated at home, it tears her up inside.
Eleanor wants to hide this part of herself and her life from Park. And she wants to hide Park from the ugliness of her life. She wants Park to remain beautiful, untouched by the ugliness of her situation, so that when her mind thinks of him, it is perfect and lovely and wonderful. She wants Park to be a safe place for her mind to wander.
Of course, the part of her life where Park resides will eventually collide with her real life. The two cannot exist independently of one another. Can this first love, this love so innocent and true – can it survive something so heavy and difficult as Eleanor's life?
The third thing you need to know is this
:
This book is PERFECT.
I don't know how she did it, but Rainbow Rowell was able to take the simpleness, the innocence, the butterflies-in-your-stomach feelings of falling in love for the first time and put it in words on paper – it came across as a feeling that I could feel while I was reading. I could feel the butterflies just as Eleanor and Park felt them. I was nervous every time Park would see Eleanor walk onto the bus because I knew, like
he
knew, she would be sitting right beside of him for a few minutes until they reached school. I felt those excited nerves when I would read Eleanor's thoughts as Park's hand would brush hers and linger there, and I felt her excited and nervous happiness, like she was floating, when they held hands for the first time. I loved the faith that Park had in his relationship with Eleanor, like nothing could touch it, like nothing could blemish it, even Eleanor's dark past, her dark life, her worst fears. Park thought Eleanor walked on water and Eleanor just couldn't believe that Park even wanted to be close to her. Oh, those feelings, you guys. So sweet.
There were issues in this book, of course, dealing predominantly with Eleanor. Rowell throws hard stuff in there and Eleanor dealt with it, and Park dealt with it, and they dealt with these things together. I could not always see what was coming ahead and was caught off-guard a few times, and at times I was pretty broken. I got pretty teary-eyed – it was just the mixture of the beauty of the romance and the reality of Eleanor's situation. BUT…in the end, I loved the book. If this wasn't a traveling arc tour book, I'd have read it all over again.
**************************************************************
Eleanor & Park leaves with me several feelings. I feel honored to have read such a beautiful story, one that is so full of life, full of the reality of life, and also full of hope. I feel happy to have experienced the butterflies and nerves of falling in love for the first time again. I feel thrilled, beyond thrilled, at reading a book in which the author references the late 1980's so often and does it so well. I feel hopeful that people will read this book and feel all of the ways that I feel, even if my words fail to adequately express exactly my feelings and the love I have for this book. My words fall short.

I feel thrilled that Park is such an excellently written male character in YA. I want to pat Rainbow Rowell on the back for making him half-Korean and making him cool. I want to high-five Rainbow Rowell for making Park's parents a married couple that is still together and still in love – they are a great example for Park and his brother, they show affection, they are just great parents, and Park realizes and appreciates this. This is written into the story, you guys! This deserves a YA-book-party because it just doesn't happen enough in the YA market. Well done, author. Well done.
I feel happy that Eleanor is bold. It doesn't always seem like she is a bold character, but she is. She seems whiny at times, but please trust me when I say that living in difficult conditions like these makes you feel whiny every now and then. Eleanor takes what she has and makes the best of it – Park sees her as a person that doesn't care what other people think of her. He thinks she is comfortable with who she is. In reality, Eleanor sees herself as stuck in her own life and doesn't really know what she can do about it except live it the best way she can. When situations get tough, however, Eleanor is strong and sometimes has to make tough decisions. I respect her so much for that.
This book simultaneously hugs my heart and tears it up. It makes me feel like dancing and it makes me cry. This is what first love is like. This is what life is sometimes like. Eleanor & Park is so, so great – so wonderful. I want to push it into the hands of everybody that reads. I want everyone to read it and appreciate all of the words on all of the pages because they are all magnificent and add up to one heck of a story, one that I had the honor of reading, one that I want to read again, one that I don't want to forget.
I recommend Eleanor & Park to fans of YA contemporary romance, YA contemporary with issues, male leading characters, and books with pop culture references. It is absolutely fantastic in every way.
**************************************************************
Eleanor & Park will appeal to fans of:


YA Contemporary
Romance: No triangle, Slowly developing relationship,
First love
Fantastic Characterization with Diversity!
Alternating POV's
Issues: Bullying, Socioeconomic status, etc.

Eleanor & Park by Rainbow Rowell
will be available for purchase on March 5, 2013.
*I borrowed this book as part of Around The World Book Tours in exchange for my honest thoughts and opinions. I received no compensation for my review.
************************************************
Is ELEANOR & PARK on your wish-list?

It needs to be. Really. It's that great.