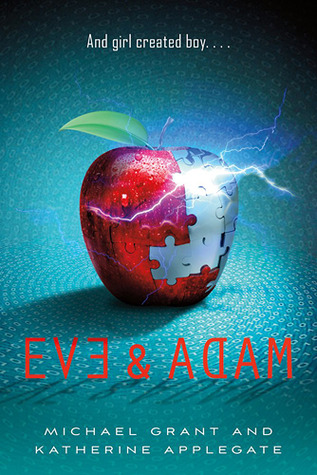 Eve & Adam
by Michael Grant and Katherine Applegate
Published by Feiwel & Friends
Publish Date: October 2, 2012
291 Pages
Source: Publisher for Review

And girl created boy…
In the beginning, there was an apple—
And then there was a car crash, a horrible injury, and a hospital. But before Evening Spiker's head clears a strange boy named Solo is rushing her to her mother's research facility. There, under the best care available, Eve is left alone to heal.
Just when Eve thinks she will die—not from her injuries, but from boredom—her mother gives her a special project: Create the perfect boy.
Using an amazingly detailed simulation, Eve starts building a boy from the ground up. Eve is creating Adam. And he will be just perfect… won't he? –(summary from Goodreads)
Eve & Adam

by Michael Grant and Katherine Applegate

My Thoughts: Because I didn't really know what to expect going into this book, my expectations weren't set at an unreasonable level. I knew that I absolutely loved the cover – the way the title tied into the apple and the little phrase at the top of the cover. I also loved that the authors are a husband-wife team because I have big respect for authors that can co-author books. I started Eve and Adam and found myself invested in the story within a sentence or two because right away there is action.

************************************************************

Eve begins her part of the story as the victim of a pretty terrible accident in which she barely survives. (This actually ties into the apple on the cover – hooray! for a cover that makes sense and is pretty too.) Eve has pretty urgent surgery and is thankfully going to be okay when her mother demands she be released from the hospital right away and be transferred to her research facility. Eve's doctors insist that she isn't stable enough for transport, but her mother demands that she be released at once. By her side throughout all of this is the very handsome Solo, who seems to work for Eve's mother's research facility. Solo accompanies Eve on the transport to the new facility; because he does not leave her side, there is an uneasy and odd sort-of trust formed. A rapport, of sorts, that builds into a relationship.
Eve begins to notice that Solo doesn't have nice things to say about his surroundings, and yet he doesn't leave. He is too young to really be employed there, and he seems to attend school there too. It is a business, for crying out loud. What is going on here? Further, Eve's body is doing strange things. After her new physician and his team begin treating her, she notices much less pain and seems to feel much better quite rapidly. Solo doesn't seem to question what is going on. In fact, he seems to be very comfortable with her superweird, superquick healing. Eve is feeling practically no pain, can walk without assistance, and is curious about what on earth is going on with her body…Wait? Does Solo know something she doesn't know? No way. He can't possibly. Eve must be imagining things.

************************************************************
Eve and Adam
is a fun science-fiction story that also has a fair amount of romance. The premise is exciting and pretty awesome.
I am always very interested in the science-fiction stories that take the time to explore ethical issues and this book is pretty full of them, but they never get preachy.
I love that. The authors are definitely onto something very cool with their premise and idea for the story, and I like it a lot. However, if the story were just a little tighter and more fine-tuned, I think it could be just a little bit more worthy of being on my book-pushing list. I'd like to see some of the ideas expanded upon and explored a little more indepth, perhaps in the (possible) sequel that (potentially) is coming out, according to the back of the ARC-copy that I read.
In terms of the romance, Eve and Solo seemed pretty obvious to me from the beginning. Sorry, but no surprise there. Solo is handsome and athletic, and he is the only younger male that resides in the research facility. Eve is also beautiful and athletic, and now she is the only young female in the clinic as she is the only real patient the medical team currently has. I like the tension and curiosity between Eve and Solo as they begin to know one another and establish trust. I like the build-up and the way Solo begins to let his guard down around her. He has more to lose in becoming involved with the boss' daughter.
I mean, he knows things…a lot of things…
While the relationship is growing, Eve is given the
distraction
task of creating the perfect boy. Using her combined gifts/interests of genetics and art, she uses a computer program created at the research facility to begin with physical features to create a physically perfect boy, and then fill him in with personality traits.
Will he be smart? Funny? Athletic and a healthy-eater? Or will he be shy and exercise only moderately?
Or none at all? Eve has total control in creating a simulated version of a person and she loses herself in this fun and begins to feel sort of "close" to her creation. She has
no idea
at all what her mother and the other scientists are up to and what they are capable of, and what is going on in the underground workings of the facility. She's just testing the program to see if it can be done, right? RIGHT?
Surely Eve wouldn't take part in anything that she was ethically opposed to? Does Solo know anything any of this, because something seems kind of suspicious and not-quite-right? If so, exactly how much does Solo know? And how long will he wait until he mentions his suspicions to Eve? Does he have proof? THERE ARE SO MANY QUESTIONS.
And…how far will Eve's mother be willing to go to save what is hers? Is she really the evil person that Eve and Solo thing that she is? Hmmm….


************************************************************
Eve and Adam begins at a good pace and held my interest very well. I was invested in the relationship between Eve and Solo as well as Eve's healing process. Why did her mother move her from the hospital to her facility? As information began to be revealed and the focus of the story shifted to more of the science/ethics spin as much as the romance, the book became a little bit more action-oriented and a little more fast-paced. There were a lot of things thrown into the book that perhaps could have been expanded upon -and maybe some of the things could have been left out completely – but ultimately these quick details did not take away from my enjoyment of the book and will not keep me from reading a sequel installment. Eve and Adam is a fun story that allowed me to escape life for a little while and venture into another world, and I so love it for that.
In terms of the co-authoring, it is obvious that Grant and Applegate have been writing together for some time. As I read, I tried to tell which author wrote which part and to determine seams in the story and it was very difficult. As the book is written in multiple points-of-view (three), there are obvious breaks in POV's, but they were still very seamless and not at all clunky or difficult to adjust to. I am pretty amazed when authors work so well together and these two are a perfect example of when co-authoring works out perfectly.
Also in terms of the writing style, Grant and Applegate have a writing language that is very much like the way I speak in terms of sentences mixed with phrases, and I loved that. I noticed it right away and it made me smile. I love it when authors aren't afraid to mix phrases with their complete sentences because HELLO some people actually speak in clips and phrases.
I recommend Eve and Adam for fans of science fiction stories with some not-overly-heavy ethical issues and romance. The end of the book states that there will be a follow-up book titled Adam and Eve – I'll definitely be continuing with the story.
************************************************************
Eve & Adam will appeal to fans of:


YA Science Fiction with Ethical Issues
(didn't feel preachy at all)
Romance: Present, possible triangle.
Possible sequel in the works!

Eve & Adam by Michael Grant and Katherine Applegate
is currently available for purchase.
**
I received a review copy from the publisher in exchange for an honest opinion and review. I received no compensation for my thoughts. Thank you Feiwel & Friends/Macmillan!
************************************************
Have you read Eve & Adam?
If you have, what did you think?