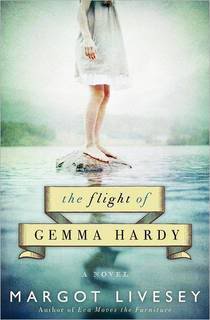 The Flight of Gemma Hardy
by Margot Livesey
Published by HarperCollins Publishers
Publish Date: January 24, 2012
464 Pages
My Source: HarperCollins/TLC Book Tours
A captivating tale, set in Scotland in the early 1960s, that is both an homage to and a modern variation on the enduring classic

Jane Eyre

.
Fate has not been kind to Gemma Hardy. Orphaned by the age of ten, neglected by a bitter and cruel aunt, sent to a boarding school where she is both servant and student, young Gemma seems destined for a life of hardship and loneliness. Yet her bright spirit burns strong. Fiercely intelligent, singularly determined, Gemma overcomes each challenge and setback, growing stronger and more certain of her path. Now an independent young woman with dreams of the future, she accepts a position as an

au pair

on the remote and beautiful Orkney Islands.
But Gemma's biggest trial is about to begin…a journey of passion and betrayal, secrets and lies, redemption and discovery, that will lead her to a life she's never dreamed of. –
(summary from author's website)
The Flight of Gemma Hardy
My Thoughts
:
The Flight of Gemma Hardy by Margot Livesey is a beautiful story that is reminiscent of Charlotte Bronte's classic Jane Eyre. Gemma is orphaned at a young age; both of her parents die in Iceland tragically while she is still very young. Gemma's Uncle, having made a promise to his sister, travels to Iceland to bring Gemma back to live in Scotland with him.
Under the care of her Uncle, Gemma has an impossible time bonding with her evil Aunt and Cousins Will, Louise, and Veronica. Not long after she comes to live in Scotland, tragedy strikes again and her beloved Uncle is killed – leaving her lonely and heartbroken in a house full of people who never wanted her there to from the start. They always felt like she didn't belong with them – like she does not contribute to the household in any way and she actually owes them money for allowing her to live there. Aunt jumps eagerly at an opportunity to send Gemma away to a boarding school – just to get her out of the house – and Gemma actually looks forward to this as well, thinking that nothing could be worse than living with the people she calls "family." She is thrilled when it is time to leave for school.
When Gemma arrives at Claypoole, however, she is treated far worse than she ever was when she lived with her aunt and cousins. Not only is she a scholarship student, but she has to work off the remaining portion of her tuition. The "regular" students humiliate and tease her without ceasing and her fellow working students beat and bully her constantly. Her food and possessions are repeatedly stolen, and Gemma performs chores to the point of over-exhaustion daily in addition to maintaining her schoolwork to the best of her ability. Probably worst of all, Gemma's best and only friend at Claypoole, Miriam, becomes sick and dies while still a student at the school, leaving Gemma devastated. This very tough life begins when she arrives at the school at the tender age of 9 or 10 and continues until the school closes due to financial strain when Gemma is around 17 years old…just before her education is completed and exams are performed for entry into university. Luckily Gemma is quickly able to find a job as an au pair and moves straight from Claypoole to a place of steady employment.
Gemma is both excited and nervous to become teacher and caretaker of Nell, the orphaned niece of Mr. Hugh Sinclair, a wealthy business living in London. Gemma moves out to the rather secluded family farm and eventually makes progress with Nell where other past caretakers have failed and quickly given up. Nell is a difficult child, you see, and quite manipulative – but this does not deter Gemma because she is able to see a bit of herself in Nell and has patience and grace with her. The two form a loving and trusting relationship that is lovely to read. While working with Nell, Gemma and Hugh Sinclair fall in love and decide to marry. However, there are some secrets floating around between Mr. Sinclair and his staff, and upon learning some of these rather large secrets from the past, Gemma literally runs away from him – leaving him stranded and without explanation of her decision.
Heartbroken, she decides to see if she can find her birth parents' family in Iceland with what little money she has saved, and very early into this journey all of her possessions are stolen – including her travel tickets, money, and suitcase. Gemma spends a few nights sleeping in a church while she has no place to go and eventually starts moving again almost aimlessly, only to end up passed out in a ditch due to exhaustion. She is found by a local gentleman and taken to the home of Hannah and Pauline, two eccentric ladies who nurse her back to health and treat her with kindness and respect while doing so.
Building on the kindness and friendship of Hannah and Pauline AND deciding to stick around the area for awhile, Gemma takes a job taking care of another child, this time a little boy. She moves in with Marian and helps her take care of her grandson Robin, which enables Marian to focus on her husband George, who has rapidly declining health that requires most of her attention. During this time, Gemma makes a friend or two around town, finds some wonderful encouragement, and studies intensely for the examinations that could grant her admission into the local university, which has been her ultimate goal for years – since long before her boarding school closed down.
It is at the point of meeting Hannah and Pauline that I began to notice the biggest growth and development in Gemma…I'm not sure if it is because:
someone is finally showing her some real respect, love, and kindness OR

she is growing and maturing in age
Either way, at this point in the book, things start to look way up for this girl IN MY OPINION. Gemma begins to really take charge of her own life and her own decisions, and this is really a wonderful thing for her as she has spent her entire life being mistreated, neglected, and basically abused by other people. I'm sure it wasn't the author's intent – but most likely my own invention – but I think of the book as BEFORE being found in the ditch and AFTER being found in the ditch.
A few other things I loved about this book:
1. The Setting. Scotland and Iceland. The author did a great job of setting this book well. The descriptions are vivid. I loved the talk of the landscape, of course, but also of the actual geography – including the names of the towns and bodies of water. As I am largely unfamiliar with this area of the world and haven't really read books set in this area before, I really enjoyed this! And as a bonus, I loved how the author used character names that are authentic to these areas. I thought it flowed very well.
2. Secondary Characters. While Gemma is an extremely developed character (with excellent continued growth from cover-to-cover), the huge cast of secondary characters is also developed well, which is important to me in a great book. I love a set of fleshy, three-dimensional characters and most of these fit this description. In particular, certain characters at Claypoole (the boarding school), Mr. Sinclair & Nell, and Hannah & Pauline are among my favorite in this secondary cast.
In a book as hefty as this one, with settings and character sets that change as frequently as they do, it is almost impossible to make every character as well-developed as Gemma Hardy. But we have some real winners in this novel, for sure.
3. The Cover. This cover is stunning and cohesive to the story. There is a part in the beginning of the book where Gemma is narrating and speaking about picturing herself as a small island in a sea…I always find it particularly wonderful when the cover design works with the story. And there it is, easy as pie, right there for us in the beginning of Chapter One.
Friends, for a large part of this story – a really large part – I wanted to grab Gemma and bring her home with me, give her someplace safe and warm, and help her flourish. I wanted to feed her and tell her to play and just be a kid. Be happy. Her life starts out so hard and tumultuous and heartbreaking. And the thing is that it just keeps getting worse and it never lets up for years. Amazingly, Gemma is resilient and strong and courageous, and she overcomes all of the obstacles that she faces. She is a character that I can cheer for and get behind. Throughout all of the heartache and pain in this story, there still is an underlying thread of hope, and I'm glad that I was able to cling to it, because it paid off big-time in the end for me.
This is a book that you want to read, trust me. It is beautiful and breath-taking, While it isn't light and fluffy, it is so worth reading. And if you're anything like me, you'll hug the book when you're finished.
The Flight of Gemma Hardy will appeal to fans of:
Adult Fiction/Literary Fiction
Coming-of-Age Stories
Strong Characterization
Historical Fiction – late 1950's – 1960's
Retellings (Jane Eyre)
Books that are heavy on Setting: Scotland & Iceland
The Flight of Gemma Hardy by Margot Livesey
is currently available for purchase.
**I received a review copy from the publisher in exchange for an honest opinion and review. I received no compensation for my thoughts. Thank you HarperCollins and TLC Book Tours!