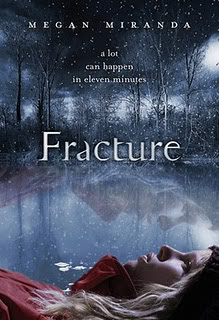 Fracture by Megan Miranda
Published by Walker & Company/Bloomsbury
Publish Date: January 17, 2012
272 Pages
My Source: Borrowed
Fracture by Megan Miranda
Eleven minutes passed before Delaney Maxwell was pulled from the icy waters of a Maine lake by her best friend Decker Phillips. By then her heart had stopped beating. Her brain had stopped working. She was dead. And yet she somehow defied medical precedent to come back seemingly fine
-despite the scans that showed significant brain damage. Everyone wants Delaney to be all right, but she knows she's far from normal. Pulled by strange sensations she can't control or explain, Delaney finds herself drawn to the dying. Is her altered brain now predicting death, or causing it?
Then Delaney meets Troy Varga, who recently emerged from a coma with similar abilities. At first she's reassured to find someone who understands the strangeness of her new existence, but Delaney soon discovers that Troy's motives aren't quite what she thought. Is their gift a miracle, a freak of nature-or something much more frightening? -(summary excerpt from Goodreads.com)
My Thoughts: As per my norm, I chose to read Fracture because of the really interesting synopsis and the pretty cover. When I finished it, I had to sit on it for a few days and sort through all of my feelings. There is so much packed into this relatively short book that I had to take the time to form some cohesive thoughts. I'm here this morning to see if I can lay them all out for you in ways that make some sense.


Let's give it a try, shall we?
1.
Characters
. Lots of characters, but there are three that are the main focus
(in my opinion)
. All are developed well and very interesting.
Delaney Maxwell

– Female protagonist. Falls through an ice-covered lake in Maine, stays submerged for eleven minutes. Dies, comes back to life. Tests show significant brain damage, but Delaney acts completely normal with one newly-acquired detail: she can tell when someone nearby is dying. Delaney struggles to cope with her new "skill." She also is trying to deal with Decker's survivor's guilt, which might just be the hardest part of this whole mess.

Decker Phillips

– Delaney's next door neighbor, her best friend, the boy she

likes is in love with

(but neither will admit it)

. Decker pulled Delaney out of the lake, risking his own life. He feels guilt and shame because he wasn't very nice to her just before she fell in, and if she'd have died…well, he doesn't know what he'd have done. Furious

(and also heart-broken)

at Delaney for kissing another boy, Decker starts a relationship with another girl and uses it to hurt Delaney instead of just talking to her. This pushes Delaney further and further away, into the arms of…

Troy Varga

. Older guy who always seems to be lurking in the shadows wherever Delaney is. Troy always appears out of nowhere and knows information about Delaney that she knows she never shared with him. A dark

and

mysterious character, Delaney never questions his unusual motives until later in the book, when Troy turns outright creepy. Troy has the same "skill" that Delaney has and can sense when people are dying. At first Delaney is attracted to this similarity between them, and she lets herself fall for Troy

(because Decker is having fun with another girl, right?),

but the more she learns about Troy, the less she trusts him. Soon, he becomes violent and Delaney is in way over her head…
2.
Paranormal/Contemporary/Thriller
. At first, this book reads almost like a contemporary, but then when Delaney begins to experience the sensations that pull her toward the dying, the paranormal-ness of the books becomes evident. Interestingly, the paranormal part of the book never is huge and I almost feel that the book is part-contemporary and part-paranormal. I know it has to be one or the other by definition, but I'm just telling you how I was feeling as I was reading. In addition, there is absolutely a mental and emotional component to the story, so I am thinking it is a bit of a psychological thriller as well.

(If anyone has read this and wants to discuss these tags with me, please do!)

For me, the fact that Fracture seems to be a mixture of all of these things makes it such a great debut and an interesting read, and such a dark, fun, and engaging story.
3.
Action
. Plenty of action in the book, which is great. The scenes around the lake when Delaney falls in are pretty gripping

and

action-filled, and also pretty emotional

and

scary.

(I mean, good gracious, that kind of stuff happens in real life, ya know?)

There is another scene toward the end of the book that is downright frightening involving a very creepy Troy. Plenty of action, plenty of emotions, plenty of heart-pounding.
4.
Romance
. Yep, there is romance present. But this time, for me at least, it is frustrating. There is a bit of a 'loose' triangle, and it frustrated me to no end. I enjoy a nice, well-executed love triangle but when it is hatched out of a bunch of bad decisions, it just makes me squirmy. And it makes me shake my head quite a bit while I read. Thankfully, the author was able to pull it together in the end with nice resolution. I do believe, honestly, that Delaney's messiness

and

confusion

and

poor decision-making with regard to Decker and Troy was necessary to the plot and flow of the story, but it didn't keep me from wanting to reach into the book and thump her on the head no fewer than about ten times.
5.
Bad Family Behavior
.
Yes, I am serious! There IS actually parental drama in a story where a child DIES and comes back to life. This is another case of a YA story where the parents act poorly. I'm not sure if Delaney's mom is unable to come to grips with what happened to her child or if she's just a weirdo. Either way, it was very easy for me to dislike her character, which had no effect on my view of the story at all. It simply meant that I didn't like her very much.
When I closed this book, I made the conscious decision to just wait a few days before I wrote down any thoughts. That was a really good decision for me. Over the past couple of days, I can look back and see where the story really fit together in a dark, creepy, and interesting way. In fact, my conclusion is that this is a great debut by Megan Miranda.
All of the bad things that happen to Delaney with regard to falling through the ice

and

Decker

and

Troy

and

her friends treating her differently

and

her parents acting weird – all of these things allow Delaney to mature and develop over the course of the story. She doesn't develop a great deal, but she does show some maturing in the way she makes her decisions and I can appreciate that. Also, by the end of the book, I think Delaney is coming to grips with her "skill" and some of the other things that have happened throughout the course of the book.


Fracture is quite different than anything else I have read. It is a thrilling, psychological, paranormal/contemporary book with a dash of romance thrown in. There is so much inside this relatively short book and I think it is definitely worth a read – I read it in one day and pondered it afterward for a few.


If you're a fan of psychological stories that make you think, make sure you add Fracture to your to-be-read list. If you like creepy characters and don't mind what I'm calling a paranormal/contemporary/thriller crossover, give this one a go…and then let me know what you think!


*I borrowed this book as part of Around The World Book Tours in exchange for my honest thoughts and opinions. I received no compensation for my review.