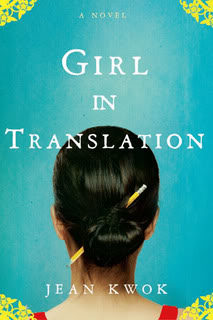 Girl In Translation by Jean Kwok
Publisher: Riverhead Hardcover
Publish Date: April 29, 2010
293 Pages
My Source: Library
When Kimberly Chang and her mother emigrate from Hong Kong to Brooklyn squalor, she quickly begins a secret double life: exceptional schoolgirl during the day, Chinatown sweatshop worker in the evenings. Disguising the more difficult truths of her life – like the staggering degree of her poverty, the weight of her family's future resting on her shoulders, or her secret love for a factory boy who shares none of her talent or ambition – Kimberly learns to constantly translate not just her language but herself back and forth between the worlds she straddles.
Through Kimberly's story, author Jean Kwok, who also emigrated from Hong Kong as a young girl, brings to the page the lives of countless immigrants who are caught between the pressure to succeed in America, their duty to their family, and their own personal desires, exposing a world that we rarely hear about. Written in an indelible voice that dramatizes the tensions of an immigrant girl growing up between two cultures, surrounded by a language and world only half understood, Girl in Translation is an unforgettable and classic novel of an American immigrant – a – a moving tale of hardship and triumph, heartbreak and love, and all that gets lost in translation. –(summary from Goodreads.com)
My Thoughts: I have been thinking about this book almost daily since I finished reading it a few weeks ago. It is so remarkable, so beautiful, so well-written. I want everyone to read it so they can experience it. I've told so many people about it in hopes that maybe one or two will pick it up and give it a try.
This is going to be a bold statement, but I think this book has changed my life a little bit. Or rather, I think it has changed the way I think about my life. What a massive thing to say about a fiction book, right?! But here we have this young girl…She looks different. She dresses differently. She does not understand our language. Even when she does understand our language, there is a language barrier. She has an Asian accent that she cannot shake, even if she wants to. Everything about her is different from everything about me, and yet everything is kinda the same: she just wants to find her place in this world and be successful.
Kim tries as hard as she can to meld herself into the American way of life, into our customs and culture, but she can only go as far as the people around her are willing to let her go. The kids at school make fun of her. They laugh at her clothes and the way she talks. She is not invited to parties or other social events. She is not invited to sit with the cool kids at lunch or sleep over on the weekends. The boys do not notice her. And she is the ONLY Asian kid at her largely-white private school.
Ma works as hard and as fast as her fingers and arms will let her, sewing and mending clothes at the sweatshop in Chinatown where she works for substandard pay. What she earns for her above standard work is not enough to provide for herself and Kim, so Kim rushes to the factory every day after school to help Ma meet her quotas just to make ends meet. Still, even with both of them working very late into the night every night, they never can afford enough extra to place glass in the paneless windows in their apartment or to have the heater repaired. To this end, Kimberly grows up in Brooklyn, New York with no heat and no glass on her windows.
(Can you imagine the snow blowing into the apartment?)
Kim and Ma keep their stove on to heat the kitchen, and they spend all of their time sitting at their kitchen table to keep warm, dressed in layers and layers of clothing.
Mixed in with the double life of trying to rise above at school and trying to make ends meet illegally at the sweatshop, Kim does fall in love. She falls in love with an Asian boy, but he does not dream of getting out of that lifestyle of squalor. Matt is perfectly content to stay within the confines of Chinatown and live just below what Kim considers the American Dream. She struggles with her love for Matt and her desire to make life better for herself and Ma. For years, she dreams of a life with Matt. It is the realization of Matt's desires, his expectations, his hopes for Kim that enable her to make the biggest decision of her life and vow to stick with it, no matter how hard it may be.
I can appreciate this story so much because of the struggle Kim and Ma went through just to be in this country. They wanted to be in America so much that they were willing to endure things that I cannot even imagine. I spent a great deal of time wading through this story, thinking about each part and reading it over the course of a couple of weeks. To this end, I really felt like I became attached to Kim and Ma. I don't remember a time lately when I have pulled so hard for a book character to overcome obstacles and struggles. There were times I would have to stop for a little while and let my pulse and breathing return to normal after becoming emotional-either with happiness, sadness, or righteous anger that people in my own country live that way.
I read recently that the author made Kim's time in America mirror hers in several ways. The author came to America at a young age and lived in poverty and overcame great obstacles as well. In the end, Ms. Kwok ended up at an Ivy League University and has been able to rise above the circumstances she has written about. Now that I think about that a little bit, I think this knowledge somehow makes me like the book even more.
This debut novel won Jean Kwok the
2011 ALA Alex Award
in literature. This award is given yearly to ten books that are written for adults but may have special appeal to young adults. I find this interesting because my husband and I have discussed this book often since I began it (he has not read it but finds the story fascinating). He has wondered why it wasn't written as a young adult book or marketed to a young adult audience. Regardless of the answer to that question, the Alex Award is proof that a younger audience would enjoy it as much as an adult audience would.
I really want people to strongly consider adding this book to their TBR list, hopefully near the top. It would make an excellent choice for a book club. It would be an excellent book to just read by yourself. I have recommended and will continue to recommend this book to young adults and adults because I think it is suitable, interesting, and perfect for either audience. I cannot see this one floating away from my thoughts any time soon. This book is indeed a favorite of the books I've read so far this year.