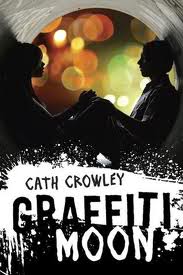 Graffiti Moon by Cath Crowley
Published by Knopf BYR
Publish Date: February 14, 2012
272 Pages
My Source: NetGalley


"Let me make it in time. Let me meet Shadow. The guy who paints in the dark. Paints birds trapped on brick walls and people lost in ghost forests. Paints guys with grass growing from their hearts and girls with buzzing lawn mowers."

It's the end of Year 12. Lucy's looking for Shadow, the graffiti artist everyone talks about.

His work is all over the city, but he is nowhere.

Ed, the last guy she wants to see at the moment, says he knows where to find him. He takes Lucy on an all-night search to places where Shadow's thoughts about heartbreak and escape echo around the city walls.
But the one thing Lucy can't see is the one thing that's right before her eyes. (Goodreads)






Graffiti Moon by Cath Crowley
My Thoughts
: People all over the blogosphere are loving on Cath Crowley's
Graffiti Moon
. I've had it sitting and waiting for me for ages, so today I took the initiative and picked it up. I sat in one place and read it until I finished, in one sitting. And you know what? It
was
a pretty doggone good book, you guys. Everyone else is right!


Why Did I Like Graffiti Moon? Here's the List:
1.
The Characters
.
Lucy just finished her Year 12 and is spending the night out with her friends. At the top of her to-do list for the evening is trying to find Shadow, an elusive local graffiti artist. To accomplish this, she ends up hanging out with Ed, who promises her that he knows Shadow and can take her to the places he is most likely to be. Ed is jobless and for the most part, broke. He sees himself as a nobody that is going nowhere. But he is really into Lucy. See, they went on a date a while back and Lucy ended up breaking his nose: she wanted to talk about intellectual things and he just ended up grabbing her rear end. Also along for the evening are Lucy's friends Jazz and Daisy and Ed's friends Leo and Dylan. Jazz wants to find Poet, another local artist that works alongside Shadow…and Daisy and Dylan are a couple that are currently at odds.
This is one interesting group as the night gets started. There's a party and there's some dancing…and before too long, Ed and Lucy have taken off by themselves. Ed takes Lucy around to tour places that he thinks Shadow could 'possibly' be hanging around. See, Ed knows Shadow really well. Like, really well. And he wants Lucy to know Shadow if that's what she wants…but the problem is that he's scared that if Lucy knows Shadow, she'll be really disappointed. What's worse is that he's afraid that if Lucy knows him – Ed – she'll be just as disappointed. So they spend all night together and talk circles all the way around the way they are feeling while they get into adventures and mischief.
These characters are great. Ed and Lucy ooze tension. You can cut it with a knife. I was holding my Kindle with both hands almost begging the book to make them kiss…which sounds ridiculously silly, but that's how great these two are together. They drip with this perfectness for each other that everyone can see – everyone, that is, except for the two of them.
The other characters are great too. Jazz and Leo spend the night dancing around each other too – feeling each other out, trying to decide if they think they can make a go at a relationship. And Daisy and Dylan…for most of the book, I wasn't really sure what they were doing except for this sort-of fighting-thing…but it seemed like even their fights were laced with affection. These characters, I think, embodied the quintessential high school experience of learning each other in the newness and beginning stages of relationships, and that is always fun to read about.
2.
The Adventure
. Looped in with the quest to find Shadow and Poet is the story of how Leo owes someone big and dangerous a lot of money. And he has to pay up TONIGHT…or else! So while this band of guys is wooing these pretty gals, they're also planning and trying to execute their plan to make some serious cash to pay this big, bad dude off before someone gets hurt. Only, as you can imagine, the plan doesn't go as expected…
This part of the story, to me, wasn't as great as the romance-y part. It's definitely part of the story – it's integral to Ed and Lucy gaining trust with one another and stuff like that – but I was all about that romance. At any rate, adventure is fun and I'm sure that most other readers will really like it. It was fun to read how the guys were split between worrying about coming up with the money and their safety against the big, bad dudes vs. what the girls would think if they got arrested. This typical teenage-guy-thinking made me chuckle, and I loved how this part of the plot resolved itself.
3.
Story Structure
. Alternating points-of-view: there are three this time! The story is narrated most often by Lucy and Ed, and narrated well. The language is beautiful and flows perfectly with a poetic edge. It captures the feelings of this age and this stage of a relationship with precision. Interspersed with these alternating POV's are a few poems by Poet, which are just plain lovely. Occasionally the scenes between Ed and Lucy overlap…meaning the author chooses to tell the same few moments in time twice, once from the perspective of each of these two characters. This is fun…particularly in the awkward moments – and there were plenty of those. Loved this structure. Well done.
4.
The Art
. Guys, I'm a huge fan of Banksy (and here) and of graffiti in general, so this was a FANTASTIC choice in contemporary YA for me (as I do not particularly love this genre). The descriptions of Shadow's work are perfect, even down to the location of each piece. But this book doesn't just stop with graffiti as an artform – there are other forms of art too: poetry, glassblowing, acting, and writing novels are other artforms we read about throughout the book by way of various characters. In a market saturated with books containing music, it is refreshing to me to see art included in such a nice, big, beautiful way. This isn't the only art-focused book out there, but it is definitely one of the best.
5.
The Romance
. Holy smokes, Batman! There's a romance in this one, and it is a slow, slow-burn. It's a brutal slow-burn, if you ask me, and I mean that in a completely good way. I was ready for everyone to find their prospective other-half way earlier in the book, but the author took her time and wrote everything just perfectly…and in the end I'm glad she did. But good grief, you guys! Like I said earlier, Ed and Lucy throw out tension like candy at a parade. I kinda loved it.
6.
The Ending
. The ending is satisfying and delicious. As this is a standalone, there is no cliffhanger to worry about. The ending just IS. It is lovely.
Ultimately, I chose to read Graffiti Moon because I'm on a Contemporary YA kick right now…honestly, I'm not sure I would have picked it up otherwise. That would have been a mistake and I would have hated to overlook this one! It was a very enjoyable book with very enjoyable characters. It was a quick read and I loved the way it was written. There is absolute talent with Cath Crowley and I love the way she explored art inside of her story.
I highly recommend this book to fans of Contemporary YA, period. I'm sure they'll love it or at least like it. Even with the slow-burn romance, I find that Graffiti Moon is age appropriate and will appeal to readers of YA of all ages.
Graffiti Moon will appeal to fans of:
Contemporary YA Genre
Slow-Burn Romance
Stories that contain Forms of Art
(such as graffiti, glassblowing, etc.)
Strong Characterization
No love triangle
Standalone
Graffiti Moon by Cath Crowley will be released on February 14, 2012.
*I received a copy of this book in exchange for my honest thoughts and opinions. I received no compensation for my review. Thank you NetGalley and Knopf Books for Young Readers!