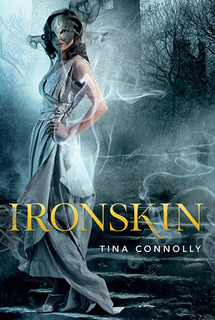 Ironskin by Tina Connolly
Series: Ironskin #1
Published by Tor Books
Publish Date: October 2, 2012
304 Pages

Jane Eliot wears an iron mask.
It's the only way to contain the fey curse that scars her cheek. The Great War is five years gone, but its scattered victims remain—the ironskin.
When a carefully worded listing appears for a governess to assist with a "delicate situation"—a child born during the Great War—Jane is certain the child is fey-cursed, and that she can help.
Teaching the unruly Dorie to suppress her curse is hard enough; she certainly didn't expect to fall for the girl's father, the enigmatic artist Edward Rochart. But her blossoming crush is stifled by her own scars, and by his parade of women. Ugly women, who enter his closed studio…and come out as beautiful as the fey.
Jane knows Rochart cannot love her, just as she knows that she must wear iron for the rest of her life. But what if neither of these things is true? Step by step Jane unlocks the secrets of her new life—and discovers just how far she will go to become whole again. –(summary from Goodreads)


Ironskin by Tina Connolly

My Thoughts: Very interesting book with a very beautiful cover. (The cover/dress/mask is actually part of the book. YAY!!)


To set this book up, five-ish years ago, there was a Great War between humans and fey, a nasty war, and the fey have left some of the surviving humans with awful scars and curses. These humans are now outcasts and must wear iron masks or ironskins to cover their scars because, well, iron is a barrier to the fey, right? These masks not only hide the unsightly scars but protect everyone else from the fey curses that sort of leak out from the war wounds the fey inflicted.
If it sounds crazy, it's because it is. And brilliant. And I loved it.

Jane Eliot fought in the war and has terrible facial scarring. She is also cursed with rage – an orange, burning rage. She wears an iron mask over part of her face to protect those around her from this rage – without her iron mask in place, others can feel the rage inside of her. The iron is cold and heavy and constantly there, forever a reminder that she is not beautiful, not worthy, not like everyone else. Jane hates it, but she also finds comfort in it and hides behind it. With few options in her current condition, Jane takes a job as governess to five-year-old Dorie – born during the Great War – thinking that Dorie is scarred like her and that she can help her. Dorie is not scarred, however – she has has a curse that is far different than Jane's and isn't visible to the naked eye. Dorie's curse is so like the fey that at first, Jane isn't really sure Dorie is entirely human. If others find out Dorie's fey curse – or talent, if you will – Dorie and her father could be killed.
**************************************************
Ironskin is awesome. First of all, I love all things fey. They can be such nasty little creatures, and these guys are just awful. Even though the fey don't make a huge appearance in the story, the havoc they wreak and the effect they have on the community and the people living there is felt on every page. These people are terrified of them and it comes through the pages. I love that this Ms. Connolly put the fey in the story in a unique way and yet included part of the fey mythology that we all know and love, with the iron and the magic and all.
The world-building? It's there and interesting. The idea of masks and gloves and ironskins in general is a great idea, particularly after war between humans and fey. Fans of fey know all about iron, but wearing it in a steampunk-y way and then weaving that into a fashionable society is a pretty cool way to go about telling Jane's story. The characterization is fun too. I really, really like Jane Eliot – like, I want to know Jane Eliot. She seems like a strong gal – she would obviously have to be strong to have to deal with all the crap she's been through, but she keeps on going and getting better and better and I just thought her to be marvelously cast. The secondary cast was fun and charming and there are dwarves. Dwarves, you guys.

There is also a romance but it is very light and doesn't overpower the story at all.

This is kind of big and has not much to do with the book, but more with how re-tellings are often perceived:

When stories are re-tellings, it bothers me a bit when people judge the book based on the original story. Ironskin is supposedly a paranormal steampunk re-telling of Jane Eyre, which is really rather awesome. I applaud Ms. Connelly for taking that on as a project. And I loved this story. But it is not the original Jane Eyre and does not claim to be. It has comparisons that I could pick out easily and I loved that so much. But what I loved even more than the similarities were the way Ironskin stands out. It is loosely based on Jane Eyre. If you go in expecting a Bronte story, you won't get one. You're getting a Tina Connolly story, and if you are open to that, you will probably like it a lot.
Ironskin got better and better the further into the story I read. I'm curious to see where the story will go next and I'm eager to find out. I recommend this book for people that love re-tellings, as long as you are able to keep an open mind and separate the original from the new and fresh (Don't compare books too much! It irks me!). I also recommend this one for people who like paranormal/fey stories and a little steampunk. Nice job, debut author!
Ironskin will appeal to fans of:

YA Paranormal with FEY!!
Re-tellings

Romance lite: no triangle
Steampunk
Ironskin
by Tina Connolly
is currently available for purchase.
*************************************************************
GIVEAWAY!
Thanks to the generosity of Tor Publishing and Tina Connolly,
I am able to offer one copy of IRONSKIN for GIVEAWAY!
(US/Canada Only) * (Ends Oct. 17)