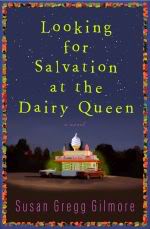 Looking for Salvation at the Dairy Queen
Sometimes you have to return to the place where you began, to arrive at the place where you belong.

It's the early 1970s. The town of Ringgold, Georgia, has a population of 1,923, one traffic light, one Dairy Queen, and one Catherine Grace Cline. The daughter of Ringgold's third-generation Baptist preacher, Catherine Grace is quick-witted, more than a little stubborn, and dying to escape her small-town life.

Every Saturday afternoon, she sits at the Dairy Queen, eating Dilly Bars and plotting her getaway to Atlanta. And when, with the help of a family friend, the dream becomes a reality, she immediately packs her bags, leaving her family and the boy she loves to claim the life she's always imagined. But before things have even begun to get off the ground in Atlanta, tragedy brings Catherine Grace back home. As a series of extraordinary events alter her perspective–and sweeping changes come to Ringgold itself–Catherine Grace begins to wonder if her place in the world may actually be, against all odds, right where she began.

Intelligent, charming, and utterly readable,

Looking for Salvation at the Dairy Queen

marks the debut of a talented new literary voice.



-(summary from back of book)
My Thoughts: This story follows Catherine Grace Cline as she grows up with her sister and her father. It is, I suppose, a coming-of-age story with very Southern appeal. It reads very well and is very much like a made-for-television movie.
It took me a few pages to really get into this one. But once I got into it, I was very attached to Catherine Grace. She is stubborn and sweet and in the middle of growing up without a mother, and just when things are looking up for her…her father dies. Then all the family secrets start coming out. And boy I mean big family secrets! The kind that are very scandalous in the South…
"My mama and daddy had certainly left me a mess to sort out, and I couldn't think of a single verse of scripture that was going to comfort me as I came to terms with an adultering daddy, a resurrected mama, and an expectant mistress with an imaginary fiance." -Catherine Grace Cline
There are two things that I really love about this book. The first thing is the food. Every few pages, it seems, the characters are talking about cooking or eating some type of wonderfully fabulous Southern food. And being from the South, this totally appeals to me. Food and eating are so cultural down here, and play such a huge role in the story in several different storylines. I love that. (This book almost made me hungry.)
I also fell really hard for the supporting characters in this book. Catherine Grace is a marvelous and lovable girl. She moved into my heart in a big way…but Gloria Jean owned it. Gloria Jean is the neighbor; she does not have any children of her own and happens to have been Catherine Grace's mother's best friend. Gloria Jean teaches Catherine Grace all of the things that a mother would…and more. She helps her buy prom clothes and teaches her about hair and nail polish. But she also teaches Catherine Grace about love, forgiveness, and acceptance. The rest of the characters all are great, but Gloria Jean is my favorite by far.
(All of these double names are starting to make me confused. Gotta love the South.)
Would I recommend this book? Well, sure! If you love adult fiction and sweet, charming stories that are just…really good…then this is the book for you. If you are a fan of YA paranormal or fantasy, you might want to sit this one out, unless you are feeling in the mood for a good made-for-television movie-type book. It was so fun to read and I'm so glad I did!