Lullaby by Amanda Hocking
Series: Watersong #2
Published by St. Martin's Press
Publish Date: November 27, 2012
290 Pages
Source: Publisher for Review

Harper only wanted a safe, normal life. But when her younger sister Gemma runs off with a dangerous clique of beautiful girls, Penn, Thea, and Lexi, everything changes. Vowing to get her sister back no matter what the cost, Harper must face dangers unlike any she's ever experienced. Fortunately, she has Daniel by her side, a gorgeous guy who's devoted to helping her find her sister—and who's immune to the girls' dark powers.
While Harper searches for her sister, Gemma struggles to adjust to her new life. Gemma's powers are growing by the day, and the longer she lives with her new "sisters," the harder it is to resist entering their magical world. It's a realm both dark and beautiful, and where she's plagued by strange hungers and unspeakable needs. Just as she's drifting far away from her old life, Harper and Daniel find her…but no one can deny how much she's changed. All she wants is to return to her family and the mortal world, but how can she do that when she's become something else entirely—and will they still love her once they learn the truth? –(summary excerpt from Goodreads)

Lullaby by Amanda Hocking

My Thoughts: If I were not already a bit of a fangirl for this author's books, I would absolutely be lured in by the loveliness surrounding her words (aka: this cover). I loved Wake. I loved Lullaby just as much – maybe even more. No second book syndrome here AT ALL.

(Read my thoughts on Wake HERE.)

1. The Characters. It's the good guys vs. the bad sirens again – Gemma, Harper, Alex, and Daniel return in this second installment in the Watersong series and they're even better than they were in the last book. In Lullaby, Gemma has left home and the others are trying to find her. Alone with the sirens, Gemma is struggling to cope with her new life with these new gals. The siren life that Penn, Thea, and Lexi lead is strange, odd, and repulsive – every instinct Gemma has screams at her to leave and go back home! but she stays because the girls have threatened to kill Alex and Harper if she does. They do some horrible things and Gemma spends so much time fighting urges to be just like they are. She is strong, but is she as strong as she needs to be or will she cave and be more like the sirens? The longer she stays with them, the harder it becomes to stay true to herself.

I liked Daniel before and I like him even more as a character now. I read his backstory in Hocking's short story Forgotten Lyrics and I just think he is a supercool dude with a potential to be even bigger in the story than he is now.

(Read my thoughts on
Forgotten Lyrics
HERE
.)

2. The Sirens. Penn, Thea, and Lexi are still around. They're still pretty vicious. They forced Gemma's hand and left me reeling at the end of Wake. In Lullaby, I watched Gemma grow stronger as she fought back against them with the help of her sister and friends. By the end of the book, there was a shift between the sirens and the humans, and I loved the way it ended – as far as the siren aspect of the story went.
I have a feeling that things will be very interesting for these three in the next book.
3. The Story. I feel like Wake sort of set the stage for the series in its first half and then picked up with action in its second half. I think Lullaby was much more balanced in terms of the actual story. Lullaby begins just a day after Wake ends. The story picks right up and doesn't really let go – there is consistency of plot and I never felt a lull in pacing. I'm so fully invested in this series, you guys – particularly now with Daniel being such a big player in this second book (and apparently even more so in the third book – look at the cover!).
4. The Romance. I called Wake a romance-lite, because of the slow relationship that built between Gemma and Alex. I am ready to throw that label out the window because it is pretty clear that Gemma and Alex full-on love each other. It's not a gross/inappropriate kind of love, either, because they spend a portion of the book apart and trying to find their way back together…it's very sweet. And then that ending! Oh, Amanda Hocking!
I have my eye on Harper and Daniel, though. For Wake and now Lullaby, Harper has acted like she doesn't have time to date. She's pretended like she isn't interested in Daniel, when it is pretty obvious to everyone (including Daniel) that she is. There is never anyone else, so there are no love triangles involved, but this is the slowest of slow-building relationships. I'm hoping for big things for these two, like hearts and stars and little birdies flying overhead.
5. The Cover. Once again, St. Martin's + Amanda Hocking = WIN for beautiful cover. Seriously, Hocking's design team is a winner.

************************************************
Lullaby by Amanda Hocking continues a fantastic series that I'm really loving. Every time I read a book by this author I'm always surprised at the new and fun stuff she throws into the story. As with all of her previous work, Lullaby is fresh and not predictable and this is one of the reasons that I get fangirl-y and squeally when Amanda Hocking's books make it to my shelves. Plus HELLO they are such beautiful things sitting up there on my shelves.


Gemma was a likeable character in the first book; I liked her even better in the second book. I actually find myself surprised that Harper stood out just as much to me in Lullaby! Harper showed such determination and ferocity in her love for her sister that I can't help but like her more as a character, plus she didn't back down when it was time to fight the sirens. I like girls that do the right thing even when they are afraid.
I think in terms of character development, Alex stood out the most. He was nerdy and a little insecure in Wake. In Lullaby he took charge and wouldn't take no for an answer when he was searching for Gemma, even when he kept suggesting things that were considered kind of crazy. And Daniel – I'm not really sure if he shows development as a character or if his character has become more important over the past two books/short story. Either way, I like that he is being featured more and that I know more about him after reading the short Forgotten Lyrics.

In all fairness, I'm expecting big things from all four of these characters in the next half of the series. BUT…with an ending like this one, there surely will be some big things coming from the sirens as well. The world according to Penn, Thea, and Lexi potentially has been rocked by this band of friends, and once again I find myself practically holding my breath to see what Amanda Hocking has done with the next part of her story.

Halfway through the Watersong series, I am in love with these characters and this story. I don't feel like I have any clue at all what is coming next, which is so awesome considering that the young adult market can often be recycled and repackaged. I kind of love that the villians of these books are beautiful females that are vicious sirens, because really, aren't some girls like that in real life? And seriously, DANIEL – everybody needs to have their eyes on him because LOOK WHO MADE THE COVER OF BOOK NUMBER THREE!! Also, I say it every time I read a Hocking book, YAY for the few-month-only wait-time in between these new releases!

I recommend Lullaby to fans of Wake and other books by Amanda Hocking. I also think fans of YA romance and books about the ocean will like this one. I'm all over this series.
Lullaby will appeal to fans of:

YA Paranormal/Fantasy
Great Characters
Romance: no triangles!
Sirens!
Short wait between each book in this series! YAY!

Lullaby by Amanda Hocking
is currently available for purchase.

**
I received a review copy from the publisher in exchange for an honest opinion and review. I received no compensation for my thoughts. Thank you St. Martin's!
************************************************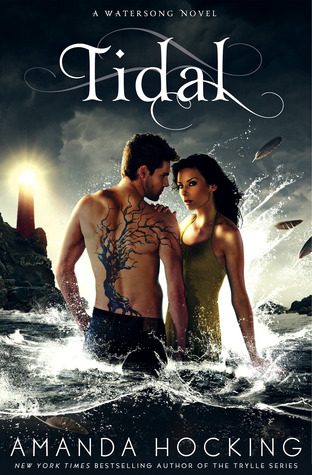 Oh look at you on the cover of book #3, DANIEL!
Also, that is PENN. Yes, the mean siren.!WHAT?!
Hurry, April 2013. Please.

************************************************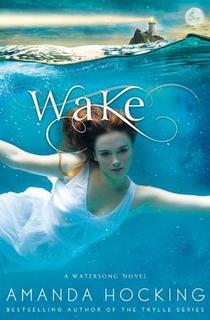 And now for the Giveaway!
So you can begin the Watersong series…
~
ONE FINISHED COPY of WAKE
~
is available for giveaway!
Available Worldwide!
Thank you, St. Martin's Griffin!
*Ends 12/7* *Open Worldwide*