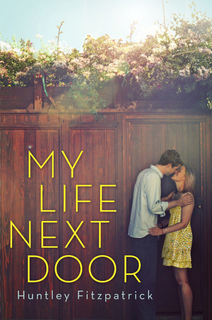 My Life Next Door by Huntley Fitzpatrick
Published by Dial BYR
Publish Date: June 14, 2012
395 Pages
Source: NetGalley/Penguin
A gorgeous debut about family, friendship, first romance, and how to be true to one person you love without betraying another.
"One thing my mother never knew, and would disapprove of most of all, was that I watched the Garretts. All the time."
The Garretts are everything the Reeds are not. Loud, numerous, messy, affectionate. And every day from her balcony perch, seventeen-year-old Samantha Reed wishes she was one of them . . . until one summer evening, Jase Garrett climbs her terrace and changes everything. As the two fall fiercely in love, Jase's family makes Samantha one of their own. Then in an instant, the bottom drops out of her world and she is suddenly faced with an impossible decision. Which perfect family will save her? Or is it time she saved herself? –(summary excerpt from Goodreads)


My Thoughts: Sometimes it is so hard to talk about a book that you love so much. This is the case with My Life Next Door. I cannot believe how unbelievably scrumptious this book is, cover to cover. Yet again, I find myself so excited that I'm doing this contemporary month event because of books just like this one.

1. The Characters.
Samantha Reed. Daughter to a single mom that is also a busy politician, Sam has spent her entire life watching the family next door. While she lives a quiet and pristine life in a large, state-of-the-art house with her mother and sister, she watches her neighbors – 8 happy children living with both a mom and a dad – from her special thinking spot outside her bedroom on the roof. Sam has been forbidden to have anything to do with "those Garretts" so she's spent her life watching them from a distance, with a longing to be a part of the happy life she sees through their windows and in their yard. ~ I love Sam. She is a good girl, not swept up in the grandiose lifestyle of her mother. She works two jobs despite having more money than she needs. Loyal to her friends and listens to her gut instincts – these are some of the best things about Sam. She's written well.

Jase Garrett. Jase is the third-oldest of the eight Garrett kids. He's a very handsome, happy guy that his family loves and appreciates and depends on. Jase is crazy about his large family – loud and messy as they are. He has a knack for fixing just about anything and his younger brothers and sisters absolutely adore him, so he babysits for his mother as much as he can (which is quite cute). He also works several jobs and is training as much as possible for football season in hopes of getting a scholarship. ~ Jase climbs up the trellis outside of Sam's bedroom one night as she is sitting outside, surprising her. He has no idea she isn't allowed to talk to him, and yet he approaches her and she feels very comfortable around him. He is so friendly and sure of himself. This begins their friendship, and it is quite lovely. ~ I just love Jase. He is probably one of the most well-rounded and developed young male characters I've ever read. He is strong, and carries so much of the weight of the Garrett family, and it is sometimes easy to forget that he is so young – until you get to the parts that are about the romance with Samantha, which are all very innocent and sweet.
There is not one single character that written poorly or lacking in development in this book. I feel like I know them all intimately, the good ones and the not-so-great ones, and I feel like I could tell you all about each of them, including all eight of the Garrett children. The author made every single character come to life in a way that wasn't overly descriptive to the point that it was boring, but that you wanted to be around these people – well, most of them. In terms of characterization, this book could not be any better at all. I cannot stress that enough. The Garretts are a family that I want to be a part of and hang out with and just know.

2. The Story. There is a romance in this story between Samantha and Jase – this is not a spoiler. It is wonderful and lovely and was an absolute joy to read. There is also a story involving Samantha and her friends: siblings Nan and Tim. Nan is nearly perfect and struggles with the problems and stresses that come with perfection. Tim is everything but perfect and has a ton of struggles of his own. Their story line weaves in and out of the romance and the scenes with the Garrett family so perfectly.

Then there is another thing that happens. You know how life sometimes throws curveballs? Well, there is a curveball. And I found myself sucked into this story so hard – I was almost willing certain things to happen, as if I knew these people. I wanted to reach through the book and help them out, make things easier for them, be a part of their struggles so everything would be okay.

This story – all of the stories inside of this story – are incredible.
I will read this book again and again.

3. Romance. The romance between Samantha and Jase is one of the best I've ever read in YA. I think it is absolute truth for some of the young people that are the lucky ones. There is a sweetness and innocence to it, and there is also an awkwardness to it. It was funny at times and it was serious at times. It was slow but when it was realized, the impact was enormous. There is no triangle, as Sam only has eyes for Jase throughout this entire book.

4. Grace Reed vs. The Garretts. Grace Reed is Sam's mother, the politician. In the beginning of the book, she talks about her disdain for large families and how she does not want her daughter to be around the Garretts. She gives her reasons for this, and as you learn more about Grace, you learn why she is the way she is. Still, her narrow-mindedness leaps off of the page and you end up feeling a certain way about her. Sam is so much the opposite of her mother.

The Garretts represent love and acceptance and happiness. They are a loud bunch, choosing to focus more on spending time together and loving each other than less important things like an always-spotless home and yard. They don't have much money, but they make up for it in other ways, and everyone contributes in their family. Their open-mindedness and unconditional, unfailing love leaps off of the page, and you almost feel like you're accepted into their family just by reading about them. I assure you, you will fall in love with this huge family.

****************************************************

My Life Next Door is a book that needs to be on your reading list for the summer, ASAP. Whether you are buying or using your library or borrowing from a friend, you need to read this book as soon as you can get your hands on it. I wholeheartedly recommend it to everyone, whether you are fans of YA contemporary or not. There is a little bit of everything in here, and it is one of the best books I've read in a really long time. I started it on the beach a few days ago and didn't get very far into it – so just the other day I restarted it and sat in the same place and read the entire thing. It was that good. I just could not put it down. (In large part because of that thing that happens – I had to find out what it meant for everyone involved…)

There is just something so refreshing about reading about characters that are level-headed and not angry at the world, but yet have real problems. I think this is a perfect, perfect example of YA contemporary.

What an incredible debut novel for Huntley Fitzpatrick! I'm so impressed. She has written a beautiful, beautiful story of a girl and a guy and their friendship that turned into a romance, and all of the things that happened along the way just gave the story life and a depth. This is way more than a YA contemporary romance, you guys. It very well may make my best-of list at the end of the year.

My Life Next Door will appeal to fans of:
YA Contemporary
Romance: No triangle! Slow-burn!
Stories Containing Strong Sense of Family
A Twist/Event!
Recommended for older YA readers or YA-loving adult readers.
My Life Next Door by Huntley Fitzpatrick
is currently available for purchase.
**I received a review copy from the publisher in exchange for an honest opinion and review. I received no compensation for my thoughts. Thank you NetGalley and Penguin!