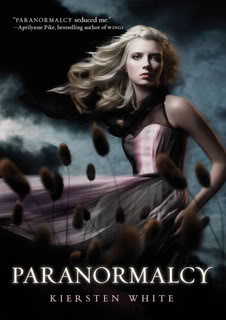 Paranormalcy by Kiersten White
Publisher: HarperTeen
Publish Date: August 31, 2010
335 Pages
My Source: Library
Paranormalcy by Kiersten White
Weird as it is working for the International Paranormal Containment Agency, Evie's always thought of herself as normal. Sure, her best friend is a mermaid, her ex-boyfriend is a faerie, she's falling for a shape-shifter, and she's the only person who can see through paranormals' glamours, but still. Normal.
Only now paranormals are dying, and Evie's dreams are filled with haunting voices and mysterious prophecies. She soon realizes that there may be a link between her abilities and the sudden rash of deaths. Not only that, but she may very well be at the center of a dark faerie prophecy promising destruction to all paranormal creatures.
So much for normal. -(summary from Goodreads.com)
My Thoughts: This was such a perfect book to read on my vacation! It started out with a funny scene and was quite hilarious throughout the entire book. The main character, Evie, is lovely. Abandoned as a child, she lives and works in the same place. She has a tutor, carries weapons, fights like a guy, and isn't afraid of vampires or werewolves. She's no ordinary girl. Evie also loves girly clothes, the color pink, and her favorite television show, Easton Heights, where she gets to watch other teenagers have normal lives.
I loved this author's take on paranormal and YA romance. I loved the way all of the different types of paranormals were thrown in there together: faeries, vampires, werewolves, a handsome shapeshifter and a bunch of other beings. I loved the secondary characters. I loved Evie, but I also really liked the other characters. The author did a fantastic job developing them, particularly the ones who will be sticking around for the next book.
Most of all, I loved how the scary scenes (if you can even call them that) and action scenes were interwoven so well with the funny scenes. It made me really want to keep reading to find out what would happen next. I'm very excited to be reading/reviewing Supernaturally (Paranormalcy #2)in a few days. There were some things left that could be explored in the next book, and I'm eager to see what is next for Evie and the fate of the IPCA.
This book is definitely a Young Adult fiction book, so I recommend it for fans of YA. It would even be great for younger YA fans. (As I am adult myself, I think it would be super fun if this was written as a more adult-age series.) I also recommend this to adult-age readers of YA fiction that are looking for a fun, bubbly, or quick read. This would also be a fantastic book to read after reading a heavy literary fiction piece. (Y'all know them, we all read them, and we all need books like THIS to help us unwind from them!)