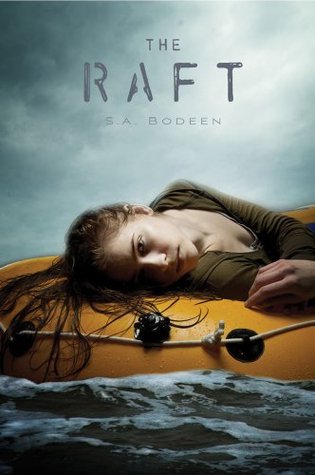 The Raft by S.A. Bodeen
Published by Feiwel & Friends

Publish Date: August 21, 2012
231 Pages
My Source: Borrowed
Robie, 15, lives with her family on the Midway atoll, a group of islands in the middle of the Pacific. Her parents are scientists; it's an isolated life. Robie enjoys visiting her aunt in Hawaii – she gets back and forth on a cargo plane that brings supplies to Midway. During a visit, her aunt is called to the mainland for a work emergency, leaving Robie to get home on her own. On her flight back to Midway the cargo plane hits nasty weather, and goes down. It's just Robie, the pilot, and Max, a co-pilot she's never met till this flight, on board. Robie is pulled aboard a raft by Max, who is injured and slipping in and out of consciousness. They have a bag of candy and very little water between them. When they finally reach an island that seems abandoned, Robie hopes they'll be found quickly. But she's not sure she was even on the flight manifest. Her parents must be looking for her…aren't they? -(summary excerpt from Goodreads.com)
The Raft by S.A. Bodeen
My Thoughts
:
The Raft is the story of 15-year-old Robie. Robie knows she's a very lucky girl – she lives on Midway island, after all. Her parents are research biologists and she knows a ton about ocean fish and seabirds. She's also a very unlucky girl, she thinks, because her internet blinks out for days at a time and her television gets only three channels. She has no cellphone because the island gets no cell reception. Oh, yeah, she's the only kid on the island with about fifty other adults.
As the story opens, Robie is staying with her Aunt Jillian in Honolulu for a few weeks. She loves her visits with Aunt Jillian because they are a break from the weirdness awesomeness isolation of the island – she gets to watch regular TV, shop in actual stores, use the internet all she wants, and basically be a normal teenager. Her trip is cut short, however, and she needs to go home early. With phone reception cut out temporarily on the island, Robie decides to fly out on a service flight to the island, which she's done plenty of times before. She feels comfortable with the pilot, Larry, and this is nothing new for her. (Mind you, the service flights are the ones that carry the supplies, not the passengers – things like food, equipment, etc.)
Let's talk about The Raft, shall we?
1. The Characters. There are a few, but for the majority of the book – there are just Robie and Max.
Robie. We've talked a little bit about Robie already, but just so you know, let me tell you that Robie made a series of poor choices before she got onto this plane. When I started reading, I thought she was a little bit on the whiny/immature side, but in retrospect I think maybe I should credit her for just being who she was: a teenage girl who had a huge, sudden change of plans and had to fly on a less-than-ideal plane across the ocean to her parents, and she couldn't even call her parents to let them know she was on her way! In the beginning, Robie lets her emotions get the best of her – which causes big problems more than once – but by the end of the book the very nature of her situation and the reality of what she's been through has made her GROW UP quite a bit. I'm still not sure how much I really like Robie, but I can absolutely appreciate her as a character AND her growth and development throughout the pages, from cover to cover. I certainly don't know what I would have done in her situation…
Max. Wow, Max. Now THIS guy, I really liked. He was quite an odd character but he really grew on me. Max is the new copilot; Robie had never met him before stepping on the plane. He's quiet, but he seems to know what he's doing, so she feels pretty comfortable with him. When trouble starts, though, Max is the one that leaves the cockpit and helps Robie while Larry the Pilot flies the plane. Max is the one that hands her the life vest and tells her what to do next. While Robie completely panics, Max is the one that picks her up and tosses her out the emergency exit window of the plane – basically saving her life. Max is the one that pulls her into the inflatable raft. ~ Max is really what/who gets Robie through the entire ordeal. Without him, she pretty much wouldn't have made it. It's his backpack with a few odds & ends in it that allows her to survive. It's his encouragement and 'tough love' at just the right times that pulls Robie through. But Max has secrets, you guys. SECRETS.
2. Poor Choices. I suppose that unless we are Les Stroud or Bear Grylls we would all make some poor choices if we were in survival situations. As I mentioned earlier, Robie's poor choices started before she ever even boarded the plane. Really, they started before she left her Aunt's apartment. The girl doesn't think clearly AT ALL. Bad choice after bad choice after bad choice. The thing is that once the plane goes down and the reality of the situation hits her, she realizes that she's been flippant in her ways and that she needs to STOP THIS. So there is an almost palpable effort made by Robie to change this about herself – and she tries to start thinking things through before she does anything. And her effort is pretty good. She still makes some mistakes, but they are fewer than before and this was much easier for me to digest than in the early part of the book.
However…the longer Robie stayed at sea, the weaker she became. She became severely dehydrated and malnourished. So naturally, in this state, the mind will deteriorate as well. So toward the end of the book, her effort was greater to think through her choices and stay alive. It was excruciating to read. I don't mean that in a "I-hate-this-girl/book" way. I mean that in a "I-hope-she-makes-it-through-this" way.
Oh! to be the reader and watch all of this! I constantly wanted to shout through the pages to Robie over and over so she could fix her mistakes or change her mind before things got worse. While it might seem like this was annoying – and to some it truly might be – it made me feel engaged in the story and in the book.
Also, I should note: Max was not much help with the choice-making. The vast majority of the time – after the plane went down – Max was either unconscious or sleeping. Max didn't fare as well in the emergency escape as Robie did.
3. The Island. After spending days (Robie lost count of how many and I did too) on the raft on the ocean, she nearly died making it onto an uninhabited island. I was thrilled that maybe-just-maybe relief would come soon…until I realized how much of the book was left. By this time, Robie was not only severely dehydrated and malnourished, but she was also injured from being violently tossed through the coral surround the island by the breaking waves. Can't the poor girl catch a break? And what about already-injured Max?
The island isn't any easier on Robie. It's just…different. I think I liked reading about the island a little more because – for me – it seemed less scary. But she still had to survive it.
4. The Ending…couldn't come soon enough. Not because the book was bad, not at all! But because my nerves couldn't handle any more. I felt like I was being rescued too.
I learned a few things while reading this book. Seriously, I did – some great survival tips if I'm ever stranded on the ocean or on a deserted island. Robie didn't think it would happen to her…but it did. So you never know, you guys. I am NOT going to forget the things I learned. (Shout-out to the author for doing research.) Also, I completely remember why I prefer driving over flying…not that I'm never going to fly again. But it might be awhile before I fly between Honolulu and the Midway islands.
I want to emphasize, honestly, that I though the development of Robie from the beginning to the end of the book was remarkable. In the face of survival and the greatest of dangers several times over, she had no choice but to grow up or die trying. And that is how her character developed. Robie-at-the-end was a strong female protagonist, and I was super proud of her for all of her efforts.
Also, big time plot twist. I'm resisting the urge to do lots of CAPSLOCK and *@)#*#) and stuff. Because it's big. Big enough to make you wonder: "I may have thought that myself! No, no I didn't. But maybe I did? Did I? I don't even know…"
This book was about survival. I don't often read contemporaries, much less ones about survival. But it was VERY real and visceral and gut-wrenching. I was SCARED while I was reading. Scared while the plane was going down, scared while the raft was drifting, and scared there would be no rescue. The pull in my chest and in my gut was so strong – I love a reaction like that to a book. If you like books that make you feel things strongly – not necessarily romance books, because this isn't one – and keep you biting your nails and turning the pages, this is a book you will probably enjoy. But be ready, because it is one heckuva ride.
The Raft will appeal to fans of:

Contemporary YA Genre
Survival Stories
A S
trong Female Protagonist
Books containing Nature: the ocean, birds, sea animals
Standalones
No romance/No love triangle
The Raft by S.A. Bodeen will be published on August 21, 2012.
*I borrowed this book as part of Around The World Book Tours in exchange for my honest thoughts and opinions. I received no compensation for my review.