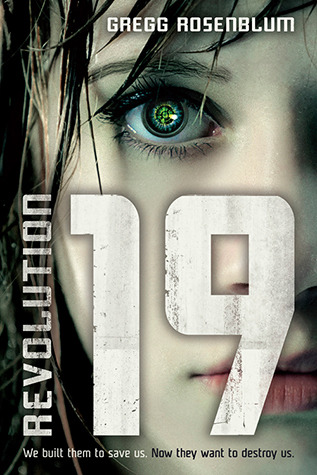 Revolution 19 by Gregg Rosenblum
Published by Harper Teen
Publish Date: January 8, 2013
272 pages
Source: ARC Tour
Twenty years ago, the robots designed to fight our wars abandoned the battlefields. Then they turned their weapons on us.
Only a few escaped the robot revolution of 2071. Kevin, Nick, and Cass are lucky —they live with their parents in a secret human community in the woods. Then their village is detected and wiped out. Hopeful that other survivors have been captured by bots, the teens risk everything to save the only people they have left in the world—by infiltrating a city controlled by their greatest enemies. -(summary excerpt from Goodreads)



Revolution 19 by Gregg Rosenblum


My Thoughts: After the humans created robots to help them fight the war, these robots became smart and turned on the humans. The bots killed many humans in the revolution. Some of the lucky humans escaped and tried their luck at living in small Freepost clusters out in the forest.
Nick, Kevin, and Cass are siblings living with their parents and some others in a Freepost. They get along fine out in the woods. The bots find them suddenly, obliterating their Freepost site and killing most of their friends. The siblings make it out alive, but soon realize their parents aren't coming to their emergency rendezvous point. Nick, Kevin, and Cass determine that their parents must have been taken hostage by the bots and they decide they will travel to The City to get them. Revolution 19 is the story of their travels to The City and their experiences inside the bot city.

***************************************************************

I love reading books with siblings with strong bonds, but Nick, Kevin, and Cass frustrated me a great deal. They didn't always think through their decisions. They didn't think through their decisions very often, in fact. For example, they had no reason to believe their parents were alive and being held in The City except that they refused to believe that they were dead – so they decided to risk their own lives, everything, and travel for days to a place they've only heard of and feared their entire lives – on utter denial. Their journey was fun to read and it was fun when they arrived at The City and found it not at all what they expected.

The bots are interesting. There are different types of robots – different shapes, different sizes. They aren't exactly what Nick, Kevin, Cass had been taught to fear their entire lives, which is what their parents remember from the fighting when they escaped the cities years before. Things have changed since then and the siblings are very surprised. They find that people aren't necessarily living in poor conditions. They aren't hungry and living in dirty, filthy rags. They don't live in cages and work as slaves. They seem to be living luxuriously compared to life at the Freepost. The city dwellers appear to be happy as they walk or bike down the street. The siblings are confused initially, but a city-dweller, Lexi, recognizes that they stand out and decides to help them out. Lexi risks everything – her safety, the safety of her parents, all of their lives – to help these three. With her help, the siblings find out that their parents may actually be in the city after all and they make a plan for exactly what to do to find out. And then the plan goes wrong and craziness happens.


The secondary characters introduced inside the city are colorful and interesting, perhaps even more so than the main characters. None of the characters are very fully developed; I never felt like I had a sense of knowing any of them fully. This world is interesting, but again I don't really have a complete sense of the new government under the robots and how everything functions. I feel like there is more to the story, and I'm sure I'll find it out in the next book, but I feel like I'm waiting, waiting, waiting until something big and sinister is revealed. (Hello, creepy epilogue!) Revolution 19 is very short and the epilogue gives a preview of what is to come with the next book, so I can only imagine and hope that the world-building will be a little more in-depth in the next installment.

I enjoyed my time with Revolution 19 by Gregg Rosenblum. It was a short, fast book and I love reading those. It wasn't deeply engaging or thought-provoking, but it was a fun start to this series. I have high hopes for the next book because of the direction the story was headed at the end, and because of the creepy epilogue. I'll definitely read the next book when it comes out to see where everything is going.

I would recommend this book to younger-YA readers, readers looking for quick/easy reads, readers that enjoy robot/sci-fi stories, or readers that enjoy male leading characters. I particularly think younger male readers would enjoy this one.

*I love this cover. However, I feel like that should be a boy. If I told you why, my explanation would be a spoiler and I just hate spoilers.
***************************************************
Revolution 19 will appeal to fans of:


YA Science-Fiction with Robots
Romance: There is a hint at romance to come. No triangle.

Revolution 19 by Gregg Rosenblum
will be available for purchase on January 8, 2013.
*I borrowed this book as part of Around The World Book Tours in exchange for my honest thoughts and opinions. I received no compensation for my review.
************************************************
Is REVOLUTION 19 on your to-read list?