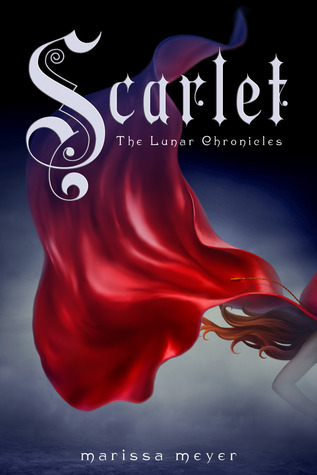 Scarlet by Marissa Meyer
Series: The Lunar Chronicles #2
Published by Feiwel and Friends
Publish Date: February 5, 2013
464 pages
Source: Publisher for Review
Cinder returns in the second thrilling installment of the New York Times-bestselling Lunar Chronicles. She's trying to break out of prison—even though if she succeeds, she'll be the Commonwealth's most wanted fugitive.

Halfway around the world, Scarlet Benoit's grandmother is missing. It turns out there are many things Scarlet doesn't know about her grandmother and the grave danger she has lived in her whole life. When Scarlet encounters Wolf, a street fighter who may have information as to her grandmother's whereabouts, she has no choice but to trust him, though he clearly has a few dark secrets of his own.As Scarlet and Wolf work to unravel one mystery, they find another when they cross paths with Cinder. Together, they must stay one step ahead of the vicious Lunar Queen who will do anything to make Prince Kai her husband, her king, her prisoner. -(from Goodreads)

Scarlet by Marissa Meyer

My Thoughts: I feel like I've been waiting forever for this book, and I know I'm not the only one! I'm just gonna cut right to the chase and say this: Scarlet is every bit as good as Cinder, and then some. That's high praise, considering how much I love Cinder.

The first thing you need to know is this:
I am THRILLED at how often Cinder shows up in this book.
Cinder is everywhere. And HOORAY for it.
I was really nervous to start reading Scarlet because I thought (for some reason) that Cinder wouldn't play a very big part in this book. I think it's because this book is more of a companion than a sequel. But my thoughts were that if Cinder didn't play a huge part, certainly Kai wouldn't be around, and I'd be heartbroken – I feel like after just recently re-reading the book, I'm more connected to them now than ever. (Yes, I realize they aren't real. Please just let me live in my own little world and be BFF with fictional characters.)
In all seriousness, I was SO EXCITED to see that Cinder's character plays a HUGE role in this book. Like, a really big role. Why was I worried? I don't know! I trust you completely with my fictional friends from now on, Marissa Meyer. You're kind of awesome.

The second thing you need to know is this
:

I INHALED this book.
I have no words to tell you how much I enjoyed it. Honestly.
I read Cinder over a year ago and loved the heck out of it. I just re-read Cinder about six weeks ago and I loved it even more. Seriously, re-reading that book is one of the best bookish decisions I've ever made. Every weekday morning, I start out my day at 5:00 a.m. by reading – when I was reading Cinder, I couldn't wait to go to bed so I could get up the next morning and read. YOU GUYS, I'M NOT EVEN KIDDING.
BUT WAIT. Please believe me when I say that reading Scarlet was like being a kid and being turned loose onto a playground.
See, there are all of these incredible characters – ones that I've known and loved PLUS ones I've just met! AND AND AND they're doing all of these things that end up getting them in all of these messes and they're running from all of these people and…I found myself gripping the book and urging them to run faster! or Sssshhhhh! or Oh no oh no oh no! or That Doggone Queen is THE WORST THE WORST THE WORST!!!!
*grits teeth as I say* Do. You. Know. How. Much. I. Love. Books. Like. These? DO YOU?
If you've followed this blog for long, you probably do. If not, you'll probably get accustomed to it pretty quick. Scarlet is full-on fun with the added bonus of an A-HA moment that I had at almost half-way into the book, which caused me to leap up and shout, making all of the eyes in my house look in my general direction like I'm a crazy person. Oh, it was SO GOOD to me.
The third thing you need to know is this
:
Then there's WOLF.
Okay. Okay. We've all been waiting on this book. We've all seen people that read it earlier on rave about it. But I remember seeing all of the BUZZ online about this character, Wolf. What's the deal with this dude? The answer is:
YES. Wolf is grrrrreat.
That is all.
******************************************************
Scarlet by Marissa Meyer made me insanely happy in a bookishly geeky kind of way. It's one of those fairy-tale do-overs that make me want to high-five the world and shout to everyone READ THIS. It's one of those books that – if you had maybe a lukewarm feeling about the first book in the series, you should still not give up on The Lunar Chronicles, because the second book is even better than the first one. Marissa Meyer gets it right again. I cannot begin to imagine what she has in her crafty little mind for us in the coming years with the next two books in this series. I cannot imagine it.
As I mentioned earlier, I was elated to see how much of a role Cinder played in this book. I was already warm to her character – having read her book now twice – but this strong heroine only proved herself stronger. Her story line takes her all over the place – all over the Earth and in space – and she is snarky, smart, fiesty, and incredible. I just love her, again. She has a couple of sidekicks that are super loveable as well. And Kai and the evil, super mean Queen are back again too.
Scarlet, Scarlet, Scarlet. What a gal. She, too, is fiesty. And strong. And snarky. She reminds me of Cinder so much. The thing I loved about Scarlet's character – LOVED ABOUT HER – is that she didn't judge people and she didn't think too much about what people thought of her for it. She had her own thoughts, even though they went against what the majority thought, and she stood by them. She's a fantastic heroine. I cannot wait to see more from her.

And Wolf? Where the heck did he come from?
It's not just that he's was the supposed love interest of this book, although that was nice. It's not that he's a hunk in the book trailer (
HERE
)
.
Wolf kept making me smile over and over while I read because he was just a really cool character. He's kind of like the Big Bad Wolf, only he isn't. This is yet another place in the huge story arc of The Lunar Chronicles where Marissa Meyer has amazed me – her take on the Big Bad Wolf and the story of the wolves in general, how she incorporated them into the story.
With great characterization all over the place, you would think I'd be happy enough, but that wasn't all I found to love about Scarlet. I loved the setting too – or I should really say settings (plural) because the parallel story lines each had distinct settings – Rieux, New Beijing, space – all very visual to me, which is something that I really connect with and love about a book. And again, fantastic world-building.
I can't say enough great things about this book. It's an extremely strong sophomore effort, in my opinion, which makes me now say that this is a strong series thus far. I am giddy with excitement over the release of this book. I can't wait until more people read it. I can't wait to see the reaction of the world in general to Scarlet. I think people will be happy – I'm thinking people will like it more than Cinder, which is not to speak negatively of Cinder at all, but to speak very highly of Scarlet.
I recommend Scarlet for fans of fairy-tale re-tellings, dystopians, science-fiction, wolves, cyborgs, and all-around great stories. It's a winner. It was like playtime for me. So great.
********************************************************
Scarlet will appeal to fans of:


YA Dystopian/Science-Fiction
Fairy-tale Re-tellings: Little Red Riding Hood
Romance: Pre-existing and also new romances! No triangles.
Alternating POV's with parallel plotlines
Fantastic characterization Fantastic world-building
Action-driven plot

Scarlet by Marissa Meyer
will be available for purchase on February 5, 2013.
*I received a copy of this book for review from Feiwel and Friends. I received no compensation for my thoughts. Thank you Feiwel and Friends!
********************************************************
MacMillan Audio has provided a sample of what
the book will sound like in audio format.
Click HERE to sample
Scarlet by Marissa Meyer
in audio format!
I will certainly be listening to this for my re-read next year!
Thank you, MacMillan Audio!
********************************************************
Is SCARLET on your to-read list?

Have you read CINDER?
What did you think?