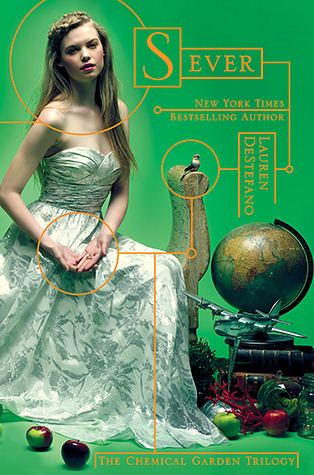 Sever by Lauren DeStefano
Series: The Chemical Garden #3
Published by Simon & Schuster BYR
Publish Date: February 12, 2013
371 Pages
Source: Borrowed then Bought


With the clock ticking until the virus takes its toll, Rhine is desperate for answers. After enduring Vaughn's worst, Rhine finds an unlikely ally in his brother, an eccentric inventor named Reed. She takes refuge in his dilapidated house, though the people she left behind refuse to stay in the past. While Gabriel haunts Rhine's memories, Cecily is determined to be at Rhine's side, even if Linden's feelings are still caught between them.

Meanwhile, Rowan's growing involvement in an underground resistance compels Rhine to reach him before he does something that cannot be undone. But what she discovers along the way has alarming implications for her future—and about the past her parents never had the chance to explain. –(excerpt from Goodreads summary)



Sever by Lauren DeStefano


My Thoughts: The Chemical Garden Trilogy by Lauren DeStefano is comfortably in my top five favorite series of all time. It has absolutely been the most emotional set of books I've ever read, making me feel every single emotion from one end of the spectrum to the other. Every emotion I have felt has been bigger-than-life. I both anticipated and feared the end of this series because I didn't want to put these characters and this beautiful story to an end, but the book was released and it was just time.


Y'all know I FEAR THE FINALES.
But I gathered my courage.
And I read the final book.
The first thing you need to know is this
:
I thought that Wither was pretty dark. Fever was even darker.
I think Sever was the least dark of the series.
Why do I bother to mention this? I mention this because I have friends that are still debating on whether or not they want to begin/continue with this series.
I maintain that Wither begins by setting up the story while building the world inside of the villain Housemaster Vaughn's mansion and Fever builds the world outside of the mansion. This is important because 1) they are two completely different, opposing worlds and 2) the actual world outside is a dark and dangerous place. I feel like Fever is probably the darkest book in the trilogy because it takes place outside of the mansion (not a spoiler per the book summary). Sever felt like the least dark to me, and I think this is best symbolized by the use of the color green on the cover.
While Sever is spent partially tying up several loose ends from the previous two books,* Rhine gets to spend some time in an outlying rural area, not-too-far from Housemaster Vaughn's house. There are plenty of trees, flowers, grasses, perhaps a garden – Rhine is not used to the sensations these things bring. For instance, the brilliance of the color green where she is used to a world of gray, the fresh smell of grass where she is used to the smell of garbage and cheap perfume and ash, and the prickly feeling of grass under her feet. Despite all of the things that happen in this book – yes, I said ALL THE THINGS – I can't help but feel like the time that Rhine spent in Reed's home gave this book a slightly lighter tone, and since Sever marked the end of a weighty series, I appreciated this so much.
*Don't worry, Sever is also spent partially introducing new information that completely knocks you over. It's brilliant, crazy, and wonderful. And a little maddening and heartbreaking.
The second thing you need to know is this
:
In Wither and Fever, I was a DIE-HARD fan of
Rhine and Gabriel ending up together.
This time around, I would have been fine with either Gabriel or Linden.
I CANNOT BELIEVE THAT I JUST ADMITTED THAT TO ANYONE, LET ALONE THE ENTIRE WORLD. I've spent so much time defending to my in-real-life friends why I thought Gabriel was the perfect choice for Rhine. I'm not even going to go through all of that right now, because it doesn't really matter. What I want you all to know is that at the time I started the book, I felt:
FEAR & APPREHENSION at how things would end up.
AWE at a brilliant story.
RELUCTANCE to put ANY of the characters away.
a CONNECTION to ALL of the characters.
TRUST in Lauren DeStefano's story-telling.
KNOWLEDGE that no matter who Rhine chooses, my heart would break.
While the 'romance' aspect of this story is fairly huge, I find it so very interesting. It isn't really the entire story, but it certainly weaves into the entire story and pretty much most of/all of the plot-lines in some way or another. It isn't really a typical romance. I'm not going to give away any of the details about it because not everyone has started the series, but I actually loved how it was done because it was so different.
When it ended and everything played out the way it did, YES MY HEART DID BREAK. But I knew it would! (I still loved it though, as I clutched my Kleenex box tightly and bawled like a baby.)
The third thing you need to know is this:
You can't see it, but I'm giving Lauren DeStefano a STANDING OVATION
for writing THE WORST VILLAIN I've ever read.
(Which actually makes him the best villain I've ever read.)
From the moment Housemaster Vaughn came onto the pages in the first book to the very end of the last book, there literally wasn't one scene in which Vaughn didn't creep me the heck out. YES, I JUST SAID THAT. He is the worst, the baddest, the most manipulative, the most unforgivable, the most icky villain that I've read so far in my history of reading. He is NUMBER ONE on my worst villains list.
Vaughn was one of those villains that made me feel creeped out when he was in a scene while I was reading it. My skin would crawl when I was reading his words or his actions. When he was not on a page that I was reading, I was anticipating his next entrance and what awful thing he would do. He was always hovering around in the back of my mind while I was reading the story, like a looming and present danger to me and to my character-friends – except he was a fictional character! Does that make any sense at all? I know, I know, I know that I made faces while I read the parts that included him.
There is something so thrilling about being affected so deeply by a character, even when it is a mean one. I love great main characters. I love great secondary characters. But you guys, I LOVE A WELL-WRITTEN BAD GUY. I don't have like what they do. I might repeat a million times while I'm reading that the character is such a bad, bad guy (or gal). But WOW it is so glorious to enjoy a great villain on the page.
I have thoroughly enjoyed despising Housemaster Vaughn. I have never hated a character so much in my entire life. And this guy totally deserved it. I know I can't be alone in my feelings on this one. Well done – well done – Lauren DeStefano!
**********************************************************************
I have said before that I have no words to adequately express how I feel about this book that I've read before, or that book that I've read. But I cannot even attempt to explain to anyone the satisfaction, the joy, the absolute reading pleasure this series has been for me. I picked up this series, thinking I'd enjoy it – instead, it conquered me as a reader. I've said before and I'll say again that I have never felt the broad range of emotions that I've felt in the span of these three books, and I'm hard-pressed to find anything quite as emotional as this (for me) out there right now.
In my opinion, Sever was a better series ending than I could have imagined. Right away, within just a few paragraphs, I already had gained some answers to questions I had been wondering for a while now. The book started out much less dark in tone than I anticipated, and I felt hope from the beginning. I loved the introduction of the new character, Reed, who is Housemaster Vaughn's disowned brother. Reed was a FANTASTIC addition to the series. He brought wit and dry humor to the story as well as a little bit of mystery, and some kookiness with his quirks and habits. He was a nice opposite to Vaughn. I felt connected to him right away (and immediately wished I had known him earlier in the series).
However hopeful I felt when I started the book, it became clear that DeStefano's usual sucker punches would be laced throughout – when they came it was like BAM! PUNCH! KICK! to my gut. I think the first time I found out a shocking piece of information, I just sat for a few minutes with my jaw on the floor, stunned – partly because WHY DIDN'T I FIGURE THAT OUT??? and partly because OH HOW BRILLIANT!!! and partly because I'M NOT GONNA CRY, I'M NOT GONNA CRY, I'M NOT GONNA CRY. Every single time a huge piece of information was revealed, I felt exactly that same way. I'm no stranger to this exact feeling in this series (particularly after Fever) and this is exactly why I love these books so much – they have that ability to make me feel such intense emotions simultaneously and to only be able to process them as I push through and continue reading a little bit. Sever did this much the same as Fever did, only in a less dark and imposing way, with hope and some happiness threaded throughout.
DeStefano's characters are so developed, so full – oh, I love them so! – it's as if they're real and breathing. The good ones are really good and the bad ones are really bad. The whiny ones beg to be slapped and the awesome ones are ones you want to be friends with because they wear boots and carry a gun and aren't afraid of anything. They have secrets, though, all of them, and it is both amazing and painful to get into their heads. Sometimes I wish I didn't know what was revealed because it just pained me so much, but such was the story.
Oh, the story itself – there is more to the story of the Chemical Garden, the world outside of the mansion, the world that Rhine thinks she has always known. There are reunions, there are good-byes. There are happy moments and there are moments that are so heart-breaking that I had to close the book and take steps AWAY from it and count to ten. There are people looking for revenge and retribution, and moments and lives taken away. Some will find these things; some will not. There is love in different forms; there is heartache in so many ways. And there is A THING that happens that still takes my breath away when I think about it – sadness, hurt, disbelief, shock – but the story went on after I was finally able to turn that page and wipe my eyes. OH THIS BOOK.
I cannot understand how someone can write a story like this, with all of these things in it – the things in this Chemical Garden Trilogy. Oh! to pick the brain of Lauren DeStefano and hear the things that didn't make it into this story! I marvel, I marvel at the talent to write a world like this with such a beautiful pen and to have the whole thing end just as it does.
Sever by Lauren DeStefano simultaneously ripped my heart out and also wrapped it up like a warm blanket. When I started the book, I didn't know how I would feel about the ending and this made me so scared. After reading it and thinking about it for a few days, I cannot picture it any other way.
In a way, I feel like I've put away an old, wonderful friend in this series because it is such a favorite of mine and I cannot expect anything new from any of my Chemical Garden friends and enemies. But I am so very excited that I can re-read these books until their pages are tattered and yellow, and I plan to do exactly that.
I recommend Sever by Lauren DeStefano and the entire Chemical Garden Trilogy to fans of lovely and well-written dystopian/apocalyptic stories with romance. They are wildly discussable and it is a ton of fun to read them with friends.
**********************************************************************
***I want to say something about Rhine. It contains a spoiler for WITHER ONLY. Highlight the white section to see what I have to say:
I've always understood that some people see Rhine as a whiny girl, but I've always given her plenty of grace in this regard. Had I been kidnapped, driven across the country, forced to marry a boy as part of a collection of Sister Wives, drugged and experimented on against my will in the name of finding a cure for the deadly virus that plagued the population, witnessed the deaths of most of the people I love, etc etc etc, I'd have my whiny days too.
(Those are spoilers only for Wither. I'm not EVEN getting into why she gets my whiny-passes for Fever and Sever.)
*************************************************
Sever will appeal to fans of:


YA Dystopian/Apocalyptic with Romance
Romance: There is a triangle, but it isn't a typical triangle.
Slowly-developing.
Fantastic Characterization
Great World-Building
Conclusive Ending.

Sever by Lauren DeStefano
is currently available for purchase.
*I read a borrowed copy of this book as part of a traveling ARC tour. I received no compensation for my thoughts.
*************************************************
Have you started THE CHEMICAL GARDEN TRILOGY yet?
Tell me your own thoughts!
If you haven't read it, is it on your to-read list?