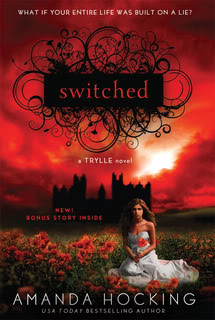 Switched (Trylle Trilogy #1) by Amanda Hocking

Published by St. Martin's Griffin
Publish Date: January 3, 2012
293 Pages
Source: ARC from Publisher
Switched by Amanda Hocking
When Wendy Everly was six-years-old, her mother was convinced she was a monster and tried to kill her. It isn't until eleven years later that Wendy discovers her mother might have been right. With the help of Finn Holmes, Wendy finds herself in a world she never knew existed – a world both beautiful and frightening, and Wendy's not sure she wants to be a part of it. -(summary from Goodreads.com)
My Thoughts: It is pretty typical for many YA readers these days to know about Amanda Hocking. If you read digitally or travel the Goodreads circuit as frequently as I do, chances are you've come across her name a ton of times. Why? Because since she began writing and self-publishing her digital books a few years ago, she's sold over a million copies. That's impressive, y'all. Now, lucky for readers who prefer or need paper copies, Hocking's Trylle Trilogy is being re-released with updated covers and backing by St. Martin's Press.
I was so fortunate to be asked of my interest in
Switched.
I loved it.
Actually, I devoured it.
Want to know why?
1.
The Characters
. There's a great big cast in this book and they are all a ton of fun to read. The main focus, however, is on Wendy and Finn.
Wendy Everly. 17-year-old protagonist. Quick tempered with a bit of attitude. Fiercely loyal and loving to her brother and aunt, with whom she lives after her mother tried to kill her with a butcher knife when she was just six years old. Wendy knows she's just a little different than everyone else but she can't put her finger on exactly why.
Finn Holmes. Handsome, strong, and oddly mysterious. Stares at Wendy a little too much during class. After sharing a dance at a school function, they both find themselves kinda crushing on each other.
ALL of the characters – human and trylle – are unique and enjoyable. Wendy and Finn are somewhat developed, but I think there is more beneath their surface than we learn in Switched. In fact, I think there is more to most of the characters than we realize. As a huge fan of characterization, I'm looking forward to reading Torn

(Trylle #2)

and getting to know them all even more.
2.
The Backstory
. Wendy is a changeling, meaning she is trylle (aka a troll) that was switched at birth for a human baby. Wendy's mother had suspicions that Wendy was not her true child, which is why she tried to kill her eleven years ago. But why do the trylle switch babies? Great question!
Trylle children are taken to human host families –
chosen specifically for their wealth and sophistication –
to gain a good education and inheritance to bring back to the Trylle tribe. This increases the tribe's overall wealth and intelligence. Wendy's human family was a family of means and Wendy had a comfortable upbringing. Coincidentally, in the Trylle kingdom, it turns out that Wendy is a princess.
3.
The Power
. The trylle tend to have powers which vary depending on their rank in society and blood line. Wendy, being of high society, has the highly coveted and very powerful ability of Persuasion. This means that Wendy can look at someone and influence their thoughts and actions with her own thoughts. Basically, she can make others do

or

say

or

think whatever she wants them to. At the start of the book, this was a relatively new thing to her, and largely underdeveloped. She didn't know what it meant and she thought she was a freak. It is also the reason Finn came to find her. See, Finn is a tracker, and his job is to track down changelings and bring them back home to
F
ö
rening
. As Wendy's very strong power of persuasion seems to be developing early, Finn has been assigned to retrieve her for the Queen.
4.
The World
. F
ö
rening, a gated community where the Trylle live, hidden along the Mississippi river in Minnesota. It is described interestingly and beautifully, and appears to be a world of wealth. The community is beautiful, the Queen's

(and therefore Wendy's)

home is beautiful, and the gardens and landscape are beautiful. This to be completely expected from a beautiful paranormal species.
I am thinking and hoping that there will be more world-building in Torn, as the world in Switched exists largely inside the home of the Queen.
5.
Paranormal
. I have never read about trolls before so I had no idea what to expect when I began Switched. I ended up reading the book in one sitting. I've always thought of trolls as ugly little creatures, but the trylle are actually quite beautiful. The mythology of the trylle was fascinating and fun, and I turned the pages fast! Every time I thought I had a grasp on a situation, there was a twist of some sort. I loved it.
6.
Romance
. The crush that started at the high school dance…you know, the one between Wendy and Finn…well, it led to a slowly developing relationship that led to a slowly burning romance. It was great and delicious to me. Sometimes these romances are predictable, and that is okay with me, but they are always so, so good to read. The catch here – and it is a big one – is that the love between Wendy and Finn is strictly forbidden. I did not realize until I was extremely devoted to this couple that there is no way that the relationship would be allowed…Finn is of a different, much lower social class than Wendy. OH. MY. GRACIOUS. They are both so in love with each other – the love kept jumping off of the pages – but it just would not be allowed. So some things happened and OH. MY. GRACIOUS.
In addition to the trylle and the romance, there was the aspect of Wendy's royal lineage. This made for an interesting storyline as she never asked nor wanted to be a princess, particularly when she finds out the price she has to pay to be in the royal family. Another wonderful and unique part of the story was the other baby…you know, the one that was switched with Wendy. That baby plays a pretty large role in the book and it is looking like that now-grown baby will be in at least the next book in the series as well. I LOVED that part of the story so much and I know other readers will too. Loved it.
Switched is a really fun, fast-paced book with a mythology that was new to me and some action thrown in here and there. I loved it. I devoured it. I was sad that I couldn't start book two right away. I have high hopes that when the next book comes out it will be even more action-packed and character-developed. Torn is being released on February 28, 2012…followed closely by Ascend in April 2012.
**I received a review copy from the publisher in exchange for an honest opinion and review. I received no compensation for my thoughts. Thank you St. Martin's Press!
And now for the Giveaway!
St. Martin's Press and Amanda Hocking
have generously provided
~
ONE SIGNED COPY of SWITCHED
~
Thank you, St. Martin's Press!
Giveaway Information:
You must be at least 13 years old to enter.

Deadline for entry is midnight

Friday, January 13, 2012

.

This contest is open to Everyone!

Following this blog is not required, but appreciated!