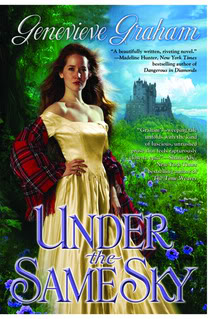 Under the Same Sky
by Genevieve Graham

Published by Berkley Trade
Publish Date: January 3, 2012
336 Pages
My Source: Author/Publisher
The year is 1746. A young woman from South Carolina and a Scottish Highlander share an intimacy and devotion beyond their understanding. They have had visions of each other their entire lives. And yet they have never met. Now, with their lives torn asunder, Maggie Johnson and Andrew MacDonnell's quest to find each other is guided only by their dreams—and by the belief in the true love they share.

On the Carolina frontier Maggie Johnson's family struggles to survive. Maggie's gift of "the sight" and her visions show her a presence she calls Wolf. She watches him grow from a boy her age to a man even as she goes from child to woman.

Andrew MacDonald has always wondered about the girl he sees in his dreams. He is able to talk to her through their thoughts and vows that even if he must cross an ocean he will find her. They are thrust into different situations: Andrew fights for the doomed Jacobite cause and Maggie is captured by slavers, then rescued and brought into a kind, loving Native American tribe. They each believe in destiny and the power of the love they have shared forever. -(summary from Goodreads.com)


Under the Same Sky by Genevieve Graham


My Thoughts: I love to read books that are rich in characters and setting. I completely lucked out with Under the Same Sky. Not only are ALL of the characters absolutely amazing, but the setting – well, both of the settings – are lush and perfect. To top it off, half of the book is set in the Carolinas, and I'm a Carolina girl myself. When I heard about this one, I had to read it and you guys, before I even get started I'm gonna just recommend it to you ALL.


Why you need to read Under the Same Sky right now:
1. The Characters. There are two different settings with two different plot lines for much of the book, which means there are a bunch of characters. But the main characters are Maggie and Andrew.
Maggie Johnson. Maggie has "the Sight" which means she can see the future. She can also find things that are hidden or out of sight. Maggie has seen a boy in her dreams and visions for years, a boy that she communicates with wordlessly. He comforts her and makes her laugh, and she considers him a friend. When she is 17, Maggie's father dies and soon after her mother is murdered. She and her sisters are taken away, raped, and mistreated – one sister dies. Malnourished and injured, Maggie manages to escape and the boy comes to her in a vision – he wordlessly points out a weapon lying closeby and Maggie uses it to kill her kidnapper. She and her sister are then picked up, taken to the Cherokee Nation, and healed by the healers of this Native American tribe. She continues to live with them for the vast remainder of the book, learning their language and customs.
Andrew McDonnell. Andrew is one of three sons in his loving family. He too has "the Sight" and has always had visions of a girl that he communicates with wordlessly. He thinks of her almost constantly and dreams of the day when he can meet her face-to-face. However, when war comes to the area, he – along with his father and brothers – goes to fight for what he feels is right. Unfortunately, Andrew is the only survivor in his family. He makes it back to his home to find that his mother has been killed and the farm has been destroyed. Depressed and saddened, Andrew vows to leave Scotland and find the girl in his visions. He learns that he'll have to cross the Atlantic Ocean to get to her – and it'll take a long time – but that is okay. He will do anything, anything to find her.
Every character that Maggie and Andrew come across in this book – be it a good guy or a bad guy – is believable and developed. Oh, how I despised the bad guys and how I loved the good ones! This complete cast is superbly written, and Maggie and Andrew are to-die-for lovable. I couldn't get enough of them.
2. The Story. Maggie and Andrew can see each other in their dreams while they're sleeping or sometimes in visions while they're awake. They communicate wordlessly at first. Over time, it seems like this gift becomes stronger – over the years they are able to talk to one another and eventually, they can touch briefly. Maggie and Andrew are good for one another in that they encourage each other when they're both discouraged or sad. They also help each other out by seeing things or predicting things that will happen to the other one and giving warnings. Their gift is unique and awesome to read about. It's a really fun take on a book in this genre.
3. The Genre. Historical Fiction/Romance with some unique and awesome Paranormal. Loved it.
4. The Setting. In my opinion, this is one of the best things about this book. Maggie's story is told in America – South Carolina to be exact. She goes from her meager farm in the beginning and moves to live with the Cherokee Native Americans. These settings are described so well and perfectly – particularly for this time in history, as I am pretty familiar with it – and I loved reading about an area that is so close to home for me.
Andrew's story begins in Scotland, as he is a kilt and plaid-wearing Highlander. Have mercy! I am not very familiar with this area or this time in Scottish history, but clearly the author has done her research. It is well laid-out and I feel like not only did I read a book that was immensely enjoyable, I learned a little bit about some Scottish history and geography as well. I love that. The descriptions of the Scottish countryside were breathtaking, from the colors to the terrain, and I loved even the descriptions of the battle scenes and war-torn countryside.
The setting in this book is amazing and if you are a reader that enjoys that sort of thing – like I am – you will love this part of Under the Same Sky. The setting alone was a sensory experience.
5. The Writing.
The story is told in multiple points-of-view between Maggie and Andrew, although this is not done with alternating chapters. There are several chapters of Maggie, then several chapters of Andrew, and s
o on. This was wonderful in terms of story flow and pacing, and it kept me engaged from page one until I closed the book.
Genevieve Graham's writing is luscious and descriptive. It is beautiful. There were several times that I actually stopped to re-read passages that I thought sounded particularly, well, pretty. The author's language and imagery practically dropped me into Scotland with Andrew, and it allowed me to be side-by-side with Maggie as she traveled the Carolinas. Loved it.

6. The Romance. Oh, this romance, you guys! See, here's the thing: it is a slowly-developing thing between these two young people in the beginning. They start out having visions of each other as children and the visions just carry on throughout their lives until the two realize as adults that they need each other. *sigh* The problem is they're an ocean apart. It can't get much more romantic than that…
The romance can't help but be slowly-developing because of the dual settings, which is really nice. Readers are assured that this relationship is authentic because the two bond without words for years before they even can speak to each other, and then it is another couple of years before they even lay eyes on each other. Also, there is no love triangle whatsoever because these two have eyes for no one else. This is one of my favorite romances ever because they fell in love in their dreams!
Friends, I am thrilled and excited to have read Under the Same Sky. It is truly spectacular and I enjoyed every word of it. It is a wonderfully character-driven story with excellent pacing and a unique spin on historical romance. I loved the weave of paranormal and magic into the story and I was excited over both of the settings used in the book.
I would love to know more about Maggie and Andrew. But…I'm also eager to read the next book in this series – out in May – titled Sound of the Heart. Honestly, if it is anything at all like this one, I'm pretty certain that I'll love it. Genevieve Graham is one to look out for, readers, and I highly suggest picking up Under the Same Sky if you are a fan of historical fiction or romance with a bit of paranormal.
Under the Same Sky will appeal to fans of:

Historical Fiction/Historical Romance
with Paranormal/Magic
Slowly-Developing Romance with No Love Triangle
Multiple POV
Rich Setting: Scottish Highlands, America/South Carolina
Under the Same Sky by Genevieve Graham
is currently available for purchase.
**I received a review copy from the author/publisher in exchange for an honest opinion and review. I received no compensation for my thoughts. Thank you SO MUCH Genevieve and Berkley Trade!

Be sure to come back tomorrow for a
GUEST POST & SIGNED GIVEAWAY
from Genevieve Graham!